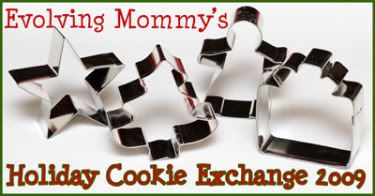 It's day one of Evolving Mommy's Holiday Cookie Exchange and I'm kicking it off with one of my families very favorites.
Peanut Butter Blossoms, because peanut butter and chocolate are an almost unbeatable pair. These cookies end up slightly soft, chewy and very delicious.
1/2 cup peanut butter
1/2 cup butter, room temperature
1/2 cup granulated sugar
1/2 cup brown sugar
1 egg
1 teaspoon vanilla extract
1 1/2 cups flour
1 teaspoon baking soda
1/4 teaspoon salt
Additional granulated sugar for coating cookies
3-4 dozen Brach's Solid Milk Chocolate Stars* or chocolate kiss candies
Preheat oven to 375 degrees Fahrenheit.
Using mixer mix the peanut butter and butter in a medium sized bowl. Gradually add sugar and brown sugar to peanut butter mixture and cream well. Mix in egg and vanilla.
Mix in flour, baking soda and salt. Shape dough into 1-inch balls. Roll each ball in granulated sugar to coat and place about 2 inches apart on ungreased cookie sheet.
Bake about 6-8 minutes or until edges are light brown. At this point cookies will be very soft and slightly puffy. Immediately press one chocolate candy in center of each cookie, pressing down until edges begin to crack. Place cookie sheet back in oven and bake for an additional 2-3 minutes. Cool cookies on a wire rack taking care not to touch the chocolate until it is completely cooled.
Yields about three dozen cookies.
*Any cone shaped milk chocolate candy can be used but our families favorite is the Brach's Milk Chocolate Stars
. My Aunt explained it best when she said that the cookie seems to grab onto the ridges of the chocolate stars and keep them in place better. Chocolate Stars are also pretty, so if you can find them in your market I suggest using them, if not kiss candies of some sort will work out beautifully.