I mentioned earlier that I love baking cookies this time of year, actually I love baking cookies anytime of year but that is beside the point.
Each year for Christmas my lovely Grandma sets to work baking dozens times dozens squared by dozens of cookies. My family likes cookies and we like to share cookies. Each year my sister, Maddy and I help with the baking task and each year along with the tried and true favorites we like to try out a few new recipes.
Now what better way to get new recipes than from all of you! I am so excited to announce the first annual
Evolving Mommy Holiday Cookie Exchange
.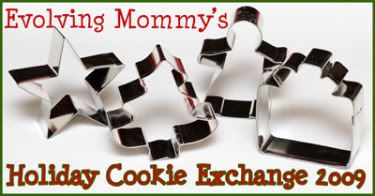 I know some of you may avoid cookie exchanges like the plague but the beauty of this cookie exchange is that you don't have to bake a thing in order to participate. All you have to do is post one of your favorite cookie recipes on your blog and leave your link in the Evolving Mommy Cookie Exchange link list.
Easy right?
Fun right?
Well it gets better. There are fun baking and Christmas themed prizes too!
Prizes because I think your great, I'm feeling the Christmas spirit and I think you are great. Wait I already mentioned that didn't I? Oh well, it's true.
The Cookie exchange begins tomorrow, 12/07, and runs through Friday, 12/11. For each day you participate by posting a recipe on your blog, leaving your link on the link list and linking back to Evolving Mommy, you will be entered to win one of the prizes, giving you a possible of 5 entries for some really fun and very cute winnings!
Drop cookies or cut-out cookies, bar cookies or Christmas Candies or no-bake cookies, fancy or super simple…the possibilities are endless. Come back daily to share your recipes and to see what recipes other people are sharing.
Tomorrow I'll share some of the prizes with you along with my first recipe. In the mean time feel free to grab the button or the banner and spread the word, the more the merrier! I can't wait to see what everyone has to share!
p.s If you are interested in participating but do not have a blog there is a way for you to get in on the fun too. Leave your recipe in a comment on the Holiday Cookie Exchange post and I will enter you into the drawings as well.