Celebrating 3(!) part 3…
Did I mention that I went a little overboard for Maddy's party?
I confess. I went a little over board for Maddy's 3rd birthday party. Although in my defense she is my only child and therefore my favorite. Obviously favorite children deserve parties filled with sweets and delicious treats. Besides if your child was this cute you would want to go overboard too.
We don't eat sweets all that often in this house. Maddy eats sweets least often of the three of us. So of course for her birthday two kinds of cupcakes are a good start but we needed something more. I needed to find a way to make at least some of our cupcakes choo choo-rific or fit with our train theme in some way.
I'm nothing if not a bit of an over achiever at times.
I topped each chocolate cupcake with  dollop of butter cream frosting and then nestled a little handmade train chocolate into the butter cream.
The extra chocolates just happened to spread themselves out across the cupcake plates and table. I had nothing to do with it. I would never put my guests in the line of temptation with two kinds of cupcakes and chocolates…and cookies.
Cookies too?! I know, I know. Overboard.
I thought decorating cookies would be a fun activity for all of the kids and kids-like adults at the party. Unfortunately we were low on kids because of lack of party attendance so the adults had to step up and decorate a lot of cookies. It was like torture of them I sure. I would know because I was one of those adults camped out around the cookie table decorating and decorating and decorating.
We hated every minute of playing with royal icing and tons of sprinkles. Can't you tell?
You might say the girls had fun too.
Royal icing, sugar cookies in the shape of train engines and sprinkles made for yummy treats for everyone to take home and for lots of entertainment. Not only that but the girls got lots of practice layering and layering and layering icing and sprinkles and icing and sprinkles and icing. Everyone knows layering sprinkles and icing is a very important life skill.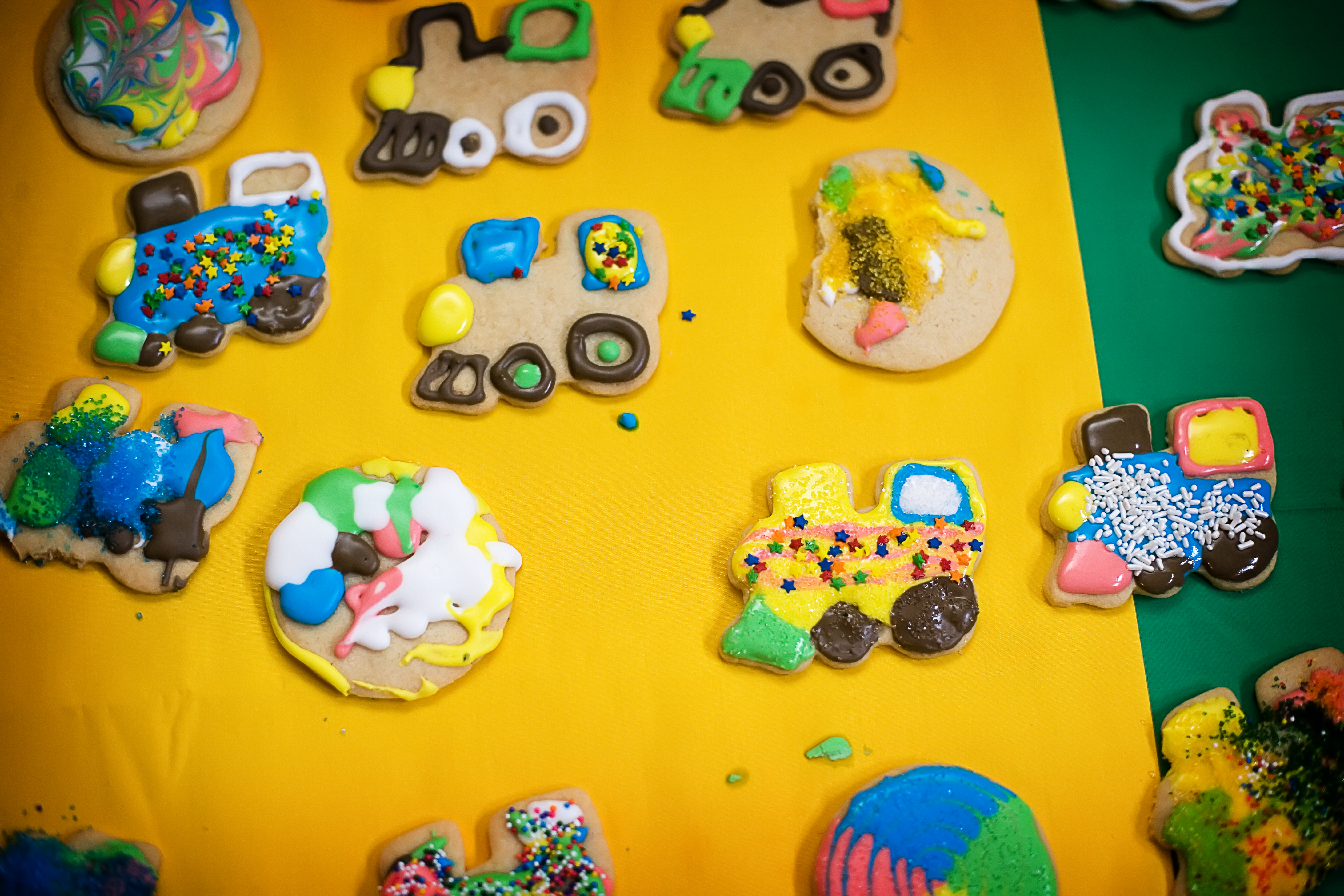 Look at those adorable cookies. Can you spot the Maddy and Boo creations? The missing bite on one might give it away though. So stinkin' cute I tell ya!
One a side note, star shaped sprinkles make me happy.
Other Train Themed Birthday Party Posts