Just like the parenting manual told us we took Maddy to the pumpkin patch this year.
We also let her push the wheel barrow. Pushing a wheel barrow wasn't in the parenting manual but we improvised.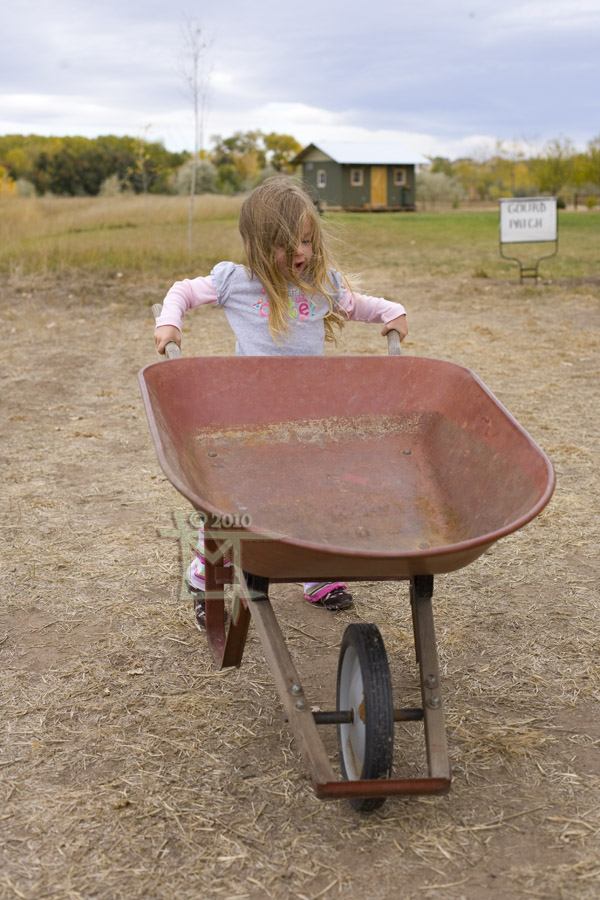 We let her search her way through the field of pumpkins looking for her favorite one. Making sure to give her ample time to make her choices.
Just as the parenting manual suggested we took pictures of our happy child in the field holding her pumpkin proudly.
After returning to the barn from the field we had her look through the gourds and tiny pumpkins and let her really enjoy one of the traditions of the fall season to the fullest. We even took some of her favorites home.
We followed that parenting manual well and added her beautiful gourds to our table center piece and made plans to paint pumpkins for Halloween.
We then proceeded to leave the pumpkins in the garage and forget about them completely. According to the parenting manual we are failures. Terrible parents.
Luckily there really isn't a parenting manual in our possession. Obviously there isn't one in our possession. Otherwise maybe we would have actually painted the pumpkins instead to leaving them in the exact spots they were placed in when we brought them home from the pumpkin patch. Maybe they wouldn't still be sitting there three weeks later.
Parenting fail? Why yes, but at least with all the candy Maddy has been plowing through she hasn't even noticed. And hey, she'll have those pumpkin patch memories which are way more fun than actually painting the pumpkins, right?
Maybe next year we won't be so preoccupied with wood and tile flooring that we won't neglect the fun stuff?
I guess in the mean time if any of you come across that magical parenting manual send it my way.
On a side note, head over to Evolving Mommy Reviews and enter to win a giveaway for a 3-pack of adorable argyle leggings from Agoo! I'm just doing my part to keep the kids of the world looking good in adorable leggings.