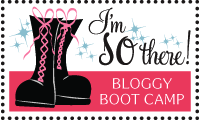 Way back in March last year I attended my very first blogging conference.
I hopped on a plane and flew to Baltimore to see my lovely friend Michelle and to take part in the very first Bloggy Boot Camp.
I was nervous so  I made a little get to know me video and shared it here on Evolving Mommy. I mean, I only actually really knew one person there. Michelle. I've know Michelle since I was eight. But the other 100 women in the room? Maybe I had read some their blogs, maybe some had read mine, maybe we followed each other on twitter.I didn't really know them.
I hoped that I wouldn't be completely overwhelmed and invisible in a sea of bloggers that had no idea who I was. Would all of these women already know each other? Would the bloggers with huge followings even acknowledge my existence?
My fears were completely unfounded. Yes, I didn't know these people in the "I went to high school with them," or "I see her at the library with her kids all the time" sort of way. I didn't need to. These blogging women were my people. They got me and my sort of off the wall hobby. I didn't have to spend a large portion of the conversation explaining what blogging was and why in the world I would ever want to do something like share a story about my daughter emptying my potted plant of all its dirt. They already knew. We spoke the same language.
Throughout the day of learning I got the chance to meet dozens and dozens of bloggers. Some of whom I have had the pleasure of hugging at other conferences, a lot of whom I still talk with on twitter or through blogging and even some who I am now personal friends with on Facebook.
Bloggy Boot Camp gave me the confidence I needed to actually use the ticket I bought for BlogHer in New York City last summer. The atmosphere Tiffany, Bloggy Boot Camp's beautiful charismatic and all to easy to love leader, created was perfect for starting relationships not just throwing business cards at each other as can sometimes happen at blogging conferences.
I loved Boot Camp. Loved it. I was thrilled when Denver was announced as one of the 2011 stops for Bloggy Boot Camp last fall. Now I have the pleasure of offering one lucky lady a FREE Bloggy Boot Camp Denver conference pass! (Note: this giveaway is for one (1) Bloggy Boot Camp Denver conference pass and does not include hotel or transportation.)
Seriously awesome right?
So here are the details:
What: Bloggy Boot Camp Denver
Where: Hyatt Regency, Denver Convention Center
When: Saturday, September 17, 2011 from 9:00 am to 5:00 pm, with party to follow at 5:30 pm
What the conference pass includes: Lots of learning, friend making, lunch, and admission to the cocktail reception after the conference.
So here is how you can enter to win…
Mandatory Entry:
Leave a comment here telling me what you would love to learn about or who you would love to meet at Bloggy Boot Camp.
Extra Entries (leave a separate comment for each entry):
This giveaway is open to US Residents, aged 18 and older. Giveaway ends April 13, 2011 at 11:59 EST. Winner will be selected via random draw, and will be notified by e-mail. The winner will have 48 hours to respond via email, otherwise a new winner will be selected. Thanks to @TiffanyRom for the Bloggy Boot Camp conference pass and for bringing an awesome conference to Denver! Woot!