It is the last Monday of the school year. Madeline has about right days left in her kindergarten year. Don't even get me started on how quickly this year has flown by.
I've signed Maddy up for a few camps throughout the 9 weeks of summer break. She'll get to spend a few hours a day for a week hanging out on a farm taking care of animals petting ponies and having fun. She'll hang out at the pool or hiking or cooking for a handful of  hours a day for a different week. During another week she will swim or craft or ice skate for a few hours a day. She also will spend some time being a scientist for a each morning for a week. Of course we also have some trips to family cabin planned.
Madeline is a pretty go-go-go kind of kid and without her classmates and a full day of school to keep her busy I am sure she will get stir crazy. With this in mind Luke, Madeline and I took a few minutes while swinging on our porch swing this weekend to brainstorm a list of things we definitely want to make happen this summer. Some of the ideas were funny. Some were just plain fun. Today while Delaney napped I turned our list into a big poster to hang in our kitchen and remind us of the awesome things we want to do this summer. It also meant I got to play with my sharpies. It might seem silly but I'm hoping "I'm bored" and "I don't know what to do" will not be heard in this house for quite a while.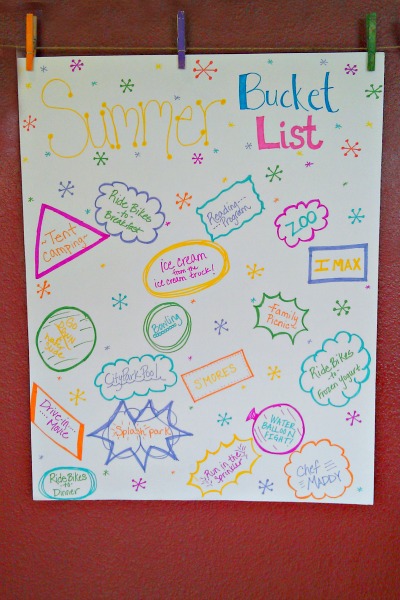 I'm happy with the balance of things we will need to plan out in advance and things we can spontaneously decide to do. I think we'll be fairly busy this summer.
What is on your list for this summer?