My favorite summer moment.
In truth I have a number of them, but this exact moment sitting on the swing at the cabin reading side-by-side with Madeline sticks out to me. I love that swing tucked back in the trees overlooking the meandering creek below. I love that girl with all her patriotic flair. I love combining that swing, with that girl and a book or two.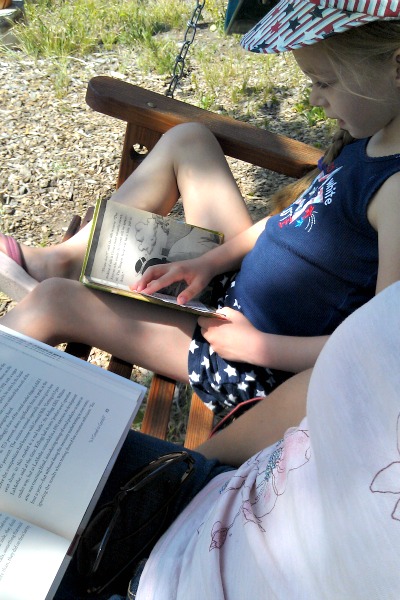 Madeline, Luke and I did our best to kick off summer on the right foot by making a fun summer bucket list. In addition to that I set a little goal for Madeline. It was a reading goal and even though I set this goal for her I didn't tell her about it. You see as one of the youngest kids in her kindergarten class she was also one of the top readers. She could easily read long picture books to herself. She could also read chapter books, even though she didn't think she could. So at the beginning of summer I decided I was going to have her reading chapter books to herself by the end of her summer break. Without feeling overwhelmed by all those words on each and every page. Well, summer break is over in just a week and I'm happy to say she has finished a number of chapter books on her own. Actually, I would call it a stack or pile even. Madeline was feeling a little overwhelmed by all the words on the page. She could read them all, but she was telling herself she couldn't. All it took was a subscription card from one my Bon Appetite magazines.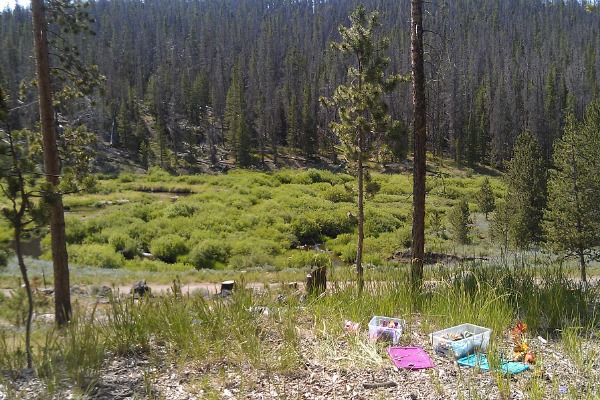 This all changed during our long weekend trip to the cabin over the Fourth of July weekend. In between awesome hiking adventures, amazing s'mores and marathon swinging sessions with Delaney,  Madeline started flying through chapter books on her own. By using the subscription card I'd pulled from my magazine to hold under the sentence she was reading and block the rest of the words on the page she instantly finished a chapter, which we celebrated and then promptly read 6 more chapters. She finished the whole book that evening and then started in on the other chapter books we'd packed for her. Within a day she went from reading the chapter books aloud to reading in her head. In just a few days she was confident enough to read without the card at all.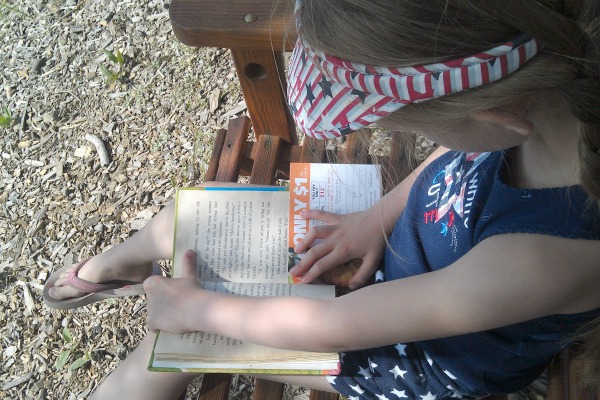 In the span of a week she conquered chapter books, and started reading silently to herself. Her comprehension is top-notch and it is the most amazing thing to watch her as she is completely absorbed in what she is silently reading. We found ourselves letting her stay up later than normal to sit by the fire with us just so we could watch her read. Our normal "adults only time" became "watch Madeline read time."
I'm so proud of her, and I'm so glad that she can be my reading buddy who I read to in addition to my reading buddy who I read with.