This weekend we celebrated Madeline's birthday with her friends. You might have seen the stream of #artparty photos if you follow me on instagram. It was a blast and I'm working my way through photos this evening so I can share the party highlights, decorations, activities, and treats with you tomorrow. I'm also watching World War Z with Luke and writing this little post has been very helpful in giving me somewhere else to look when things get too intense. How in the world is this movie PG 13? Yikes. At least it has Brad Pitt.
In the meantime I think a little Pinterest fun is in order. After all, Pinterest is always fun and why not share my pin love with you? This week- happily for me-  my very most repinned pin is one of my favorites. An "oldie but goodie" fall themed handprint craft from Evolving Motherhood. I love it when people love our stuff too! So in no particular order here are some of my most liked or repinned pins from the week complete with with links to repin or check out the original creative, stylish, and fun creators.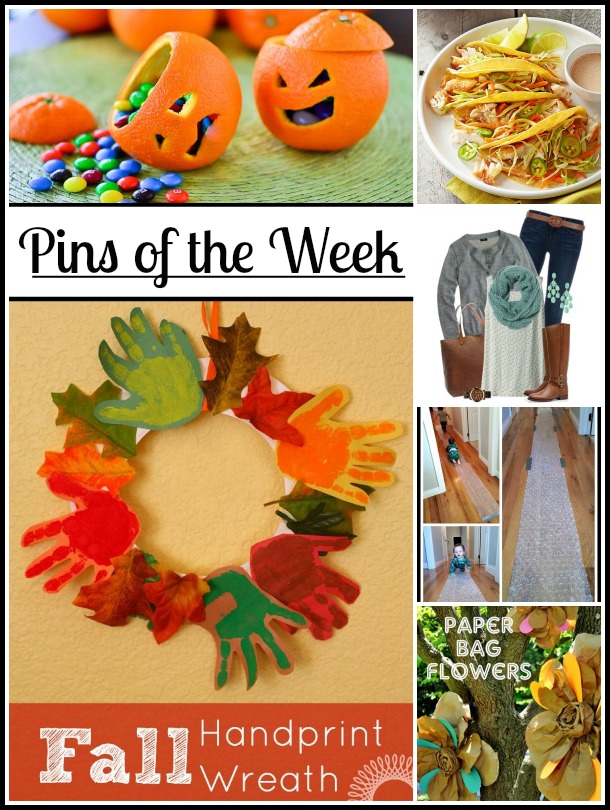 Turn an Orange into a Mini-Jack-o'-Lantern / Just Putzing Around the Kitchen
Read it: Adorable Halloween Candy Filled Treats
Pin it: Orange-o'-Lantern
Fall Handprint Wreath Craft / Evolving Motherhood
Read it: Children's Fall Handprint Craft
Pin it: Handprints as changing fall leaves
Fish Tacos with Lime Sauce / BHG.com
Read it: Easy Weeknight Dinner
Pin it: Healthy Dinner Idea
Break Out the Riding Boots and Cardigans / Nancy on Polyvore
See it: Seeing Spots on Polyvore
Pin it: Perfect Early Fall Outfit
Fun Bubble Wrap Run / Play Create Explore
Read it: Bubble Wrap Senory Play
Pin it: Sensory Play Time for Kiddos using Bubble Wrap
Lovely Paper Flower Decorations / Shannanigans
Read it: Paper Bag Flower Tutorial
Pin it: Up-cycled Paper Bags as Party Decorations
So, have you come across any fantastic pins worth sharing this week? Have any fabulous pins of your own to share? Did any of your pins recieve a bunch of repins?