While shopping at World Market recently I came across some fun Halloween pasta and just couldn't pass it up. You see, I love to look at the amazing and intricate bento box lunches posted on the internet but when  it comes down to it, I'm just not an intricate bento box making kind of mom. Shaped holiday themed pasta made from good ingredients is a great way for me to have some fun with lunch packing a holiday themed lunch for Madeline without going crazy concocting a Halloween themed lunch taking the better part of an hour and no less than a dozen utensils and 2 dozen ingredients. No matter how cool I think traditional bento lunches look or how much fun I would have making them I just don't have the time in the morning. Because of this I generally focus on making lunches for my girls that feature real, healthy, and fun foods.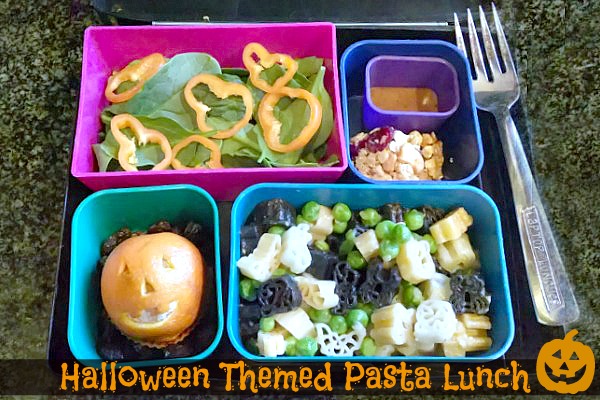 Regardless of my lack of time or motivation I still want Madeline to have days where she opens her lunch box to find something novel and fun beyond what she would normally find. I try to walk the line between same ol' same ol' and crazy bento mom. I do that by adding little touches of whatever holiday or theme I'm going for . In today's case small touches means the color orange, pasta in Halloween shapes (i.e. bats, spiders, witches, and pumpkins), and a jack-o'-lantern to top it off. Last year it was a Halloween lunch with ghosts and mummies. This is where I say I don't think you are crazy if you make beautiful bento lunches for your children. Just the opposite, I think you're awesome. I simply know I would turn into a crazy mom if I tried to make traditional bento lunches everyday.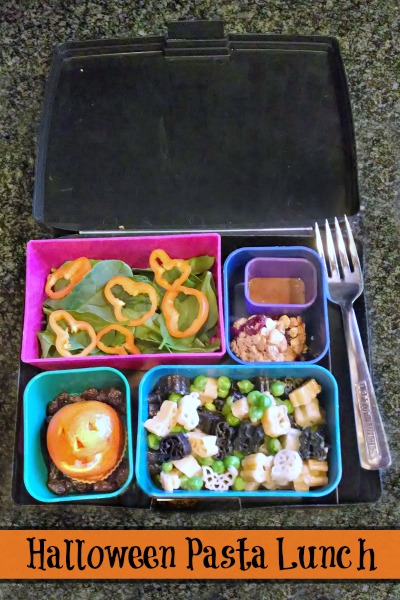 What's in the Halloween Themed Laptop Lunch Box today:
Halloween pasta from World Market topped with butter, peas, and grated Parmesan cheese
Clementine jack-o-lantern surrounded by raisins
Spinach salad topped with orange mini bell pepper slices and Annie's Balsamic vinaigrette
Homemade salted cashew cranberry granola chunks
Are you planning a Halloween themed lunch for your kids? Do you have any fun, but easy to pull off Halloween food ideas?