Pumpkin is my favorite season if the year. I could also say sweaters are my favorite season of the year, or riding boots, apples, changing leaves, and scarves.
I really love fall. There is something so uplifting and renewing to me about the crisp cool air, rich earthy colors, and hearty robust flavors. This could be one reason I have an affinity for cooking with pumpkin. It could also be that I love the flavor and rich color of pumpkin.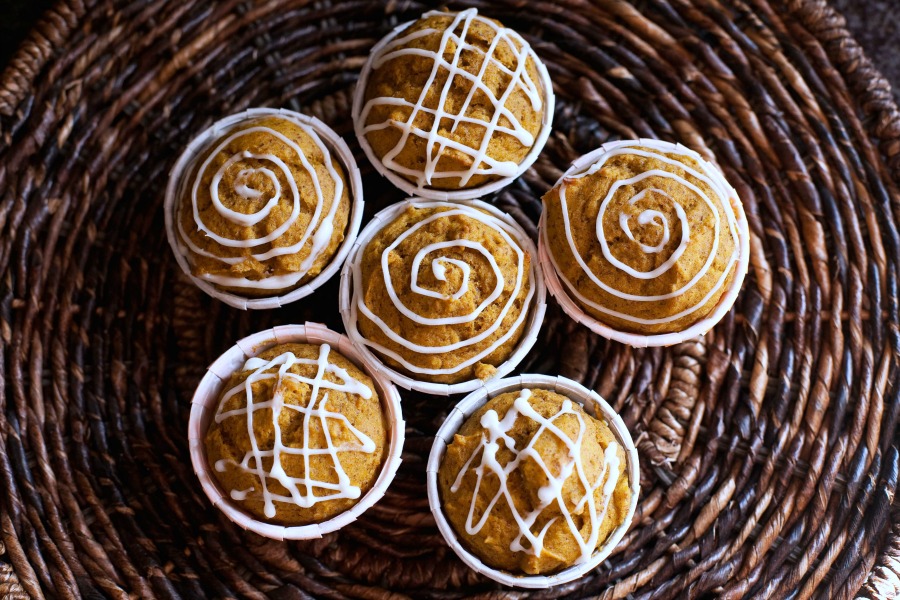 The other day the girls and I magically happened upon a Saturday without anything planned. Somehow such magic has not happened in… well… I'm not sure I can remember the last time we didn't have something on the calendar or a to do list a foot long. We decided to spend the day at home relaxing, baking, and taking it easy. Our day as just what we all needed. Especially because it involved pulling out the Learning Tower and thing needed to make delicious muffins, and spending time together in the kitchen, which is one of or favorite things to do.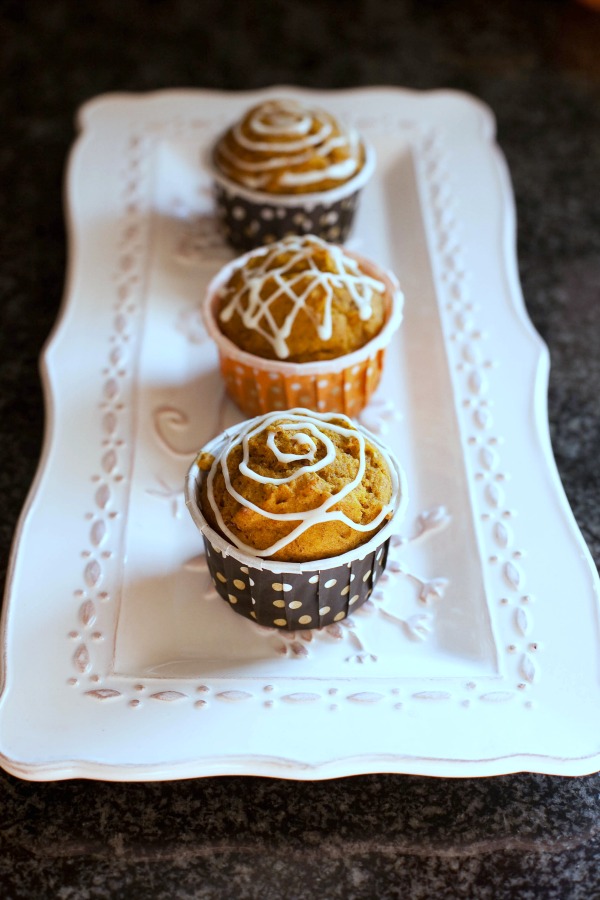 After a bit a discussion we decided to restock the muffin stash in our freezer with Whole Wheat Pumpkin Muffins. We like having homemade muffins on hand for when Madeline packs her snacks for school each day and for easy snacks or breakfast or lunch sides for the rest of us too. These Whole Wheat Pumpkin Muffins are hearty and have a full pumpkin and warm fall spice flavor. They are not very sweet, which was our goal. We didn't want pumpkin cake, we wanted delicious and healthy pumpkin muffins suited for school snacks, breakfasts, and lunches. We did decide to add a yummy cream cheese glaze to add just a bit of sweet creaminess to balance out the spiced muffins.
Madeline took one as a snack today, the girls each had one with their breakfast yesterday morning and we all had one on Saturday afternoon too. This recipe makes 24 standard sized muffins and enough cream cheese glaze to add a touch to each one. We even came up with a little twist on the cream cheese glaze and made some Halloween themed muffins too!
Whole Wheat Pumpkin Muffins with Cream Cheese Glaze
Whole Wheat Pumpkin Muffins
3 1/2 cup whole wheat flour
2 teaspoon baking powder
1 teaspoon allspice
1 1/2 teaspoon cinnamon
1 teaspoon nutmeg
1/2 teaspoon salt
1/2 teaspoon baking soda
1/2 teaspoon cloves
3/4 cup milk
1/3 cup oil
3/4 cup apple sauce
1/2 cup maple syrup
2 teaspoons vanilla
2 large eggs
1 can pumpkin puree (2 scant cups)
Cream Cheese Glaze
2 ounces Cream Cheese (softened)
1 tablespoon water
1/8 cup confectioner's sugar
Heat oven to 400 degrees Fahrenheit. Line muffin pan with baking cups.
In a medium-sized mixing bowl mix flour, baking powder, allspice, cinnamon, nutmeg, salt, baking soda, and cloves until blended. In a separate medium-sized bowl mix milk, oil, apple sauce, maple syrup, vanilla, eggs, and pumpkin until blended. Add wet ingredients to dry ingredients and stir until all the dry ingredients are  fully incorporated. Fill each cupcake liner about 3/4 full. Bake for 20-24 minutes, or until a toothpick inserted in the center of a muffin comes out clean.