For Madeline's fifth birthday she decided a butterfly themed birthday party sounds perfect. I was thrilled with this. Mostly because the influence of other four-year-old girls was beginning to show in her life and even though she is not terribly fond of Barbies, Disney Princesses or baby dolls she had at times in the months leading up to the party spoken of having a princess party or something similar. Honestly, if this is what she really wanted then it is what she would have gotten, but I worried she was beginning to feel the pressure to do what other girls would do and not necessarily what she wanted. So when she settled on butterflies, which she loves, I was only too happy.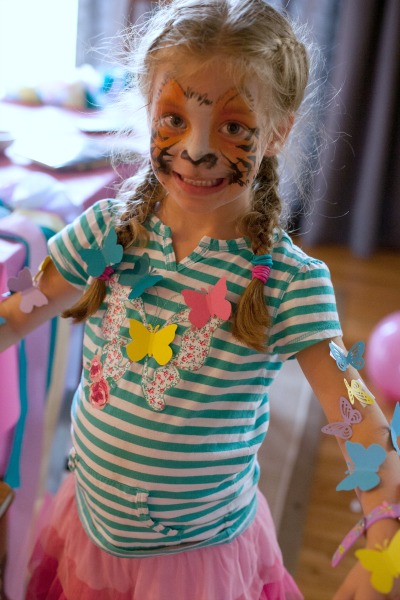 Butterflies after all, are just feminine and pretty enough to appeal to little girls while also being open-ended enough to allow some creativity in planning, decorating and throwing the party. I was not end up getting stuck into the box of character themed colors and decorations.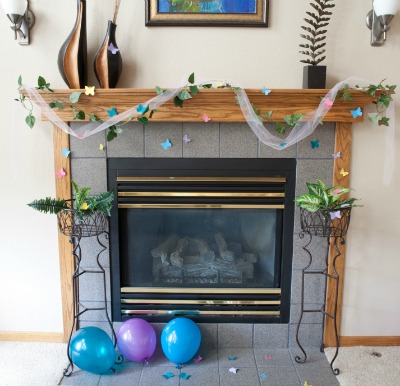 Once we had a theme Madeline and I settled on a handful of colors for her party -pink, turquoise, yellow, lilac and teal- and I started pulling together butterfly themed birthday party decorations from there. I thankfully found all the plates, napkins, cups, cutlery, balloons and crepe paper in our colors in one place from an Birthday Direct which saved me the trouble of running around town.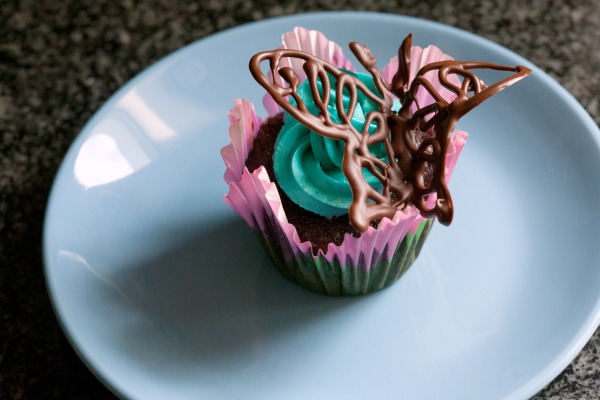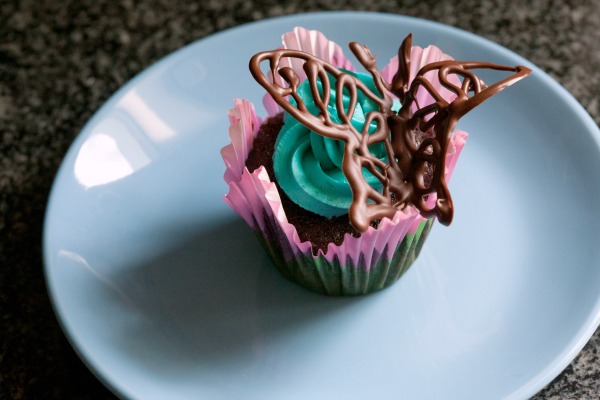 I searched Etsy and found a shop selling paper butterfly cutouts in our colors. I ordered a couple of butterfly confetti cut outs variations in all of our colors. It was about 200 butterflies in all to cover walls, tables and more. Faux vines used for Madeline's Dinosaur themed 4th birthday party and lite pink and white tulle all came together to give the party area a light and airy butterfly garden feel. Using a few 8 inch metal rings found at a craft store and crepe paper in our colors I made flowy whimsical windsocks to hang over the kitchen table. Our pot rack, wrapped in colored crepe paper, served as a large windsock just above the bar in our kitchen.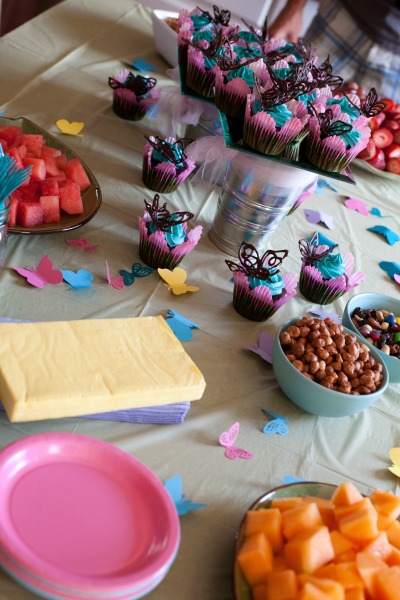 After years of huge parties with lots of family and friends we decided to take a step into the friends only party realm. With the exception of my parents and Luke's parents, Madeline's friends made up the bulk of the party guests. We kept the food simple serving fruit, nuts, pretzels, and of course cupcakes.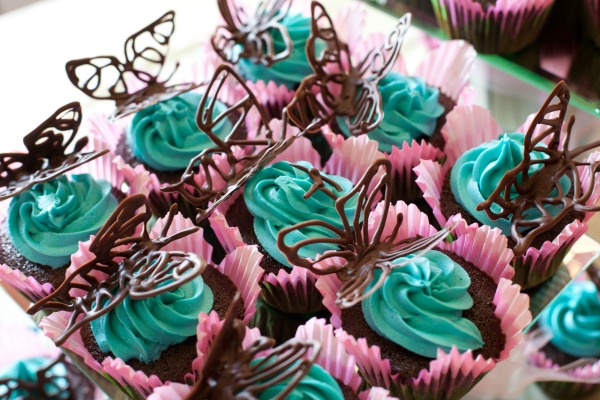 Madeline requested chocolate cupcakes with buttercream frosting. I decided on turquoise frosting and pink flower cupcake liners to go along with the colors and Luke and I made lovely lacy-winged chocolate butterflies to top them off.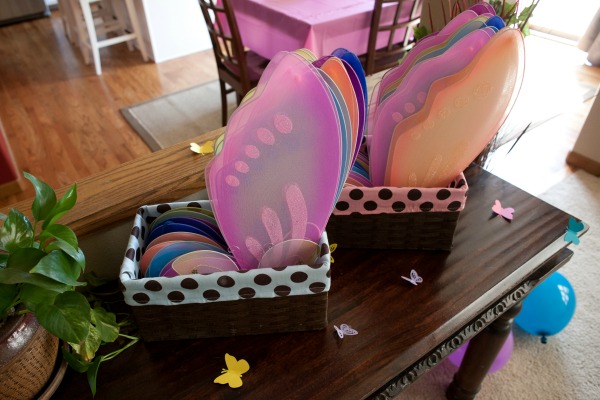 You would not believe the happy dance I did when I found Halo Heaven and their huge assortment of reasonably priced wings. This made the fun idea of handing out wings are party favors possible and affordable. Each kid got a pair of their own brightly colored butterfly wings to wear during the party and take home as a treat, their face painted by a face painter, and an adorable butterfly treat-filled goody bag.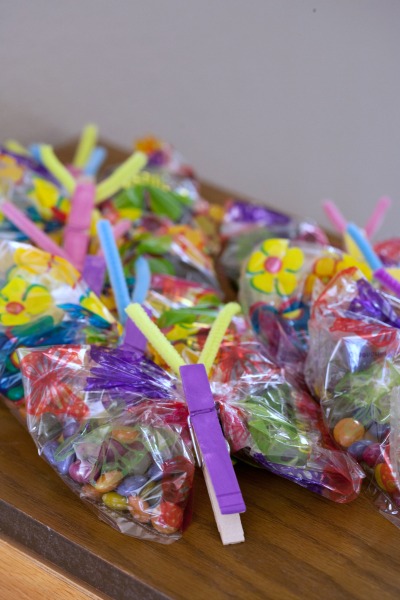 We also had a craft table set up with large butterfly cutouts to decorate with jewels, stickers, googly eyes and pipe cleaners  as part of the party festivities. Mostly the kids ran around playing in their wings like little colorful butterflies.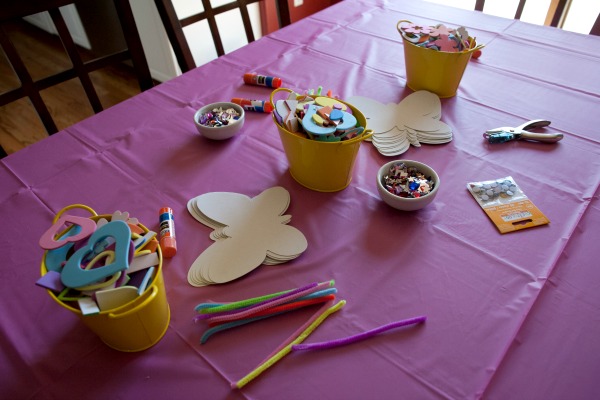 Madeline had a blast and I love how the party came together. I can't believe she is about to turn 6! The days are sometimes so long but the years speed by in the blink of an eye.
Have you ever thrown a butterfly themed party?