For a while now the most exciting question I can ask in my house, other than "Do you want to go to Barnes and Noble and play with the trains?" or "Who wants cookies!?!" is "Shall we do a craft?"
Craft is a magical word around here. Activities that include glue or paint, scissors or googly eyes, craft foam or glitter are always a big hit.
Ah glue, it is a pretty magical thing.
We recently hit the library and scooped up a big pile of books about farms and farm animals and inspiration struck. Along with all of out reading we made "Pink Piggy" Masks, and cute little cotton ball sheep.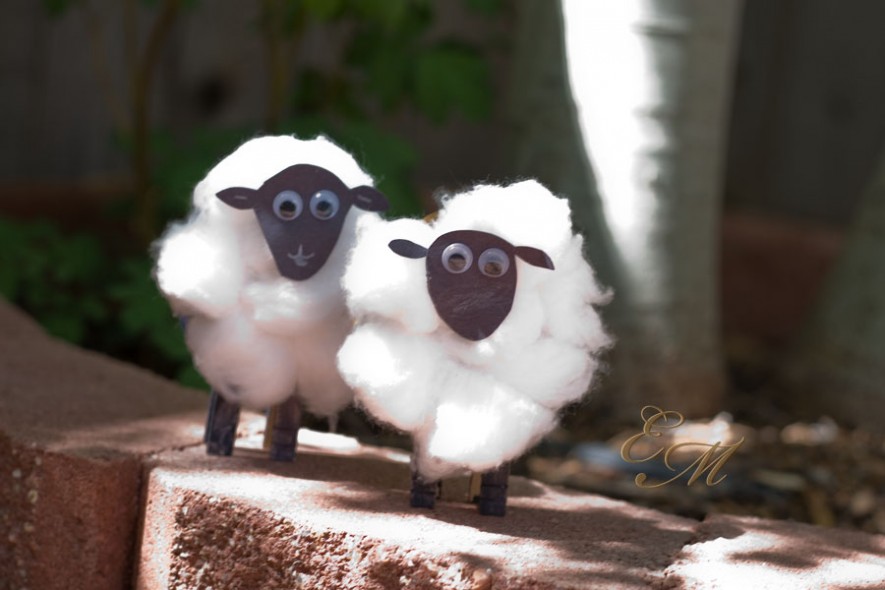 Making an adorable sheep that stands on it's own 4 feet is a fun and easy way to not only entertain toddler minds, but also supplement learning about farm animals, as well as work on following instructions.
Supplies to make cotton ball sheep:
Cotton balls
Googly eyes
Two clothes pins per sheep
One Cardboard circle per sheep (I used a roll of masking tape to trace the circle.)
Black construction paper
Black paint and paint brushes or black markers
White Crayon
Glue
Scissors
Step 1: Paint (or color) two clothes pins. Once they are covered in lack lay them aside to dry.
Step 2: Gently pull about 6 cotton balls to make them more fluffy.
Step 3: Glue cotton balls to their cardboard circle. Make sure to have them cover the whole surface with cotton ball so there is no cardboard chowing through. *While they glue the cotton down cut one sheep head per sheep being made out of the black construction paper. I cut ours free hand by making the head sort of an egg shape  with ears sticking out from the wider end of the egg shape.
Step 4: Glue one set of googly eyes to each sheep head between the ears. Using the white crayon draw a sheep nose and mouth by drawing a downward point arrow on the smaller end of the egg shaped head.
Step 5: Glue heads onto the sheep's body near the top.
Step 6: Lay the painted clothes pins on the table with flat sides facing up. The ends of the clothes pins that you squeeze should be facing you.
Step 7: Put glue on the top 1/3 to 1/2 of the flat side of the clothes pins laying in front of you.
Step 8: Lay the sheep's body on the glue covered clothes pins gently pressing the body down to make sure it made full contact with all of the glue. Lay flat to dry.
Once dry the cotton ball sheep can stand on their own!
We read some great farm books along with our farm animal crafts, here are a few of our favorites:
COCK-A-DOODLE-MOO, by Bernard Most
Chicken Little, Rebecca and Ed Emberley
Big and Little on the Farm, by Dorothy Donohue
Maisy's Morning on the Farm, by Lucy Cousins