We call our Instant Pot "The Magic Pot." Partially because of all the hype about pressure cookers, Instant Pots specifically, but mostly because it makes delicious food fast and simply. What other cooking appliance could make a delicious chicken chili from frozen chicken thighs and dried beans with 45 minutes of cooking time? This sort of magic is what makes the Instant Pot so lovely and the pressure cooker chicken chili recipe I'm about to share with you so wonderful.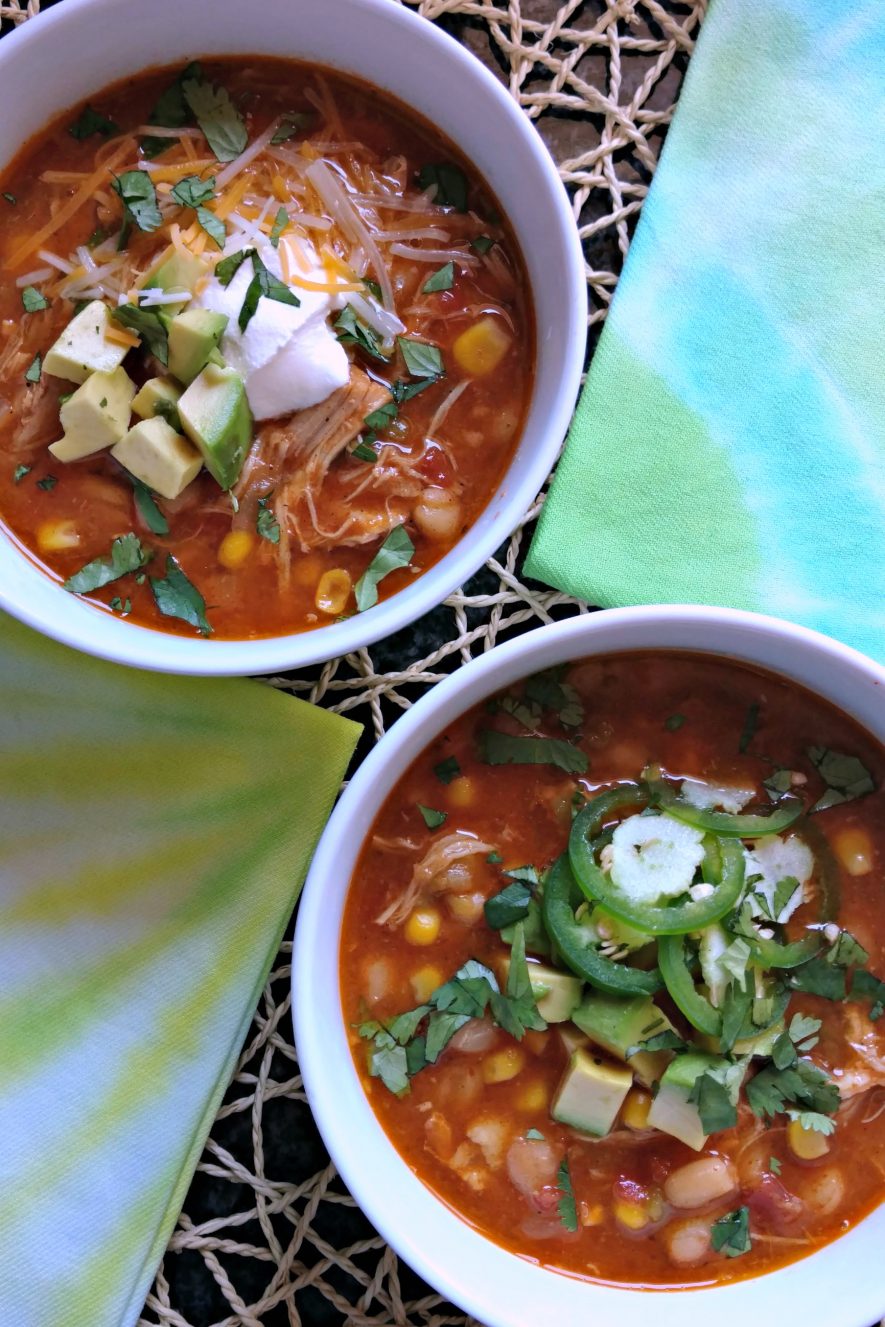 Honestly, I was pretty skeptical when the Instant Pot/electronic pressure cooker craze first started. I've had a long love affair with my slow cooker and I wasn't sure I needed another kitchen contraption. On a whim I decided to order an Instant Pot, and then it sat in the box for a while because I was intimidated by using a pressure cooker. Which looking back on was silly and I wish I had just jumped in and put the pot to work sooner. I still use my slow cooker very regularly, but the Instant Pot has added so many options and possibilities to my life.
Possibilities like tender beef stew cooked in 35 minutes, a whole juicy chicken cooked in 25 minutes, or delicious chicken chili cooked in 45 minutes. Even if all I ever made with our magic pot was pressure cooker chicken chili it would still be worth it to have it around.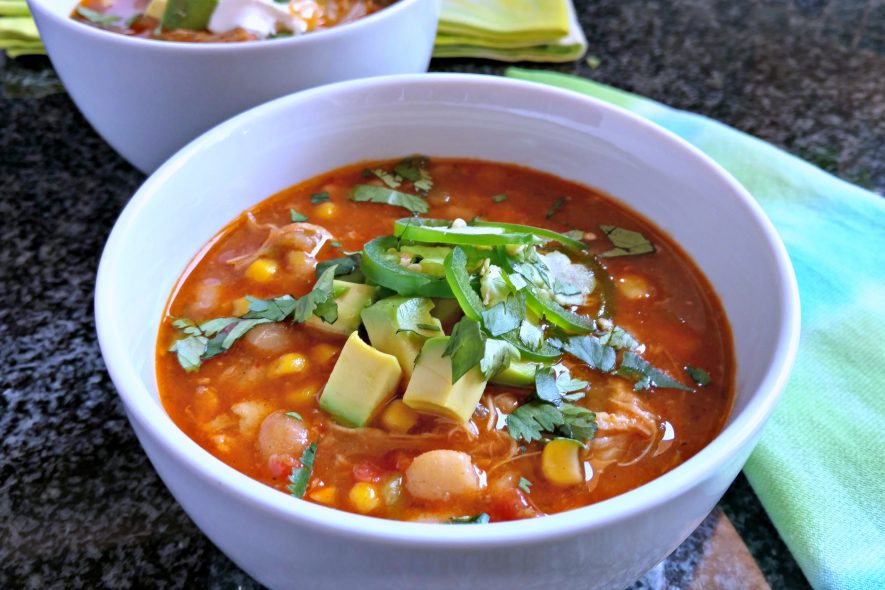 My family LOVES this chili. Yes, it's an all caps LOVE. It's flavorful, inexpensive, easy, and makes enough for generous portions for us all with plenty for a whole second dinner as well. I usually make a pan of cornbread to serve alongside our chili and put out a variety of toppings to add into our bowl. I love to top my chicken chili with chopped cilantro, diced avocado, and a bunch of fresh sliced jalapeno. Maddy loves her bowl topped with shredded cheese, sour cream, avocado, and cilantro. Delaney likes a little dollop of sour cream and a sprinkle of cheese. Luke tops his chili with all of it.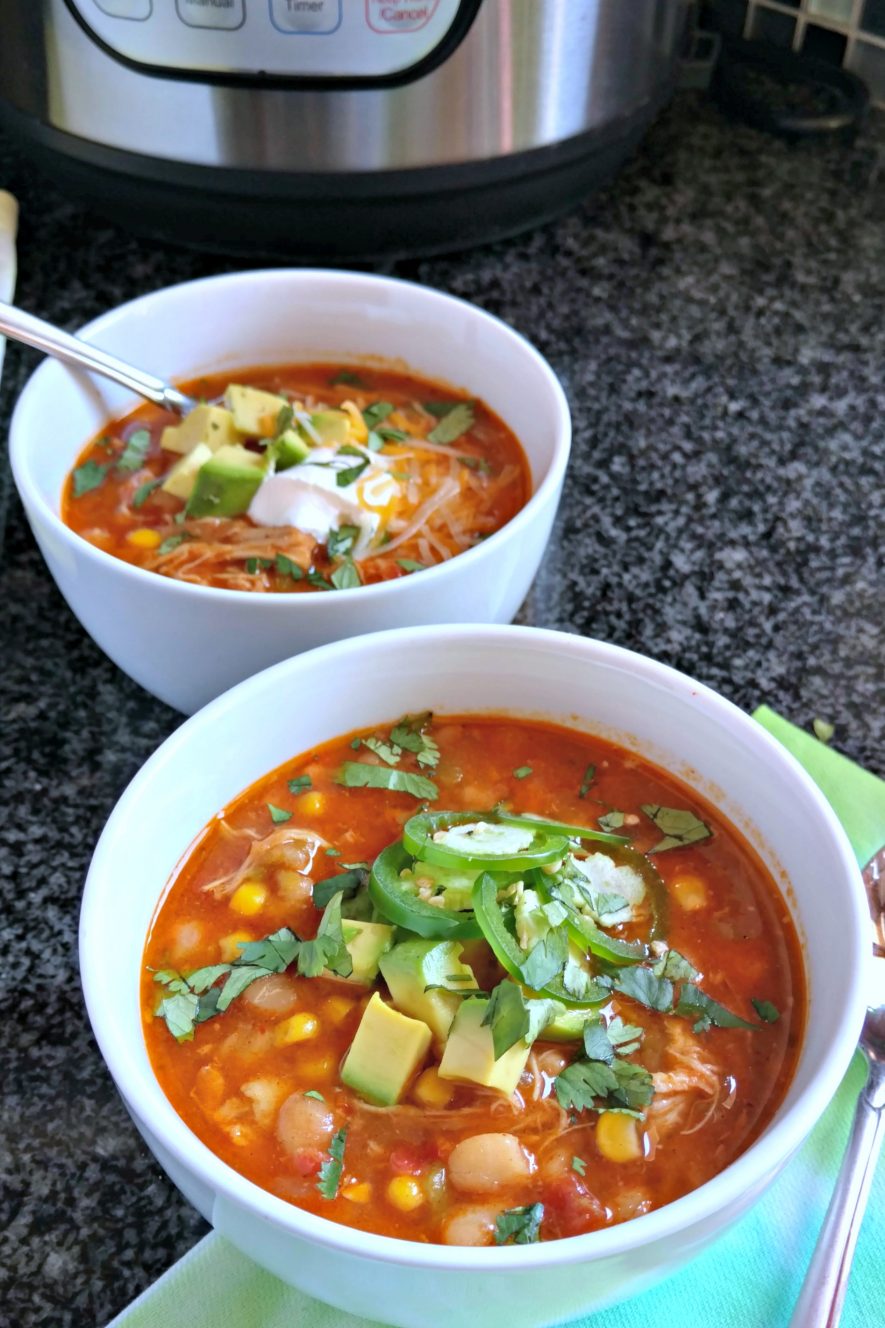 How to make Chicken Chili cooked in an Instant Pot
Pressure Cooker Chicken Chili Recipe – makes about 8-10 servings 
4 cups chicken broth
5 frozen chicken thighs (thawed will work fine too)
1 pound dried navy beans
1 14 ounce can diced tomatoes
3 tablespoons lime juice
2 4 ounce cans of diced green chilies
1 cup frozen corn
1.5 tsps salt
1 tsp oregano
1 tsp Cumin
1 Tbs Chili powder
4 cloves minced garlic or 4 tsp garlic powder
1 medium yellow onion diced
Optional toppings:
Shredded cheese
Chopped Cilantro
Diced avocado
Fresh sliced jalapeños
Sour cream
Put the chicken into the pot, pour the chicken broth over the chicken and turn on the sauté function on your Instant Pot. Leave the sauté function on while you prep the remaining ingredients and add them to the pot, this will help the pot come to pressure faster.
Add the navy beans, diced tomatoes, lime juice, diced green chilies, frozen corn to the pot and give it a stir. Add in the salt, dried oregano, cumin, and chili powder. Mince the garlic and dice the onion then add to the pot and give the mixture a stir to combine everything. Put the lid onto the pot making sure that the vent is closed. Turn off the sauté function and turn on the bean/chili function make sure it is set to high pressure and set the cook time for 45 minutes.
Once the 45 minute cook-time is up turn off the pot and allow for a 10 minute natural pressure release then open the vent and release the remaining pressure. If you have more time you can allow for a longer natural pressure release. Once thepressure is released remove the lid. Use a slotted spoon to remove the chicken thighs from the pot. Shred the chicken with two forks and then place it back into the pot. The chicken will be very tender and easy to break apart.
Serve the white chicken chili with whatever toppings you like.
Please note that the chili takes 45 minutes of active pressurized cooking time, but that there is also time needed to get the pot pressurized which depends on the temperature consistency of the food in the pot. It takes time to release the pressure after the active cooking time too. It took me some time to figure this out when I first got my Instant Pot.  All in all it usually takes me about 1 hour and 20 minutes or so start to finish to  make this chili, with about 10 minutes or so prep time, 15 minutes for the closed pot to come to pressure, 45 minutes of cook time, 10 minutes natural pressure release, and a few minutes to shred the chicken and serve it.  There is only about 15 minutes of hands-on time involved in making this pressure cooker chicken chili.