We've reached the point in the year where the garden is going crazy. I think mostly because we spent almost an entire week, okay yes an entire week, inside the house keeping out of the rain and effectively ignoring our garden beds. And now? Well, now I have more tomatoes than is normal even at the peak of our garden season. This is also partially because my previous backyard didn't get a whole lot of sun so even though we tried our little plants didn't produce a whole lot. Things have changed. The sun shines and, shines and, shines on things in this yard therefore making things grow and, grow and, grow. So this afternoon Delaney and I headed out and harvested a ton of tomatoes, just as yesterday we harvested a ton of colorful carrots. Then I came inside fed the little one lunch and then hit up Twitter asking for some help. What was I going to do will all these tomatoes. It's one thing to have a huge supply of tomatoes on hand when you are planning to can and, jar and, put things up for the winter it's a whole other thing when you are used to having tomato plants yield enough to simply add to pastas, salads and sandwiches through the warm months and no more.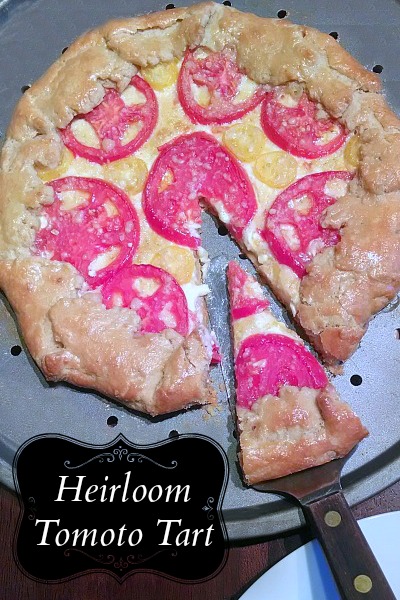 Twitter to the rescue. Instantly suggestions for slow roasted tomatoes, tomato jelly, tomato tarts, tomato galettes, tomato sauces and more were rolling in. With some ideas in hand I began looking through recipes. I was going to make Lemon Ricotta Blueberry Pancakes for dinner, so I stuck with the breakfast for dinner theme and decided on a tart, served with salad and eggs. It was so, so good. I love it when everyone is either silent or moaning at the beginning of the meal because it's just so good. The crust is flaky and perfect- it has a fair bit of butter so that is a give-in. The cheeses compliment the tomatoes nicely and the whole thing looks lovely. This lovely tomato tart would be perfect for breakfast, lunch, or dinner. I'm thinking I need to plan a girl's brunch just so that I can feed this to my girlfriends. This was definitely a treat.
Heirloom and Yellow Pear Tomato Tart
Crust:
1 1/4 cup whole wheat pastry flour
1/4 teaspoon salt
8 tablespoons frozen unsalted butter, cut into small pieces
1/8 cup plain Greek yogurt
1/8 cup ice-cold water
2 teaspoons lemon juice
Filling:
1/4 cup ricotta cheese
1/4 cup grated Parmesan
1/2 cup grated gouda cheese
1 garlic clove, very finely minced
2 large heirloom tomatoes, sliced about a quarter-inch thick
3-5 yellow pear or cherry tomatoes sliced
Glaze:
1 egg
1 teaspoon water
Instructions
To make the crust, combine flour and salt in a bowl. Add butter to bowl and cut in using a pastry cutter or two knives until the butter in pea sized pieces or smaller. In a small bowl, whisk together yogurt, water, and lemon juice. Pour over flour mixture and use hands or a wooden spoon to form dough into a ball. Wrap in plastic wrap and store in freezer for 20-30 minutes.
While the dough chills mix together the ricotta, Parmesan,  Gouda cheese, and the garlic. Set aside until ready to assemble tart. If you're not assembling for a while, refrigerate the filling until ready to use.
Preheat oven to 400 degrees Fahrenheit. Line a baking sheet with parchment paper or sprinkle with flour to ensure the dough doesn't stick.
On a well floured surface roll the chilled dough into a 14-inch circle. Transfer dough to lined baking sheet. Leaving a 3-inch border, spread the cheese mixture evenly over dough.
Arrange tomato slices over the cheese mixture. Fold over the edges of dough, overlapping periodically to form the edges around the filling.
Whisk together egg and water. Brush the egg wash over the crust. Bake the tart for 25 minutes or until cheese is puffed a bit and slightly browned, and crust is golden brown.
Have you ever dealt with a tomato surplus? What is your favorite way to enjoy delicious fresh tomatoes?