The first time I made this kale salad. Madeline just about lost her mind. She's always been a pretty good salad eater, but something about the salad stuck big time with her. It was love at first bite. I'd honestly never seen her go back for so many servings of anything let alone the vegetable side dish of a meal. It didn't take long for her to start requesting it and making it whenever it was on the menu. It isn't just some easy kale salad recipe, it's her salad. She's claimed it. She eats it up at meals and then asks to pack any leftovers in her lunch the next day.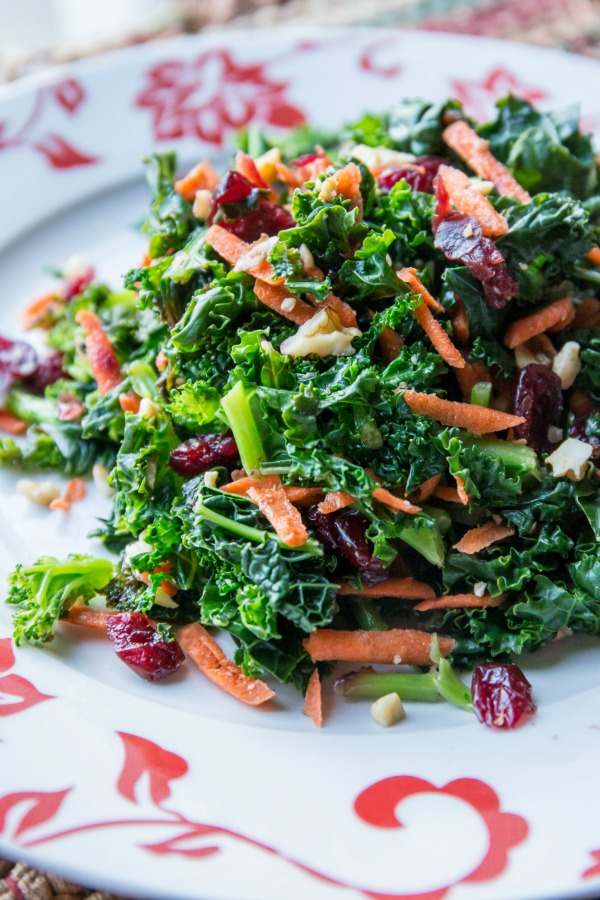 Luckily it's a simple and easy kale salad recipe to make. At 8 years old Madeline handles making this whole salad from beginning to end including the lemon vinaigrette. Which gives me a hand as I make the rest of the meal, and gives us a chance to spend some time together while we cook. Nutritious food, time with my daughter, and handing down helpful life skills for my daughter's future use.
As I mentioned above Madeline loves to pack this salad in her lunch for school. If plan to eat this salad for a couple of meals do not dress the whole salad the first time you make it as it will keep better if it is not dressed. To save any leftovers store the salad and dressing separately, covered in the refrigerator. Just give any leftover dressing a mix and then top the leftover salad when you eat it.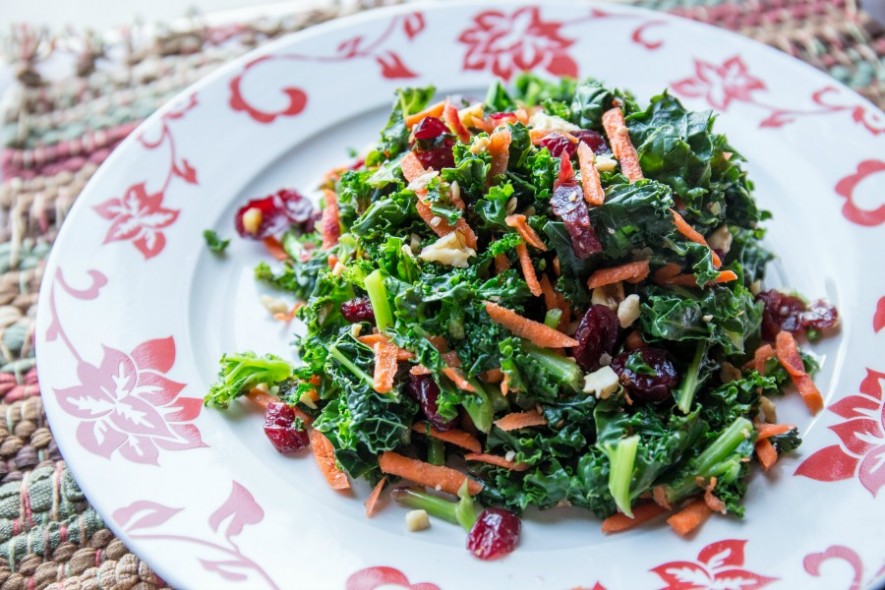 It's no trouble at all to double this easy kale salad recipe. And if you and your crew are fans of more dressing you can easily make more just stick to the formula. In the recipe above all the ingredients are measured out in 2s (tablespoons and teaspoons), if you want to make more you can up it a bit to 3s (3 tablespoons lemon juice, apple cider vinegar, and olive oil, and 3 teaspoons honey). Easy peasy, right?
Ingredients to make Kale Salad with Lemon Vinaigrette
1 bunch of kale
2 carrots, shredded
1/2 cup chopped walnuts
3/4 cup dried cranberries
2 tablespoons lemon juice
2 tablespoons apple cider vinegar
2 tablespoons extra virgin olive oil
2 teaspoons honey
How to make Kale Salad with Lemon Vinaigrette
Bring a large pot of water to a boil. Cut the kale leaves from the stems give the leaves a rough chop them into small enough for bites. Once the water is boiling add the kale to the water and flash boil it for 1 minute. Remove the kale from the post and rinse it with cool water.  Use a salad spinner to spin out as much of the water as you can. Move the kale to a serving bowl, add in the shredded carrots, shopped walnuts, and cranberries to the bowl.
To make the dressing mix the lemon juice, apple cider vinegar, olive oil, and honey with a whisk.
You can toss the salad with the dressing or allow everyone to top their own salad with their desired amount of dressing.