I've been trying to move us away from meat central meals- at least for a couple dinners a week- lately. Meat will always be a part of our diets here in this house, but I know we could all do well to reduce our meat intake a bit for numerous reasons. The environmental impacts of consuming so much meat, the health impacts, and the impacts to my grocery budget from buying a bunch of quality meat every week add up.
Luke is a protein loving guy. I've said it a million times here. So I try my best to incorporate lots of protein even when I'm cutting back on the meat in a meal and also add in some good belly filling ingredients too, just to keep his very hungry tummy happy. It was from this that a yummy sweet potato burrito was born.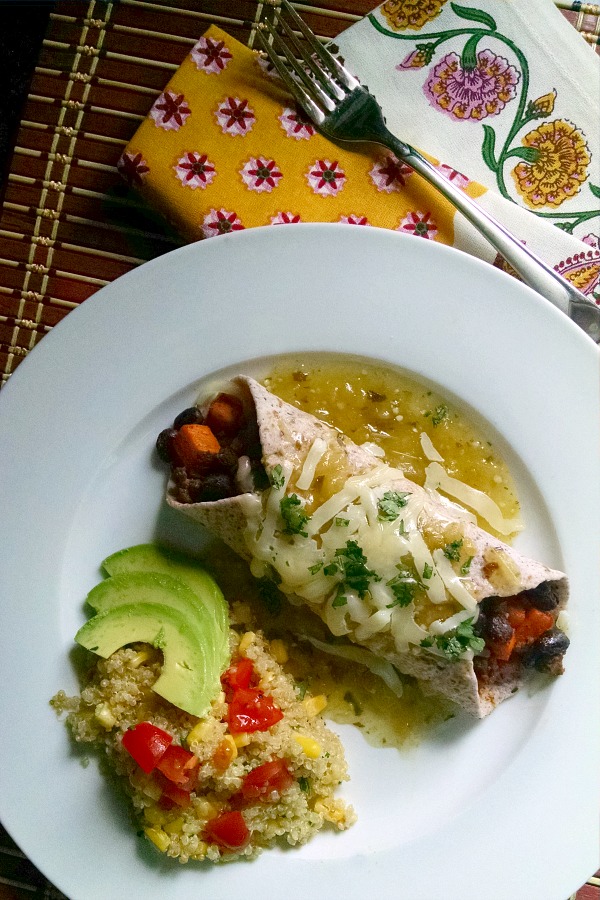 More veggie goodness than an average burrito? Check.
Less meat? Check.
Lots of protein? yup.
And tastiness to the hilt? oh yeah.
Black bean, sweet potato, and chorizo burritos were a hit with the whole family. I prefer to serve these in 6 inch whole wheat tortillas so we can customize serving sizes a bit more. Which I guess would make these Black Bean, Sweet Potato, and Chorizo Mini-Burritos. Luke has two or three if he's especially hungry, I have one, Madeline has one with a bit less filling and Delaney gets a half.
The sweetness of the potatoes paired with earthy black beans, and spice from the chorizo makes a perfect meal. Add in the bright tang of salsa verde and you've basically hit the potato burrito jackpot.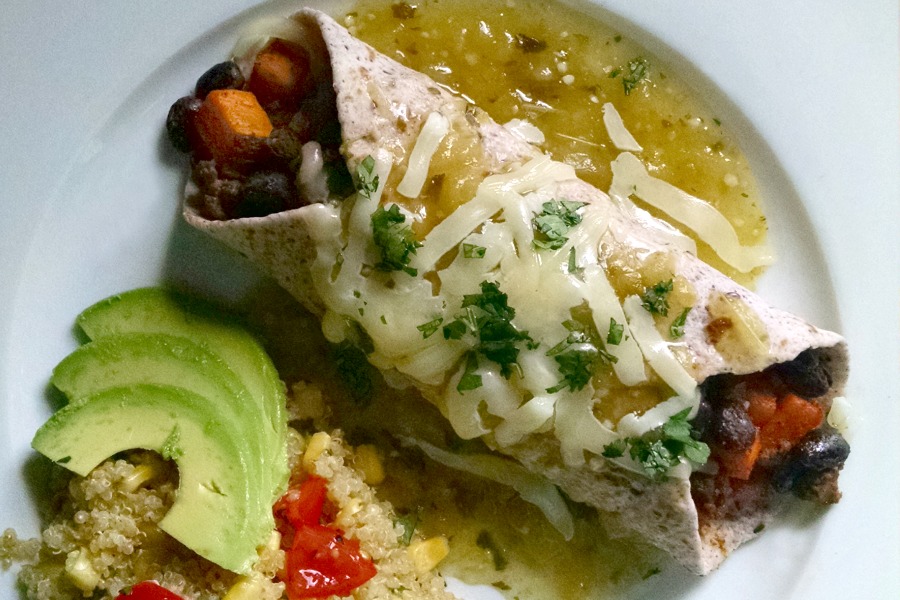 Black Bean, Sweet Potato, and Chorizo Burritos
3 cups cubed sweet potatoes (about 1/2 inch big)
1 teaspoon smoked paprika
1/2 teaspoon garlic salt
1-2 tablespoons olive oil
1/4-1/3 lb beef chorizo
1 can black beans – drained and rinsed
1/2 teaspoon garlic powder
1/2 teaspoon cumin
1/2 teaspoon chili powder
Flour tortillas
Salsa Verde – warmed in a microwave safe dish
Shredded Montery Jack cheese
chopped cilantro
Preheat oven to 350 degrees farenhiet. Toss potatoes with smoked paprika, garlic salt, and olive oil. Spread onto a baking sheet and bake for 25 minutes turning halfway through.
While potatoes cook brown chorizo in a large skillet over medium nigh heat. Once cooked drain fat from pan. Toss black beans with garlic powder, chili powder, and cumin. Add black beans to pan with cooked chorizo and stir to combin. Cook beans and corizo over low heat while potatoes finishing cooking.
Layer potatoes, and chorizo and beans mixture into a tortilla – or two – roll it up, and top it with warm salsa verde, shredded montery jack cheese, and cilantro and enjoy.