I've always tried to make making homemade baby food a priority for both my girls. But I have to be honest sometimes a pouch of quality pureed fruits and veggies is exactly what we need to supplement meals in our busy schedule. Delaney loves pouches and is always excited to have one. I wouldn't be so comfortable with pre-made baby food if there wasn't quality organic and all-natural options so widely available now.
I've mentioned before that I am a Happy Blogger, which basically means I'm in the company of an incredible group of bloggers who love Happy Family's high quality, healthy, and delicious packaged foods. And no they didn't pay me to say that. We get tidbits of behind the scenes news and sometimes a sneak peek at new products, as well as the opportunity to share our knowledge as parents with Happy Family's audience from time to time. Madeline loves the Chocolate Sunbutter Happy Tot Toddler Bars. Delaney loves the Sweet Potato, Apple, Carrot & Cinnamon Happy Tot pouches any time any where. I love that all the products are made with quality organic ingredients including fruits, veggies and even salba (chia). We are and always have been fans of the brand to say the least.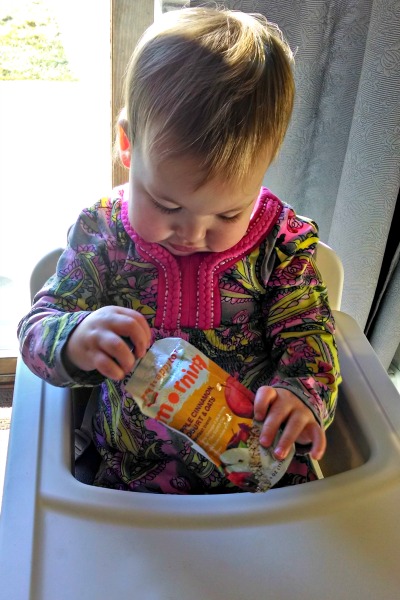 In January Happy Family's Happy Tot line is expanding to include Happy Tot Morning pouches in two great flavors- Banana, Blueberry, Yogurt & Oats, and Apple Cinnamon, Yogurt & Oats. I can vouch for their greatness because Delaney and I have had the chance to try them and we gave them both a big thumbs-up. This is one of those times my kids think I have the most awesome job ever. Even though these are called Happy Tot they would be a good healthy addition to school lunch boxes or school snacks for older kids too.
What I like about Happy Tot Morning: 
-It's organic
-It has Omega 3s thanks to the added Salba
-It's made with whole grains and oats
-It's easy to take along and eat on the go
-It tastes great! (yes, of course I tried them)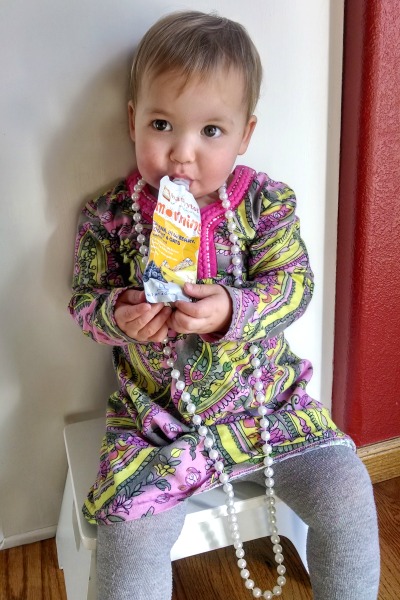 What Delaney likes about Happy Tot Morning:
-It tastes great
-It's easy and fun to eat (what independent toddler doesn't love feeding themselves?)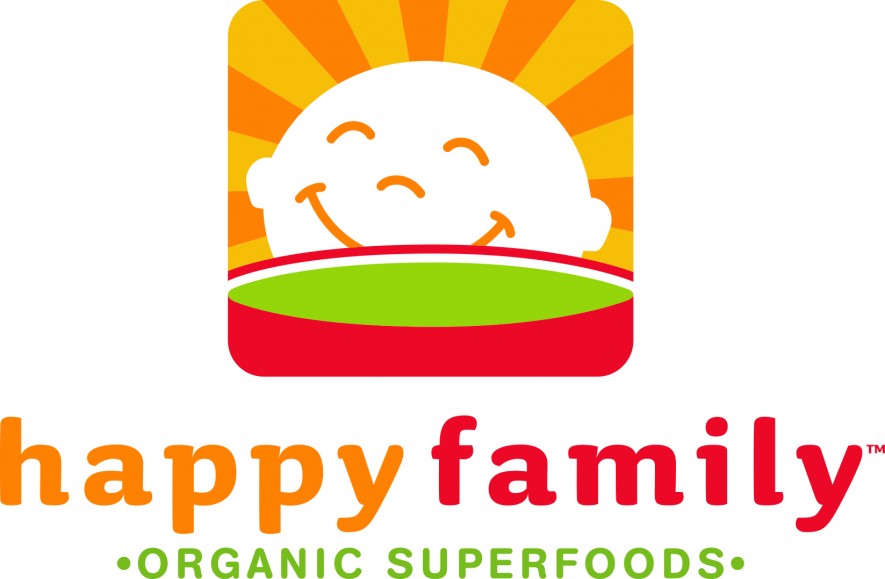 In honor of the brand new Happy Tot Morning I get to give away a case of Happy Tot Mornings to one Evolving Motherhood reader! That's 16 pouches! (8 Banana, Blueberry, Yogurt and Oats, AND 8 Apple Cinnamon, Yogurt & Oats!)
Make sure to follow the Rafflecopter directions below to enter and get all of your extra entries too!
Disclaimer: As a Happy Family blogger, my family and I get products to try out and review from time to time. We received Happy Tot Morning for the purpose of this review. The opinions shared are mine.