If you follow me on Instagram it's no secret that I love to read, and that I'm very passionate about raising my girls to be readers. To me opening the door to the world of books for my daughters and then watching them go on adventures, learn lessons, find joy and heartache, and make friends with the most amazing characters all in within the pages of a book is one of the most important jobs I am tasked with as a mom. Because if they can find joy heartache, friendship and love, struggle and growth in the safety the pages of a book they'll always have a place to call their own. They'll always have a safe place. A place to let their imaginations run. A place to put their feet firmly in other's shoes and learn from walking in them.
When I was asked by Scott Schumaker to review his book – Henry's Big Star Adventure – I didn't hesitate. I knew Madeline and I would have fun reading a book together and taking a little adventure together each night before bed.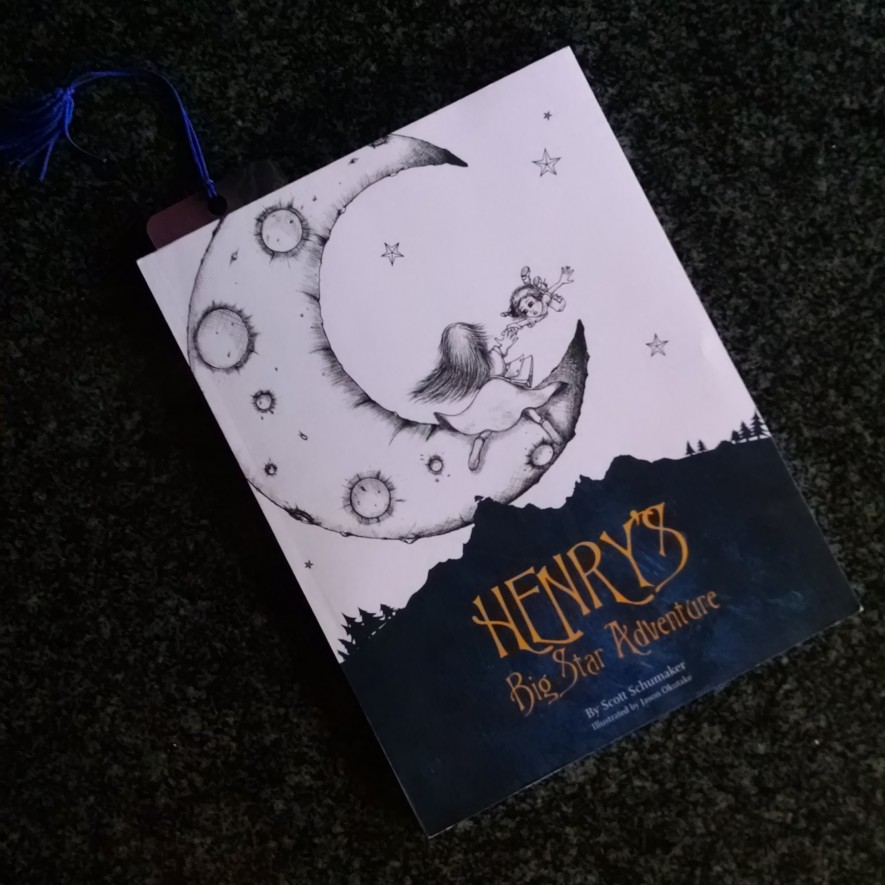 I wasn't wrong. We loved passing the book back and forth, listening to each other's versions of different character voices. Madeline is a reader and always has been. She knew her letters by sight at just over a year and a half. She was reading chapter books in kindergarten. This past summer she would check out a pile of 10-12 books at weekly library trips to get her through the week. All that to say she's a self motivated reader and as a result our time to sit and read with her has shrunk. Reading Henry's Big Star Adventure together gave us both some time to go on a fun journey, but also sit together, laugh together, and take a collective deep breath at the end of bustling days. So who is Henry and what is this Big Star Adventure? Well I can't give away too much, but I can share with you that Henry is just your average boy who makes a mistake and has to go on a journey of epic proportions to learn important lessons.
From Amazon: Henry didn't know that all of our hearts were full of stars. He didn't know that these stars could be lost until one shot out of his mouth and floated off into the night. Determined to get his stars back, despite the unknown dangers he might face, Henry starts his quest by crawling under his bed. Join him.
What did Madeline and I think? Well, I'll get to Madeline's thoughts in a moment, but I have to tell you I'm so glad we read this and I'm even more glad we read it together. It was a fun adventure. We laughed and shared nervous glances as we read. We also had numerous opportunities for learning along with Henry. We had so many chances to talk through big lessons throughout the book. Kindness, honestly, friendship, bravery, dealing with emotions. Now for Madeline's thoughts on Henry's Big Star Adventure. How about I let her tell you herself? I asked her a few questions about the book. She likes being interviewed. She would have let me interview her about this book all afternoon, and she would have happily kept on talking about it too.

Madeline and I enjoyed turning the pages as we read to find illustrations. Like the story and characters the illustrations are creative and engaging. Reading this book has a bit of a mirror effect. Reading it makes you reflect on your own past actions and feelings as you watch Henry on his adventure. I will say that I think 3rd grade is a good age to read the book. Younger children will probably enjoy the adventure, but some of the emotional concepts might be a little over younger children's head. I'm interested to see how much more Madeline gets out of the story as she gets older. I'm sure she read it again. Now for the giveaway, Scott Schumaker has generously offered one Evolving Motherhood reader their own copy of Henry's Big Star Adventure. All you have to do is enter the giveaway below.
I received Henry's Big Star Adventure in exchange for an honest review. All opinions and experiences are mine and Madeline's only. Giveaway open to residents of the US only. Must be 18+. No purchase necessary. Giveaway ends October 2, 2015 at 11:59 p.m. (EST). Winner will be chosen at random. Winner will be notified via e-mail and must reply within 7 days, or an alternate winner will be chosen.