I'm on a berry kick lately.
I don't know why the beauty of frozen berries didn't occur to me before but I am hooked now. It is still possible to get fresh berries right now but it is fall and soon we won't be getting fresh berries, at least not that we can buy without putting a second mortgage on the house.
Muffins filled with whole wheat flour and flax meal make my heart sing. At least once a week Maddy gets a breakfast of a muffin and banana in the car as we take Luke to work and having yummy muffins on hand keeps me sane and her fed. Kids love muffins. Especially if it means not going hungry. Moms love healthy muffins and this is why I've got a healthy berry muffin recipe for you. Blueberries, raspberries and blackberries, whole wheat flour,and flax make for a seriously hearty and delicious muffin.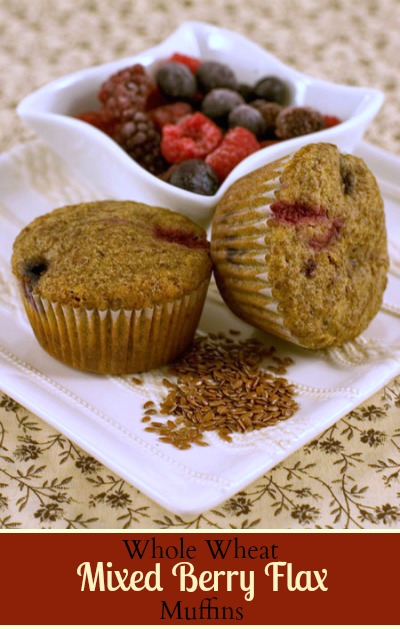 If you are in the market for other muffin recipes to serve as breakfast or part of breakfast let me suggest Carrot Apple Breakfast Muffin,  or Zucchini Carrot Muffin. It's fall so expect to see a lot more baking around here. I know it's hard to imagine more baking around here but trust me fall and winter bring out the baker in me. Woo Hoo!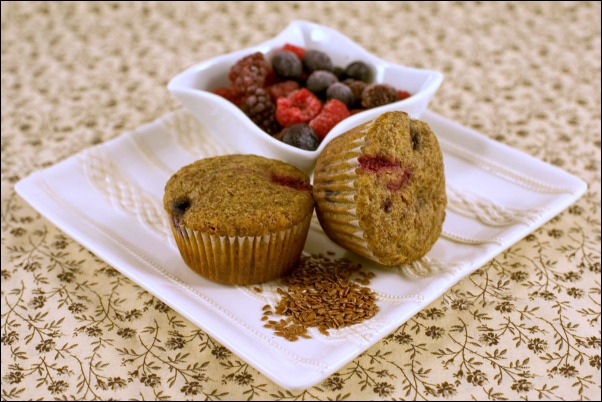 Mixed Berry Flax Muffin Ingredients
1 1/2 cups whole wheat flour
1 cup flax seed meal
1/2 cup whole flax seeds
1/4 teaspoon salt
1/4 teaspoon baking soda
2 and 1/2 teaspoon baking powder
1/2 teaspoon cinnamon
1/2 cup honey
1 and 1/4 cups milk
1/4 cup coconut oil, slightly warmed so it is liquid
2 eggs
1/2 cup blueberries, frozen or fresh
1/2 cup raspberries, frozen or fresh
1/2 cup blackberries, frozen or fresh
Preheat oven to 400°F. Butter of grease twelve muffin cups or place line muffin tin with paper muffin cups.
In a medium bowl, whisk the flour,flax seed meal, flax seeds, baking powder, baking soda, salt and cinnamon. In another medium bowl, whisk the honey, milk, oil and eggs. Stir the wet mixture into the dry mixture. Stir just until blended. Gently fold in the berries. Spoon equal amounts of the batter into the muffin cups, filling them about 3/4 full.
Bake until a toothpick inserted into the center of a muffin comes out clean, 15 to 20 minutes. Cool in the pan for 5 minutes. Remove the muffins and serve warm or cool on a wire rack.
Muffins can be frozen to eat at a later time. To thaw microwave for about 15 seconds and let sit for a couple of minutes.
What is your favorite berry to bake with?