Back-to-school time is in the air. If your kids aren't already in school- like  my very happy to be a first grader, Madeline- they likely will be soon. So now is the time to start thinking about what you're going to pack in those lunch boxes to keep your kids fueled with healthy, delicious, and fun food. I've teamed up with King Soopers through this sponsored post to bring you a few great new school lunch ideas. As a King Soopers shopper I was more than happy to head over to my local store and search out some great deals on great food. All the ingredients for these brand-new back to school lunches were found in my local King Soopers. As a big fat bonus I went ahead and threw in a slew of tried and true Evolving Motherhood Kid-Friendly Lunches from our archives! If you've spent much time around here you have likely noticed tortillas are one of my always-have-on-hand items. They are perfect for lunch making and give you the option to change things up from your standard sandwich. They make for easy breakfasts, lunches, and dinners and they are pretty easy to whip up on your own if you get the urge even. Better yet good quality tortillas made from quality ingredients are pretty inexpensive if you are buying them in the store and even less expensive if your making them yourself.
With my love of tortillas in mind and with Madeline heading to her first day of first grade today, I've compiled a great list of tortilla-centric school lunch ideas your kiddos are sure to love. All are kid tested in the Evolving Motherhood household and very much mom approved. You're kids might even thank you for changing things up and packing something other than a standard PB&J. You might also notice our awesome lunch box as you scroll through, which I have linked to with our affiliate link.
Creative School Lunch Ideas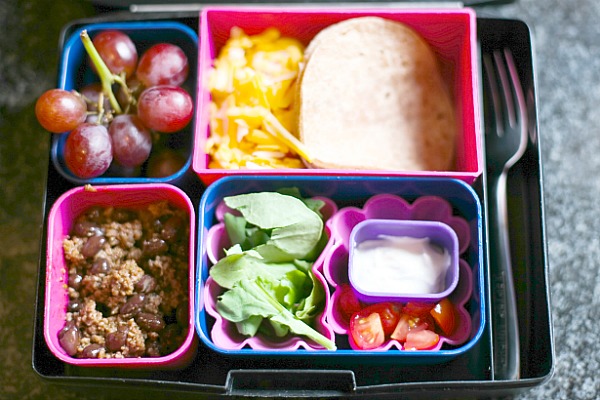 1. Make-your-own mini soft tacos What's in the Lunch Box : 
Whole wheat tortilla rounds cut from a large whole wheat tortilla
Taco meat
Black beans
Shredded cheese
Tomatoes
Lettuce
Sour cream
Red grapes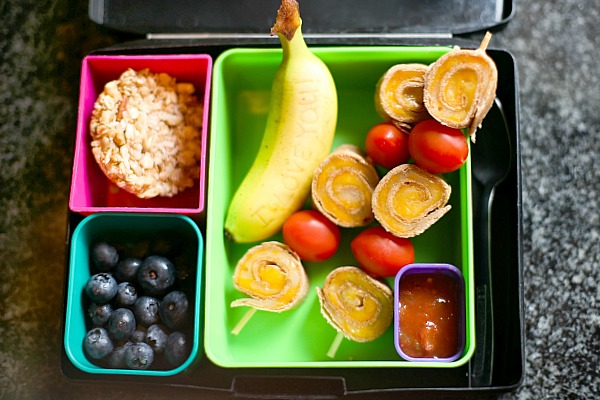 2. 3-Cheese quesadilla pinwheels What's in the Lunch Box : 
Jack, Colby and Cheddar cheeses melted and rolled in a whole wheat tortilla
Grape tomatoes
Salsa
Red grapes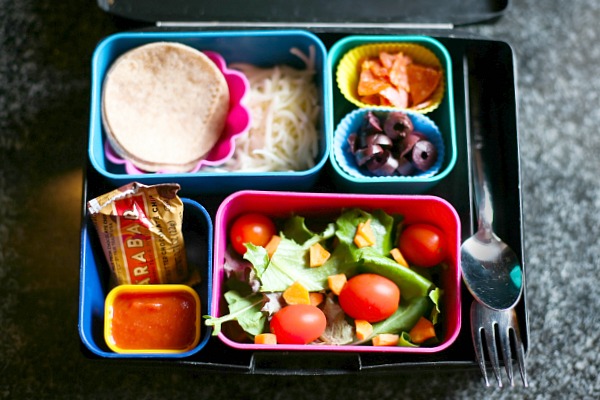 3. Make-your-own mini pizzas What's in the Lunch Box :
Whole wheat tortilla rounds cut from a large whole wheat tortilla
pepperoni slices cut into small triangles
Slices olives
Shredded pizza cheese
Tomato sauce
Mini Peanut Butter Chocolate Chip Larabar
Mixed green salad tossed in balsamic with grape tomatoes and carrots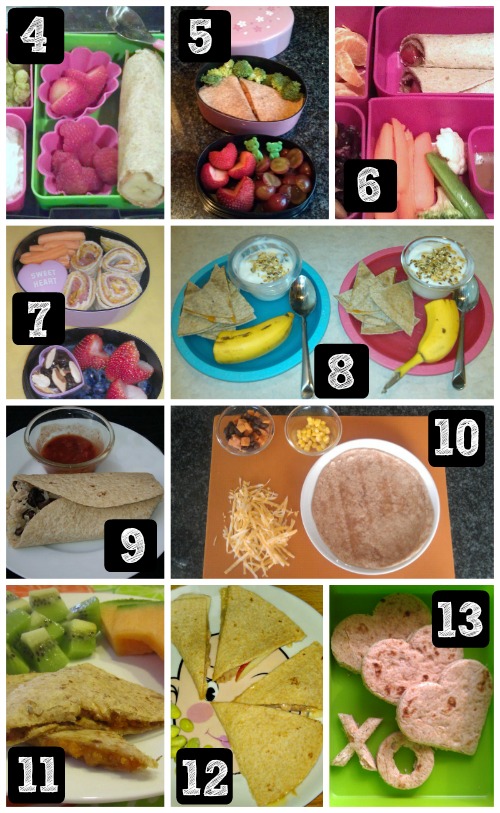 Other Evolving Motherhood School Lunch Ideas: 4. Banana roll 5. Salmon and Mozzarella Quesadilla 6. Strawberry-Banana Wrap 7. Turkey Salami Pinwheels 8. Peanut Butter and Jelly-dilla 9. Healthy Chicken Salad Wrap 10. Egg Potato and Chorizo Quesdilla 11. Sweet Potato and Black Bean Burrito 12. Tuna and Apple Melts 13. Festive shaped quesadillas such as these Stars and Valentine's Day Xs and Os
——————————————————————————————————————-
This post was sponsored by King Soopers. All these amazing, fantastic, and yummy lunch ideas are mine and mine alone.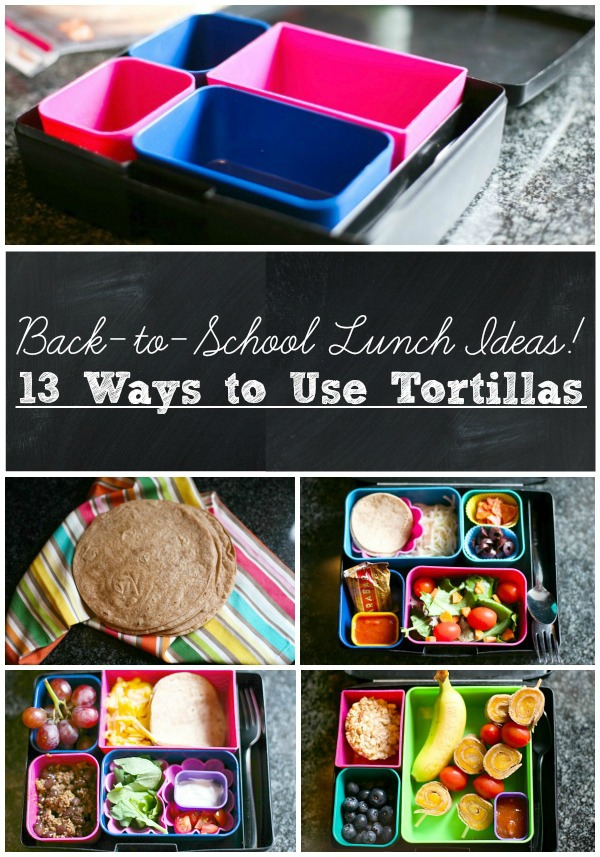 ————————————————————————————————————-
Edited to add: Many of you have asked about our awesome lunch box because, well, it's awesome. We use Bentology bento boxes and containers. We love them. I mean LOVE them. They are easy to use and offer many different configurations all in one lunch box through their different containers. The containers are easy to use, clean and get creative with to boot, and best of all they hold up to the test of time. We've been using ours for a couple of years now with now need for replacement.