I've always wanted one of those cute ribbon boards but never really had a place to put it. Until now.
A ribbon board in my bedroom makes no sense but a ribbon board hanging over my desk in my bedroom? Perfection! I ribbon board made of found items throughout my home. Super-Awesome-Perfect! Can you tell I feel enthusiastic about it?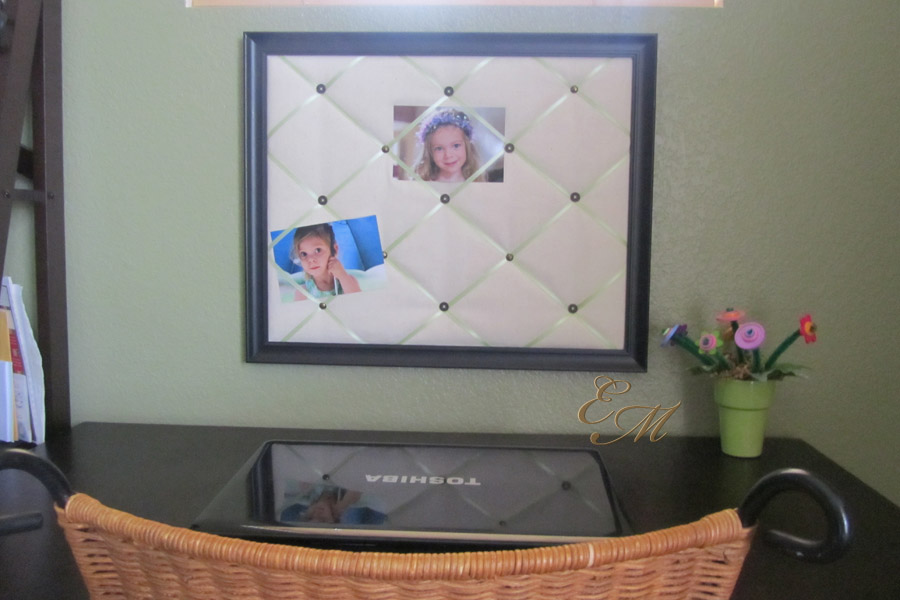 We have a desk upstairs in the guest room that holds Luke's double monitor computer set up. Up until a couple of months ago this desk was the place where I also tried to pay bills, organize papers, file things and well… make piles of things.
Hi Everyone, I'm Catherine and I a piler. I make piles of things. On table tops, , counters, shelves and in drawers around my house.
Luke? Well he is not much of a piler and does his best to deal with my tendency to make piles of books, papers, magazines, mail and more around the house.
So a couple of months ago we decided a desk all my own was in order. A desk where I could pay bills, write, organize papers, and well make piles of things to my hearts content. I searched around and found a cute little espresso colored desk at World Market, of course. I found a little ladder type bookshelf in an espresso color at Khols and I set up a little space for me in the corner of my bedroom.
Then I felt a little broke from buying furniture and had to start getting creative about how to accessorize my little spot. I found a few things around the house, some cloth totes, a candle holder I turned into a pen cup and a a few things I found at Goodwill to hold envelopes and address labels. I even found a cute metal and wicker chair at Goodwill for $3.
So I dug through my basement on a mission to find the things I needed to make a ribbon board of my own. Some cloth from a project I once thought I would do but never did because I can't sew a straight line, some brads and furniture tacks, ribbon from my gift wrapping supplies and a 16×20 plain black frame.
I'm so thrilled with my ribbon board. I'm proud of myself for making it out of things I already had in my house. Home decor recycling at it cutest I tell ya!
Now I have a cute place to hang my inspiration. Words, colors, pictures, ideas you name it I can hang it and have it right in front of me while I work to help spark my creativity and keep my desk clutter free. Well, the creative stimulation is sure to happen. The clutter free desk is more of a goal than a guarantee.
Have you ever made something to decorate your home instead of buying it and been thrilled with the results?