The other day Delaney and I made a mess of our kitchen. We had a blast. Delaney climbed up into Learning Tower and spent quite a bit of time at my side measuring, dumping, stirring, and of course tasting. Lately, I'll step into the kitchen to start cooking a meal and she comes running saying "Wanna help, Mommy, wanna help."  I love it. Our Learning Tower makes it easier for me because she's contained and up higher than her step stool gets her making it less likely that she'll spill something instead of pouring into the mixing bowl. So the other day my mini-chef and I put on our apurrs – Delaney's word for apron no matter how many times I correct her pronunciation – and got to work baking. We made a full batch of Belgian Waffles in our double waffle maker, and a batch of spiced peach muffins. I ordered a 20 lb box of peaches so right now the rule in our house is if you're coking you have to use some peaches, and if you're eating you better be some peach. They're delicious. The muffins are delicious too.
Baking, as Delaney and I did the other day, is one way I'm making back-to-school lunch packing  little easier. I have perfectly sized muffins to place in Madeline's laptop lunch box. I also have a few dozen waffle quarters ready to go to not only make lunch packing quicker and easier, but I also have waffles ready to pop in the freezer on busy school mornings to go with breakfast. Anything that makes my mornings easier or more efficient is A+ in my book.
Another way I've made back to school packing is stocking up on different skewers and picks to serve things in different ways. Instead of burning Madeline out on ham and cheese sandwiches a few rolled pieces of ham on a skewer changes things up enough to keep the usual protein exciting. While I'm not one to usually make fancy bento lunches with entire cartoon characters made our of rice or layers of a cheese and bread I absolutely believe kids eat with their eyes first as much as adults do and presenting a normal food in a different way can keep things fresh and interesting for kids.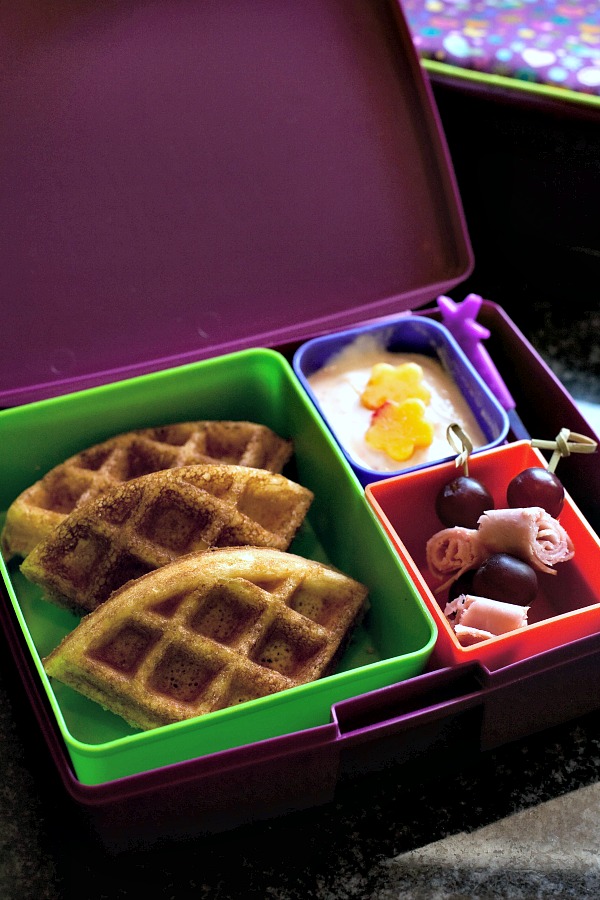 What's in the lunch box:
Honey Whole Wheat Waffle quarters
Peach yogurt made from plain whole fat yogurt and pureed peach topped with a couple of peach flowers
Mini – ham and red grape skewers
What are some of your trips for making school lunch packing fun and fast?
*The lunch box featured above is a Laptop Lunch Box. It's an American take on a bento box. We have two and love them both to the moon and back. They're quick and easy to use and facilitate creative lunch packing with all the configuration options.