Fall is when our weekends start to slow down, the mornings are crisp and cool and just calling for a warm homemade breakfast. Apples and spiced flavors are almost a requirement. With the seasonal move towards fall my desire to cook usually slowly comes back. Not that I don't enjoy cooking in the summer, but our busier schedule and the heat usually make it less enjoyable. By the time fall comes in I'm itching to spend time in my kitchen near the warmth of my oven. I love fall mornings. I think my family would agree.
Sprouts recently invited me to attend a paid educational tour with Sprouts Farmer's Market to hear Sprouts nutrition partner Suzanne Farrell – a registered dietitian in the Denver area – share a wealth of information about Turmeric and then come back here and share some of what I learned with you.
I love food. Eating it, cooking it, talking about it with you, and learning more about the way foods can be a part of a healthy life, and it seems there is so much more to turmeric than it's beautiful golden color and warm spiced flavor. I've cooked with turmeric here and there, but I did not know turmeric is also used as a dietary supplement.
It surprised me to learn turmeric has many potential health benefits. We started out our talk with a sample of golden milk made with Gaia Golden Milk Mix, coconut milk, honey, and saffron. Golden milk is a warm creamy drink. Many people drink it before bed as a part of their bedtime ritual. I instantly loved the flavor of the golden milk we sampled and could easily see how it would be a very soothing way to end the day. I was pretty excited to get a sample of Gaia's Golden Milk Mix from Sprouts to try out at home.
So what makes turmeric so great?
Curcumin, the main active component in turmeric. Curcumin has anti-inflammatory properties and is an antioxidant. Because of its healthy properties turmeric is thought to be a great supplement to help treat inflammation, blood sugar issues, heart disease, some cancers, and more. Turmeric is not a magic bullet – you should definitely do you research and talk to your doctor before adding a turmeric supplement to your routine – but it has been and continues to be studied for its possible health benefits.
I plan to continue looking into Turmeric before I jump into adding it into my day as a supplement. In the meantime my tour and tasting of various turmeric seasoned foods at Sprouts Farmers Market reminded me how wonderful turmeric tastes and inspired me to try to think of some new ways to incorporate it in more of my cooking. I think even just the spiced but smooth taste of golden milk would definitely fit into my bedtime routine as a was to relax and slow down.
How can you add some Turmeric into your cooking?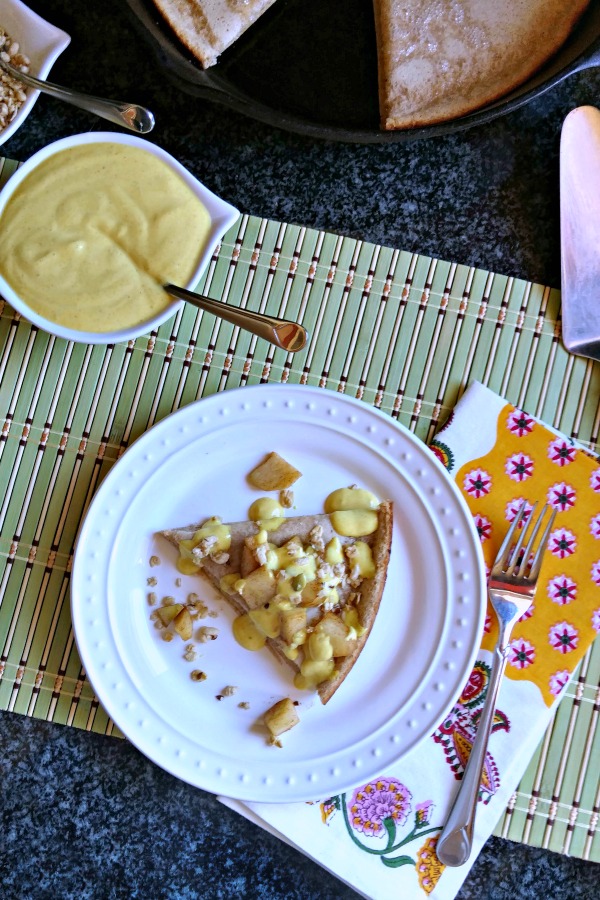 In honor or my new interest in bringing turmeric into my cooking more often I used one of those recent perfect cool fall mornings to whip up some delicious breakfast that a weekday just cannot fit.
I kicked my family out of the kitchen and invited them back in to find a big fluffy Dutch baby oven pancake with spiced apples and golden milk yogurt. And then I served up slice after slice of it topped with those apples, that perfectly spiced yogurt, and granola and before I knew it we'd eaten the whole delightful thing.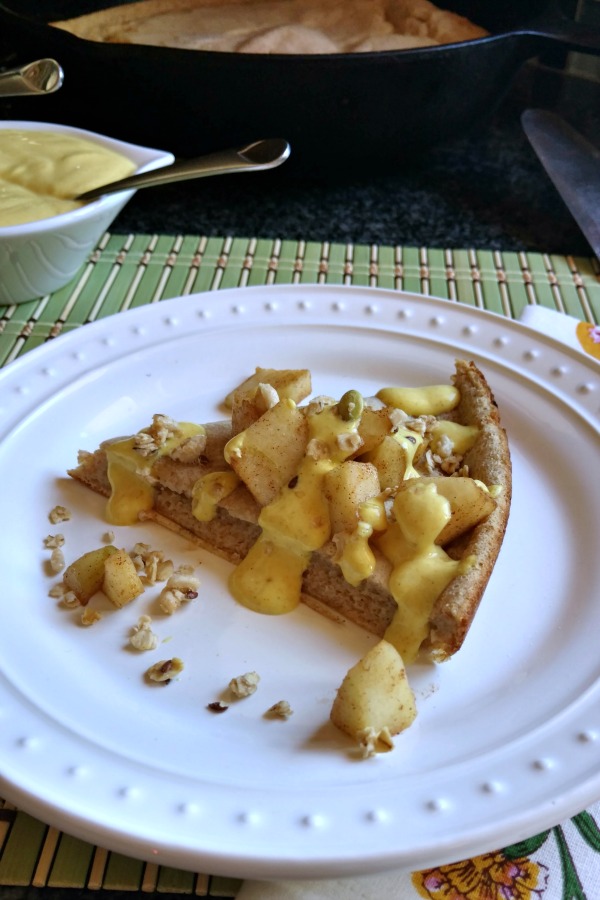 Dutch Baby Oven Pancake with Spiced Apples and Golden Milk Yogurt
2 1/2 tablespoons butter, divided
1 cup milk
3 large eggs
2 tablespoons maple syrup
1/2 teaspoon vanilla
1 cup whole wheat flour
1/4 teaspoon salt
2 granny smith apples, chopped
2 teaspoons brown sugar
1/2 teaspoon cinnamon
1/2 cup plain yogurt
1 tablespoon honey
1 teaspoon Gaia Herbs Golden Milk Mix
granola
How to Make a Dutch Baby with spiced apples and golden milk yogurt
Put 2 tablespoons butter into a 12 inch oven safe pan – a cast iron skillet works very well – and preheat the oven to 400 degrees Fahrenheit. Set aside the remaining butter to prepare your apples.
While the oven heats, mix milk, eggs, maple syrup, and vanilla in a bowl. Whisk mixture until it is blended and eggs are combined. Add the flour and salt to milk mixture and blend until batter is smooth with no lumps. Remove the pan from the oven and pour batter into it. Place pan back into the oven to bake. Bake for 20-25 minutes or until pancake is puffed and golden brown.
While the dutch baby bakes mix yogurt, honey, and Gaia Herbs Golden Milk Mix until honey is completely incorporated. Heat the remaining 1/2 tablespoon of butter in a saute pan over medium heat. Add apples brown sugar and cinnamon and saute apples about 3 minutes or just until tender. Keep apples warm over very low heat until the Dutch baby is done baking.
To serve top slices of Dutch Baby spread with golden milk yogurt, spiced apples, and a sprinkling of granola.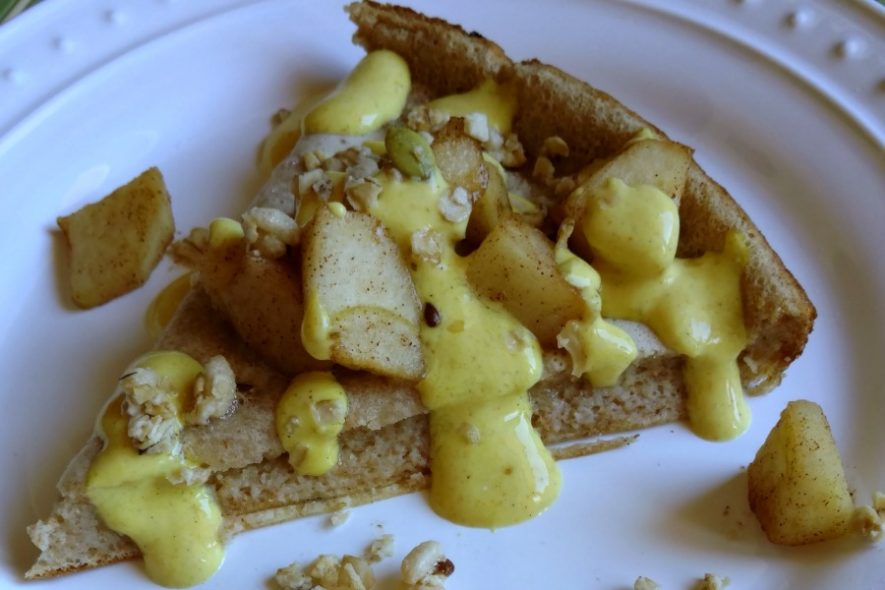 This post is sponsored content. This original recipe was created on behalf of Sprouts Farmer's Market. All opinions are the author's and are not intended as medical advice.