I think pork is my favorite meat. I love bacon. Pork chops and delicious and pulled pork cannot be beat. Shredded and pulled meats in general ore tasty and so versatile, but my heart belongs to pork. Besides how tender and juicy pork is I really love that it's a guaranteed winner in my house. All four of us will walk away from the table happy. Actually, it's a great go to when we have guests too.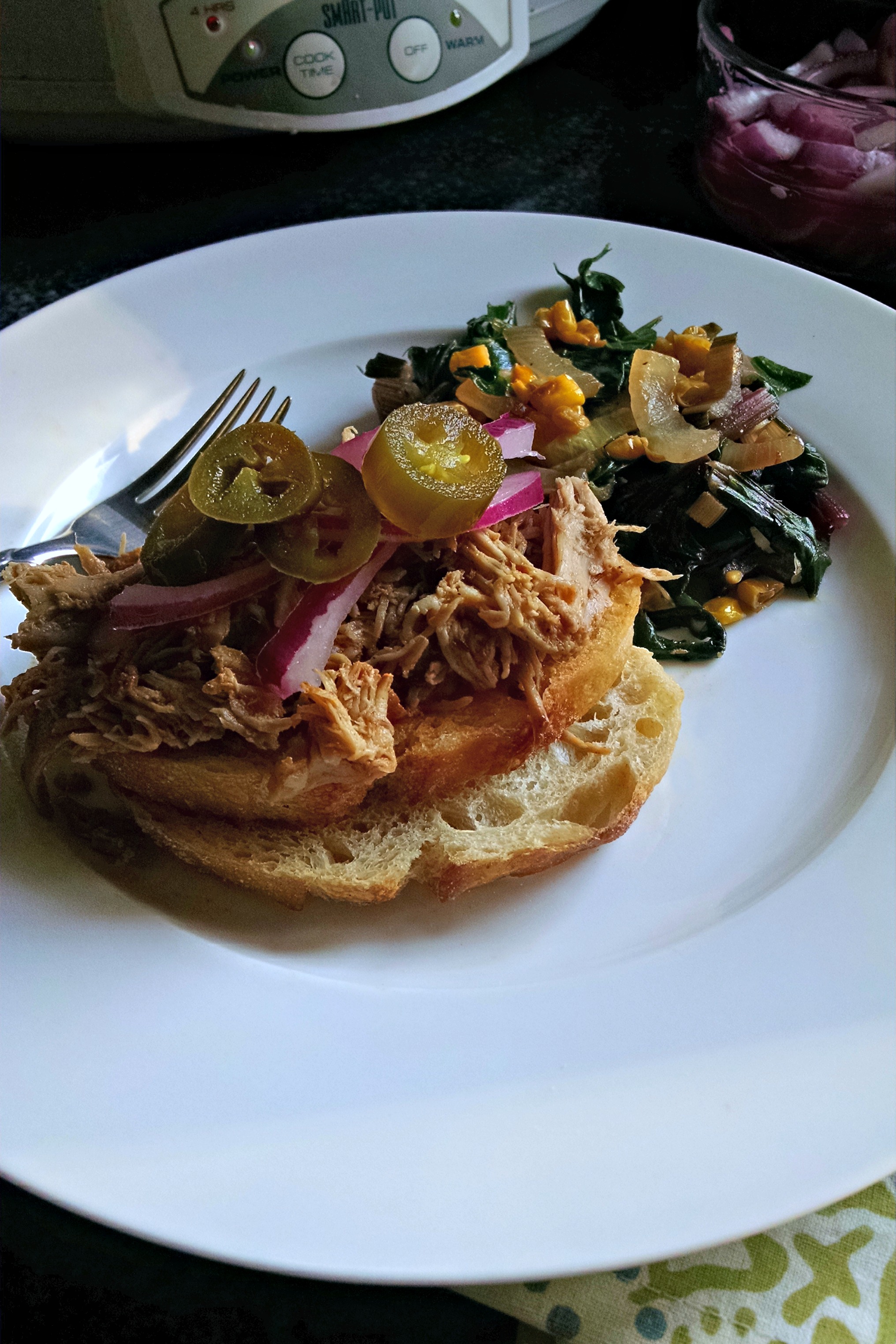 Now you know my love of pork. Do you want to know about my very favorite pulled pork recipe? Because of our love of pork and the generally low price of a hunk of pork shoulder I've made a lot of pulled pork. I've made different flavors combos in the slow cooker as well as in the dutch oven. After a lot of taste testing – it's a tough job, I know – we've settled on a favorite. I first stumbled upon the inspiration for this pork at 100 Days of Real Food, and after some tweaking I'm so glad I did.
This pulled pork? We love it served up on a think slice of toasted ciabatta bread topped with our favorite barbecue sauce, pickled red onions, and pickled jalpenos. We also love it heaped onto a bun with our favorite toppings for a mouthwatering sandwich. Then there are the tacos and the salads we enjoy with this same pulled pork atop. You see, this pork is magical because it has delicious flavor, but is subtle enough to go to bat in many different meals. On a side note, if you haven't tried pickled red onions you're missing out. They add a great pop of flavor to just about anything. I'll add my very simple recipe for them below. I'd hate it if you missed out on that deliciousness.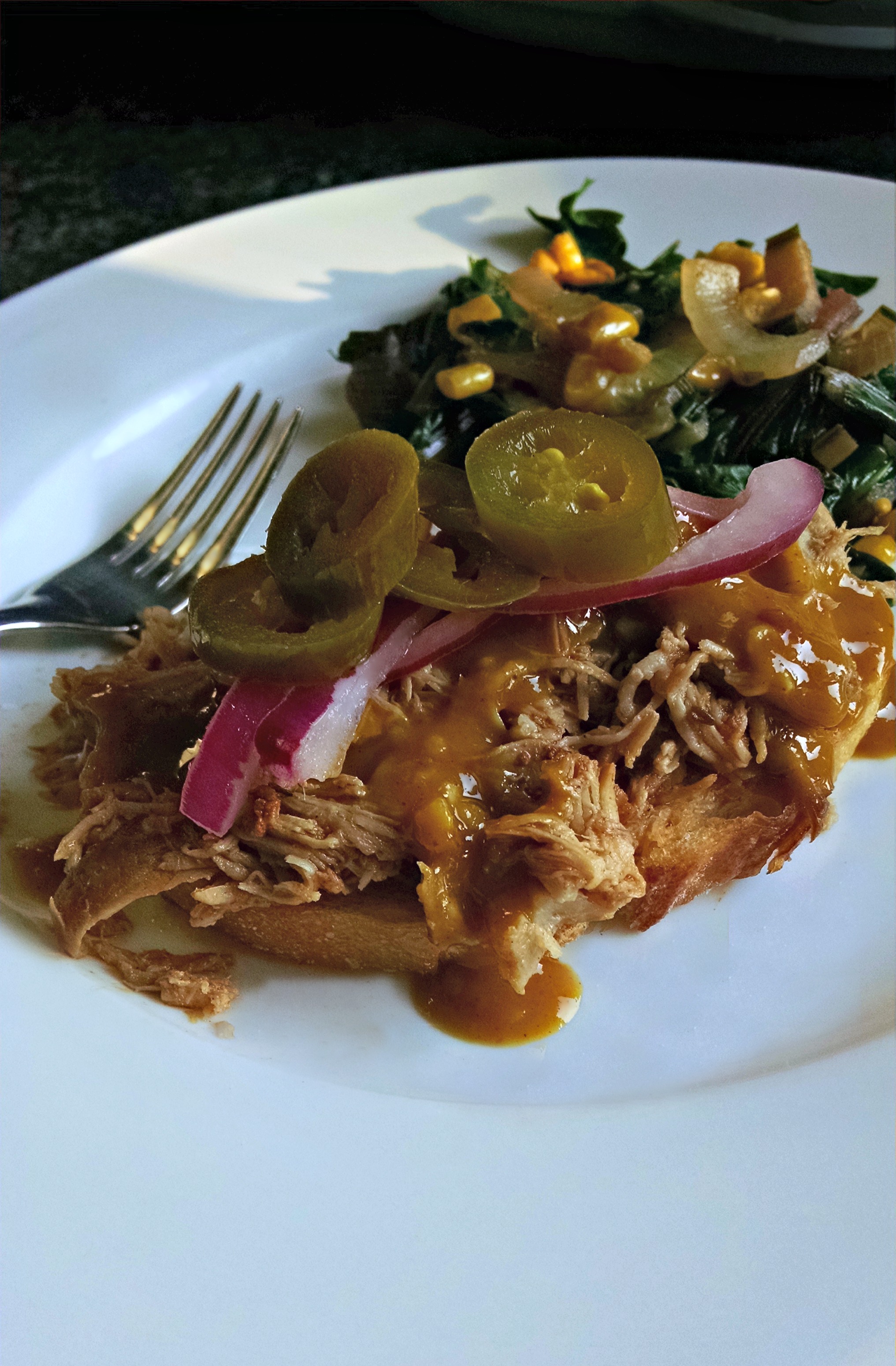 Mouthwatering Slow Cooker Pulled Pork Ingredients
2 1/2 tablespoons smoked paprika
1 1/2 teaspoons salt
2 teaspoons pepper
1/2 teaspoon cayenne
1 teaspoon garlic powder
1/2 teaspoon onion powder
1 teaspoon thyme
1/3 cup honey
1/4 cup red wine vinegar
3- 3.5 lbs of pork shoulder roast
Mix paprika, salt, pepper, cayenne, garlic, onion, thyme, honey, and red wine vinegar in a small mixing bowl. Place the roast into slow cooker. Pour the spice mixture over the pork roast doing your best to cover the surface with the liquid.
Cook on low for 8 hours.
Shred using two forks and return to slow cooker with cooking liquid. Serve over thick slices of toasted ciabatta, on buns, or on greens for a salad.
Easy Pickled Onions
1 medium red onion sliced
1/4 cup red wine vinegar
1/4 cup warm water
1/2 teaspoon sugar
Mix red wine vinegar, warm water, and sugar until sugar is dissolved.Pour vinegar mixture over sliced red onions. Cover and refrigerate for 1-2 hours. Pour off extra liquid when ready to serve.
Enjoy!
What is your favorite way to serve pulled pork?