Although we use our Crock Pot year round it seems it is most in use during the school year. With school and after school activities, sports, and music lessons our slow cooker gets a lot of work. On Mondays especially. Because Monday is generally slow cooker day in our house.
A couple of years into this structured meal plan of ours and I still love it. Also, Luke and the kids love it too. I think we all like the comfort of routine. We also like dinner, and sitting at the table together having conversations instead of grabbing food from fast food places, or running around the kitchen in a stressed state trying to figure out what we're going to eat. With regularly scheduled slow cooker use I try to keep things from getting boring by using a variety of recipes. Slow Cooker Lasagna Soup, Slow Cooker Chicken Taco Bowls, Slow Cooker Pulled Pork, Slow Cooker Honey Garlic Chicken, Slow Cooker Thai Peanut Butter Chicken, Slow Cooker Beef Burgundy, and on and on and on. You get the point, right?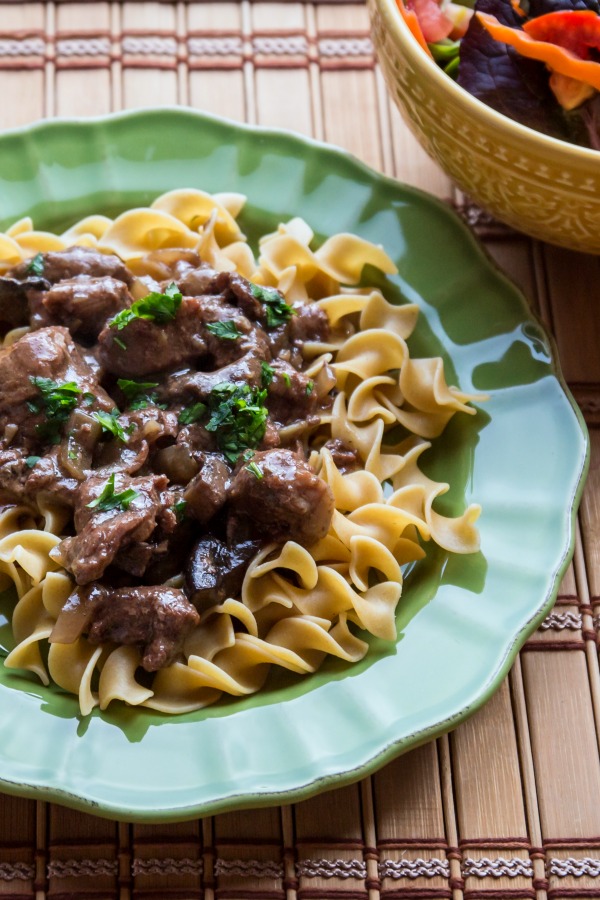 This slow cooker beef burgundy recipe is such a comforting meal. Everyone in the family loves it and leftovers never last long. We like to serve this beef burgundy over whole wheat egg noodles with a sprinkling of chopped fresh parley with a green salad or steamed veggies on the side. You could serve it over mashed potatoes, rice, or with a big piece of crusty bread. It's so yummy I don't think you could go wrong.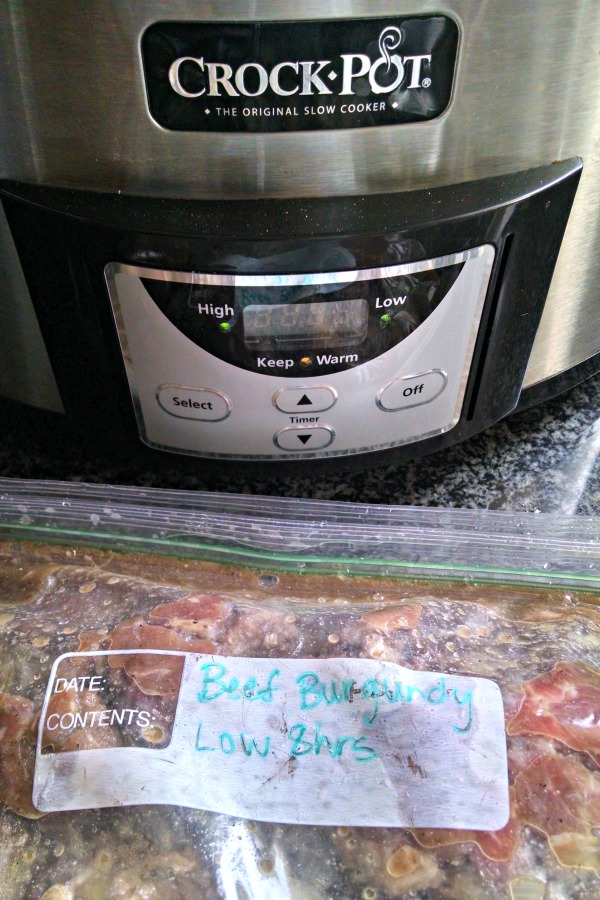 This recipe is also one of the pre-prepped slow cooker meals I make in multiples and keep at the ready in the freezer. Depending on the stew meat I pick up from Costco I make two or three individually bagged meals of beef burgundy and put it in the freezer.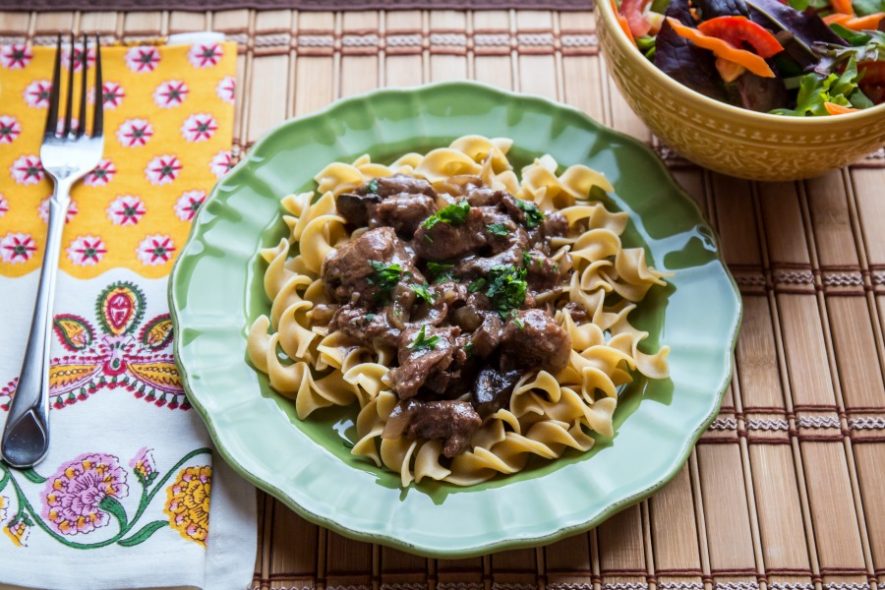 Ingredients To Make Slow Cooker Beef Burgundy
2 pounds beef stew meat
1 medium onion, diced
1 cup Burgundy wine (or other red wine)
1 cup beef broth
3 cloves garlic, minced
4 ounces sliced baby Portobello mushrooms
1 teaspoon salt
1/2 teaspoon black pepper
3 bay leaves
2 tablespoons cornstarch
1/4 cup water
Chopped fresh parsley (optional)
Egg noodles, cooked to package directions (to serve)
How To Make Slow Cooker Beef Burgundy
Combine beef, diced onion, wine, beef broth, minced garlic, mushrooms, salt, pepper, and bay leaves in your slow cooker. Cook on low for 7-8 hours. With about 30 minutes left before serving mix cornstarch and water together and stir into the mixture in the slow cooker.
Remove the bay leaves, and season with salt and pepper to taste. Serve beef burgundy over egg noodles garnished with parsley.
If you are preparing this as a pre-made freezer meal to cook in your slow cooker at a future time, put all the ingredients – except for the cornstarch and water – in a labeled plastic zip-top bag and lay flat in the freezer. You can find more freezer meal prep tips here.