We all know the deal. It's busy taking care of children all day. Sometimes I manage it all swimmingly and the day goes smoothly including a healthy, well-made lunch and sometimes I find I'm scrambling – pun intended – to get a healthy, well-made lunch on the table. You know some days are smooth and some days I'm just along for the ride, but no matter what a good, healthy lunch for my kids is always important.
When crunched for time eggs are my best lunchtime friend. They cook up fast, they are filling and most importantly of all they are delicious. Oh, and they are versatile. Did I mention the are healthy? Eggs are not just for breakfast either. I'll stop now, I'm sure you get the point. Scramble some eggs, add a few other staples from your kitchen and you have a delicious kid-friendly lunch in just a few minutes. All these reasons are more are a great reason to think about adding eggs into your kid-friendly lunch ideas, meals, and plans. Another great lunchtime egg idea is the ever delicious fried egg sandwich.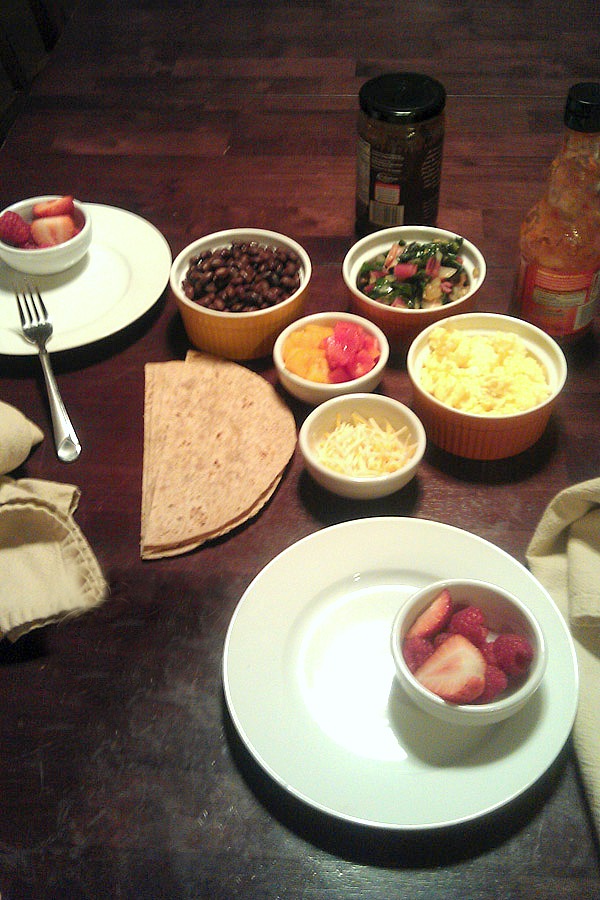 What's on the plate: Breakfast Taco Bar
Scrambled eggs
Shredded cheese
Black beans
Whole wheat tortillas (I cut ours in half because they were 8 inch size and a little too big for small hands to hold)
Diced tomatoes (from the garden)
Sauteed Swiss chard (could also use spinach or fresh lettuce)
Strawberries and raspberries
Salsa and hot sauce (which the kids aren't very interested in yet and is mostly for me, but I offer it up either way.)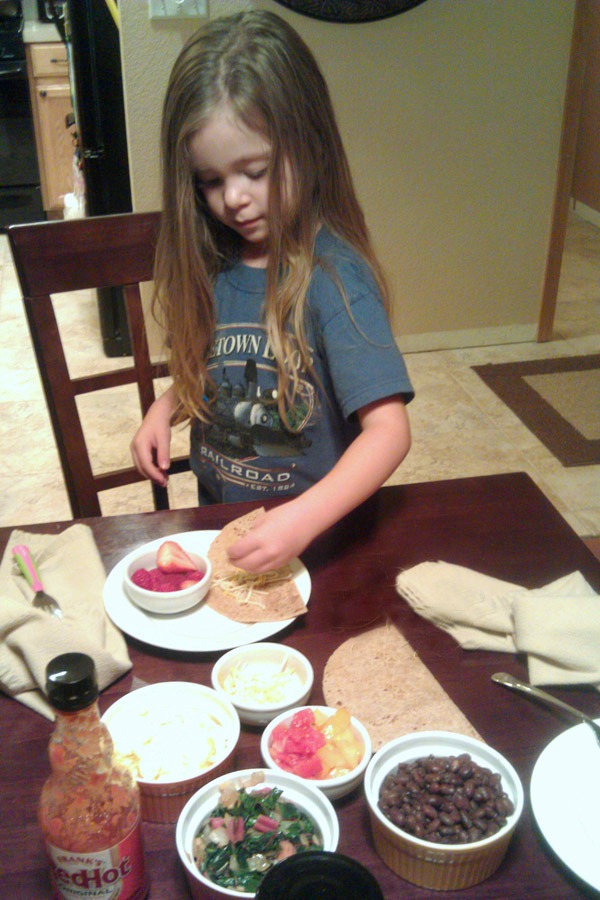 Delicious food is especially good to little eaters when they get to be in charge of preparing it. There is just something about having a hand in making their own meal that makes kids happy to eat what is on their plate. This is why a taco bar is a big time kid-friendly lunch winner!