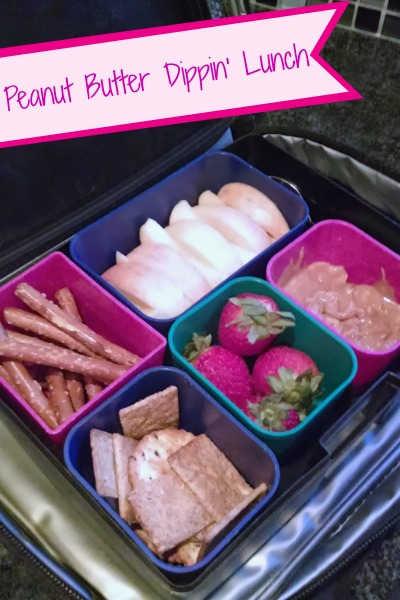 It isn't news that we love peanut butter in this house. Madeline's classroom is a nut free zone in her school. So she cannot have nuts in her snacks which they eat in the classroom seated at their desks. She can, however, have nuts in her lunch since there are designated areas for kids with allergies to eat to help keep them safe from allergens. I've posted about sometimes falling back on the good ol' PB&J but my very favorite lunch fallback is the peanut butter dipping lunch. Madeline has loved this lunch for a long long time so I know when I pack it for her she'll happily eat it up. This lunch is a fallback mostly because the only rule is that whatever I stick on the plate or in the lunch box has to be dippable- which is a pretty simple guideline. What kid doesn't like a wholly dippable lunch? Dipping is super fun.
What's in the Laptop Lunch Box: Peanut Butter Dippable Lunch
Natural peanut butter (today's variety is crunchy)
Strawberries
Apple slices
Honey whole wheat pretzels
Crackers
What fun dippable things would you pack in a dippin' lunch?