Now that Madeline is in school it is so much harder to craft together. Her school days are just so long and then there's cheerleading and ballet, dinner and homework, reading and baths and the nights just disappear. I've had to give up my ideas of what crafting with Madeline looks like. Gone are the days of making something together start to finish in one sitting or on one day. Now we make things over multiple days. A half hour here, 5 or 10 minutes there. Over the last few days Madeline and I have been working on a gorgeous Thanksgiving craft. I can say it's gorgeous without being conceited because it's Madeline's and not mine, so really I'm just a doting mom. After the hoopla of Halloween costumes and pumpkins and trick-or-treating I found myself in the mood to really get pull our family back to reality and start counting our blessings instead of counting candy bars. Well, it seems everyone in the world was thinking the same thing because their thankful posts are all over Facebook and Instagram. Which is lovely, but I wanted to cultivate our thankfulness as a family and since I am the only one of the four of us- thankfully- on Facebook or Instagram the internet just wasn't the answer.
While watching Madeline and her best friend playing in giant pile of leaves in the backyard the other day an idea struck me. Thankful leaves. One or two, or maybe even three each day. Colorful just like the leaves in fall but with a twist. I pulled out the paint and paper and Madeline started to work and the end result is so much better than I could have hoped. Now we have strings of colorful fall leaves decorating our mantle and if you look closely you just might see the "I'm thankful for…" statements scrawled on the backs. They're beautiful. Our Thanksgiving leaf garland couldn't have turned out better. The very best part is each night while eating dinner together as a family we're talking about what we are thankful for. We're flexing our gratitude muscle every day together all while adding more beautiful fall leaves to our strings.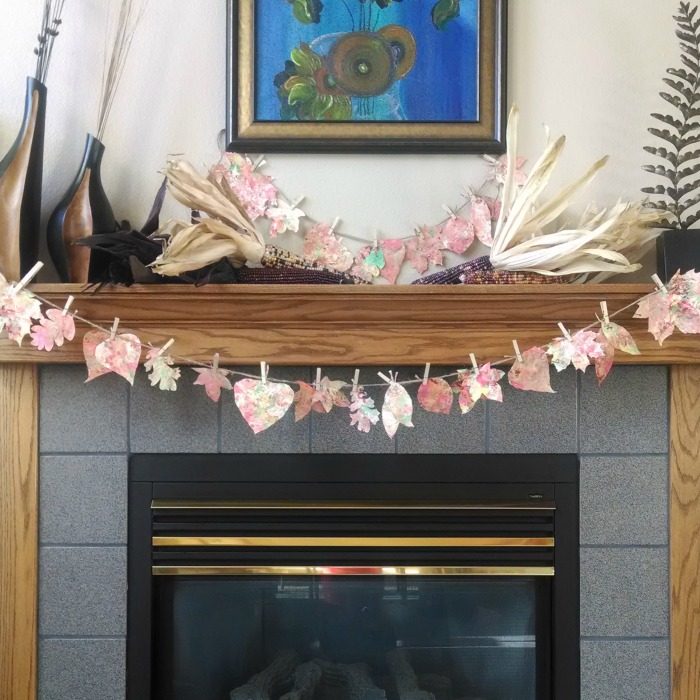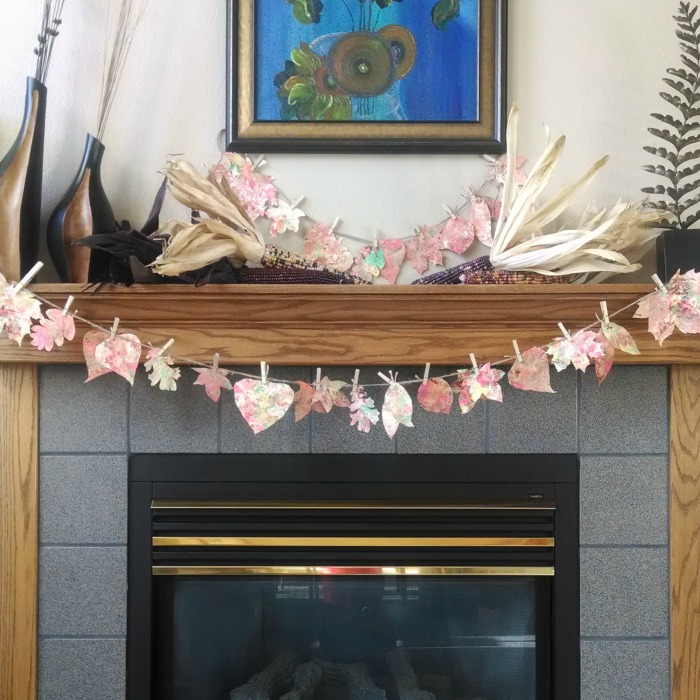 Supplies needed to make Thankful Fall Leaf Garland
White construction paper
Red, yellow, green, orange, and brown paint
paper towels or sponges
paper plates or paint trays
Pencil
Leaves to trace
scissors
String
clothes pins
How to make Thankful Fall Leaf Garland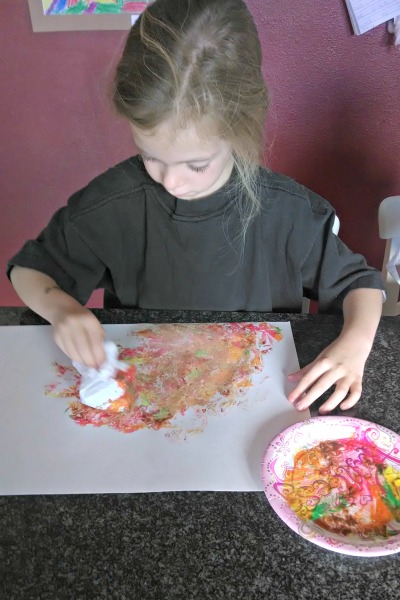 Step 1: Put dots of all the paint colors on a paper plate. Dip a scrunched up paper towel or a sponge dip in the paint. Get multiple colors on your paper towel. Dab the paint covered paper towel on the construction paper. Continue until your paper is covered in a mixture of colors. Set the paper aside to dry.
Step 2: Once the paint is dry trace leaves onto the paper. We used a mixture of fake leaves and some real leaves from around our neighborhood. Once you have your leaves traced cut them out.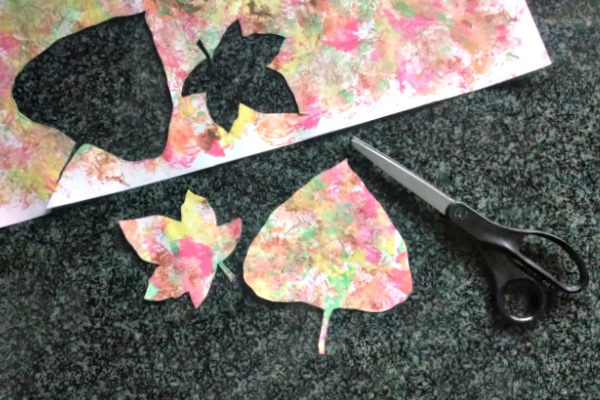 Step 3: Write what you are thankful for on the back of your leaves. We're doing this as a family writing things we're thankful for on a couple of leaves each day and then adding them to our garland. Clip your leaves to your string using the clothes pins. Hang your garland somewhere beautiful, step back and admire it for it's beautiful colors and gorgeous gratitude.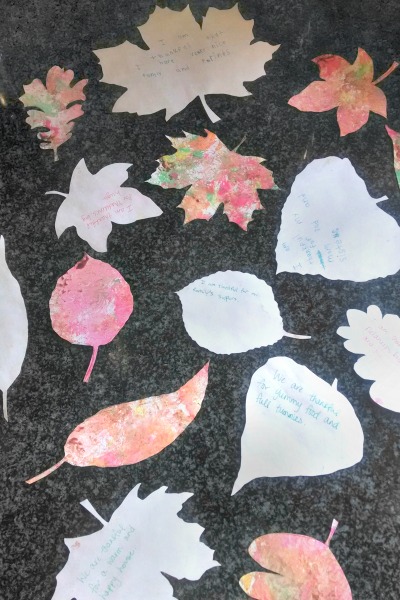 How do you make thankfulness and gratitude a part of your family life?
Other fall crafts you will love: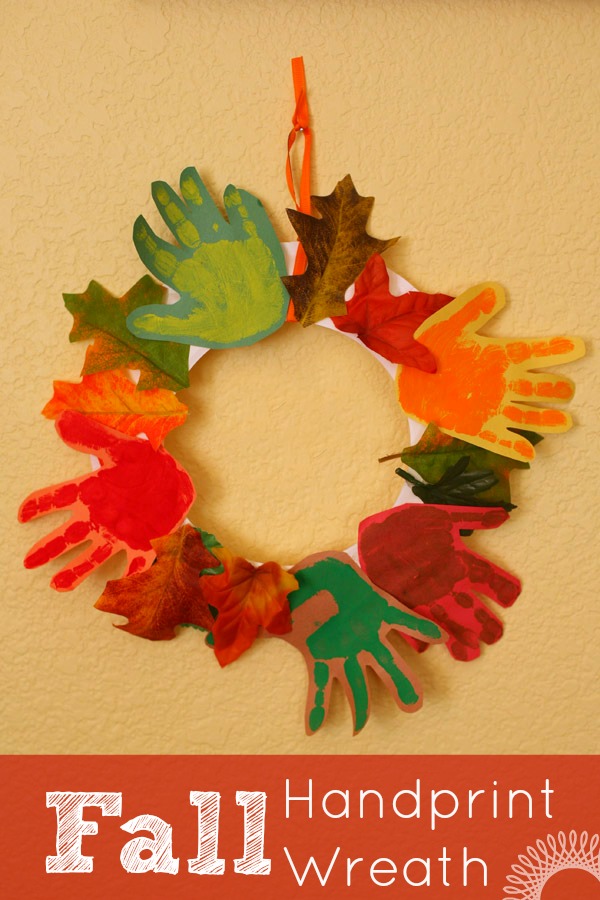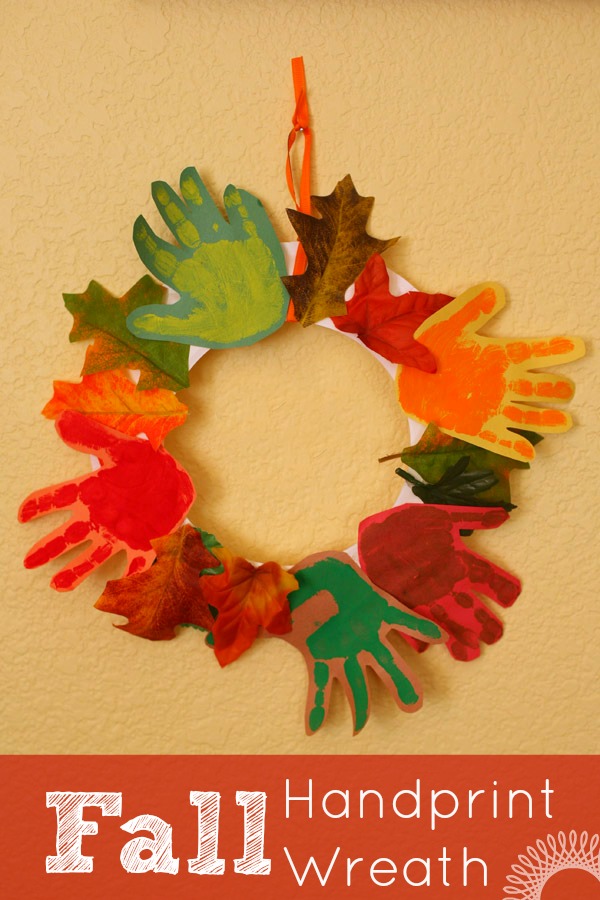 Read it:: Fall Handprint Wreath
Pin it:: Colorful wreath made of handprint leaves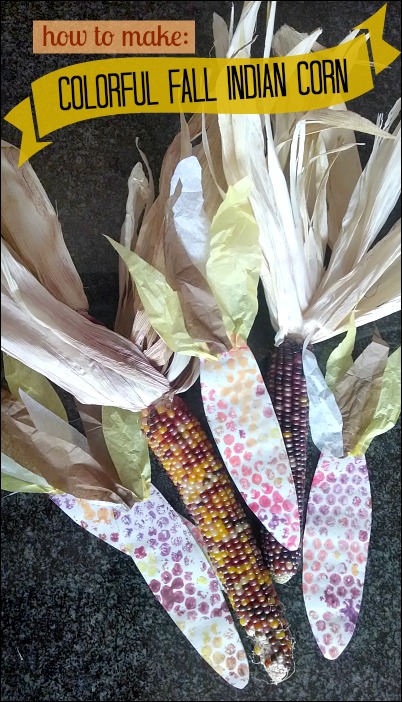 Read it:: Colorful Fall Indian Corn Craft 
Pin it:: Fall Indian Corn Craft for Kids