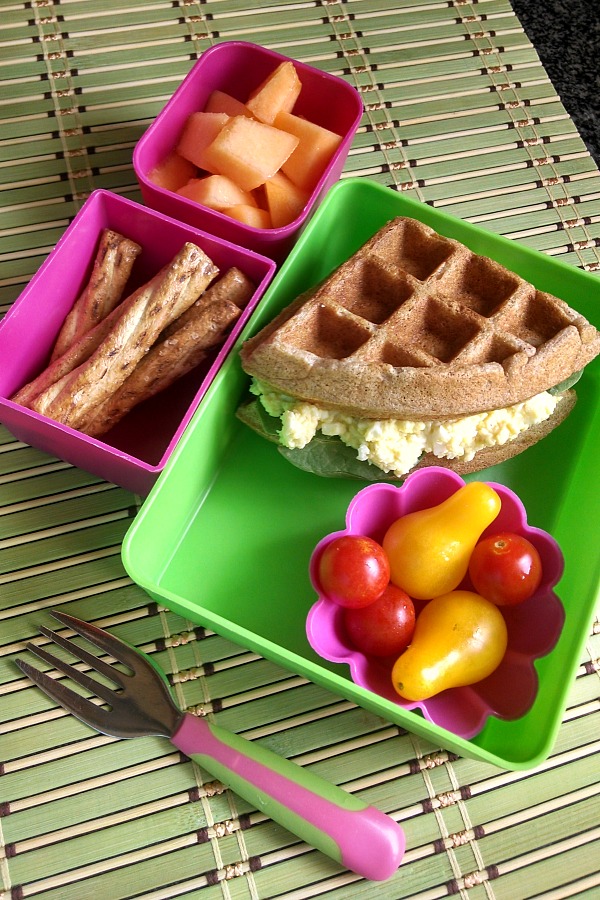 We eat a ton of eggs each week in this house. The four of us eat at least one egg every day- with the exception of Luke who eats more like 3 each day. Scrambled eggs with varying sides of toasted bread products and or fruit is one of our go to breakfast. We also have breakfast for dinner once a week. Sometimes, for varieties sake or timing, eggs just have to make an appearance in the lunch box. Eggs and waffles are a normal sort of pairing, but the difference with this lunch is how the eggs and waffles are paired. This isn't your usual Belgian waffle with a side of scrambled eggs. This is fun, different, and delicious.
What's in the Laptop Lunch Box: Egg Salad Waffle Sandwich 
2 Whole wheat Belgian waffle quarters – topped with egg salad and baby spinach leaves- and sandwiched together
Fresh cherry and yellow pear tomatoes
Honey whole wheat pretzel sticks
Diced cantaloupe
Do you send egg salad for lunch? What is your favorite way to pack it for lunch?