Friday. I often find Friday lunch packing most difficult. For some reason my brain starts to sputter and coming up with kid friendly lunch ideas is a little more of a process. It takes me just a little bit more time to get the old gears moving and thinking creatively. I have to remind myself it's not quite the weekend yet.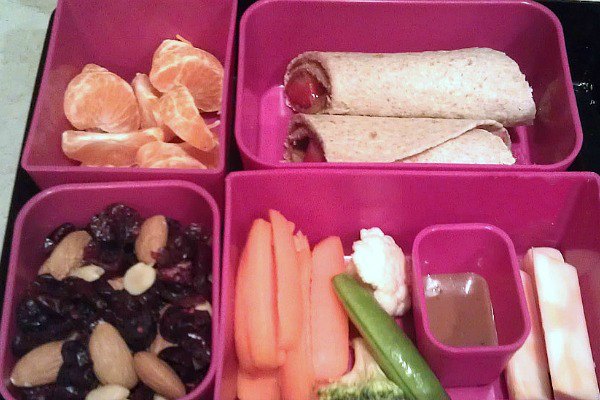 I've been packing lunches for a little over two full months now and while I still have a blast coming up with new and fun lunches for Maddy sometimes I lean on old favorites. Sometimes I take and old favorite and turn it on it's head and make it something new-ish. And to me new-ish is better than repeat-ish. I'm working based on the theory most people do not want to eat the same old boring thing every day. Or at the very least most people enjoy having a little variety in their lunch time life. Almond butter is nothing new. Strawberries, bananas and whole wheat tortilla? Not new either. But all together? New and yummy. And best of all it proves that even on a Friday when my creativity levels are feeling a little low I can come up with a little something new to send in Madeline's Laptop Lunch Box. (affiliate link)
What's in the school lunch box: Strawberry-Banana Wrap
Whole wheat tortilla spread with almond butter topped with quartered strawberries and banana and then rolled up.
Clementine segments
Homemade trail-mix made up of dried cherries, roasted unsalted almonds and peanuts
Carrot sticks, broccoli, cauliflower and sugar snap pea with a small amount of Annie's Italian Dressing
Cheese stick cut into smaller portions
What's been on your plates or in lunch boxes for your kids this week?