There is just something about pasta. And pizza. Everyone seems to love pasta and pizza. Pizza and pasta. Well, everyone in the Evolving Motherhood household to be sure. Why not put them together? Why not create a union between the two? I know it's not a new idea but the slow cooker pasta recipe I'm about to unveil to you is quite delicious, and easy. So, so easy. Every few months I have a counter filled with bagged freezer meals all made and ready to go into the freezer to one day make my day a happy one by easily dumping into the slow cooker and turning into a hot and delicious dinner. Bags of Slow Cooker Shredded Chicken Tacos, and Peanut Butter Chicken, were lined up along with bags of my super simple twist on pizza and pasta.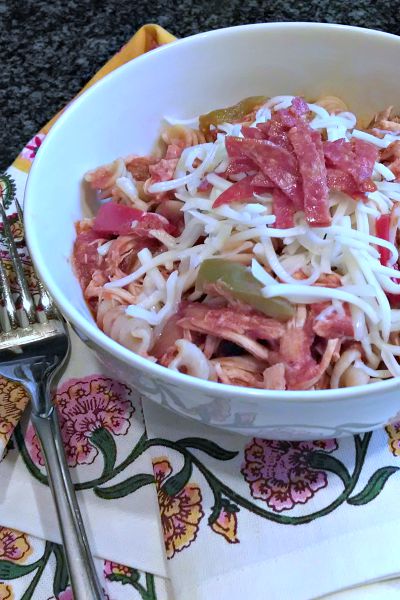 We call it Chicken Pizza Pasta, and now is when you can award us the gold medal in most creative recipe naming. You can tease us for lack of creative naming all you want because we have bowls of this hearty and flavorful pasta so we're perfectly content. A slow cooker pasta recipe to make the whole family happy.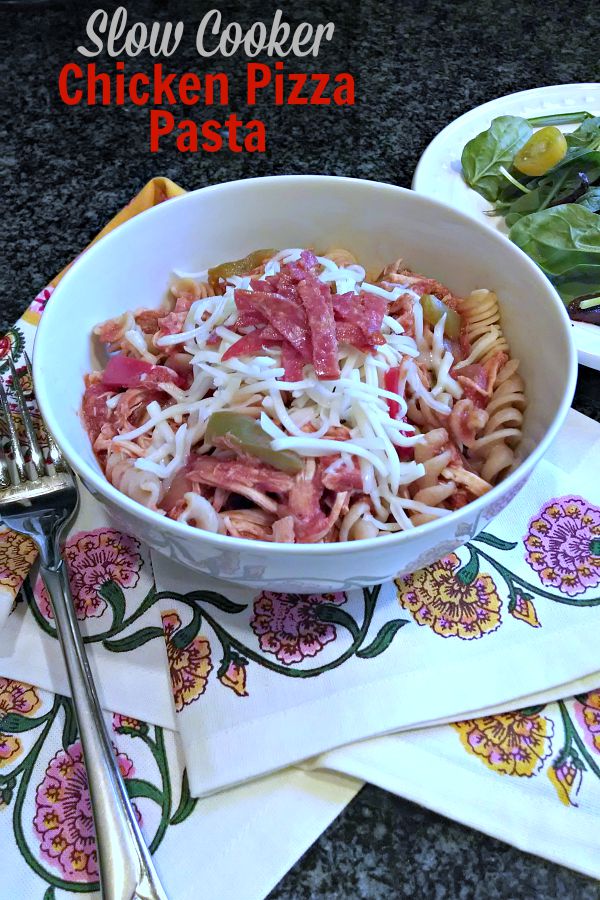 Other than dumping – for lack of a more graceful word – a handful of ingredients into your slow cooker, or a plastic zip top bag you need a few ingredients to finish it off. If you want to stock up your freezer with Chicken Pizza Pasta you can easily make as many or few bags as you would like. I usually try to make at least 3 bags at a time because I'm already prepping things anyway and because it sets me up for easy dinners for longer. It's your call.
This is an affiliate link but I love my slow cooker so I must share it with you. I mean I really love it. If you're looking for a great Crock-Pot we love the Crock-Pot 6-Qt Programmable Slow Cooker.  I mean I am really a big fan. It lets you set the cook time 30 minutes increments  anywhere from 30 minutes up to 20 hours as well as select if you'd like it to cook on LOW or HIGH. Once the meal has cooked for your set time this Crock-Pot switches to warm until your turn it off.  No more burnt or overdone slow cooker meals for us.

Slow Cooker Chicken Pizza Pasta Ingredients
1 to 1 1/2 lbs boneless skinless chicken breasts or thighs
1 jar of your favorite pasta sauce (about 4 cups if you prefer homemade)
1 red bell pepper sliced
1 green bell pepper sliced
1 medium onion sliced (about 1 cup)
25-30 pepperoni slices stacked and sliced into strips
Shredded mozzarella cheese to top
Pasta of your choice (we're a fork pasta loving family around here)
Add chicken, sauce, bell peppers, and onions to the slow cooker. Cook on low for 6 hours or until chicken is cooked through and shreds easily. Shred chicken in crock pot using two forks. Sometimes the chicken is so tender it shreds when the sauce is stirred.
Cook pasta according to package directions. Top with sauce, mozzarella cheese, and pepperoni strips.
As a bonus if you have any left over sauce the sauce works great as a hearty pizza sauce. All you need is a crust to slather it on and some cheese on top.