I know some people are not big fans of silly lunches or intricate bentos, but Halloween is fun. I also know some people love silly lunches and intricate bentos. Today's Halloween lunch is not an intricate bento box lunch but it is silly and fun. I've also been known to have a bit of fun packing Valentines's Day Lunch too!I know Madeline will get her fair share of treats and sweets today- it seems Halloween is the most sugar filled day of the year- so I focused on packing her a fun Halloween lunch that was healthy all while being fun. I used a few items that don't normally make appearances in Madeline's lunches to get the desired feel. One thing was the mini and regular chocolate chips and the other was black edible food marker.
I managed to keep the food a secret while packing it this morning and then I gave her a warning that she just might find some spooooooky things in her lunch box today. Hopefully she enjoys the surprise! I know I enjoyed making a little something different for her Halloween lunch. If you're really in the Halloween mood you can check out our Halloween kids' crafts and activities for some crafting inspiration!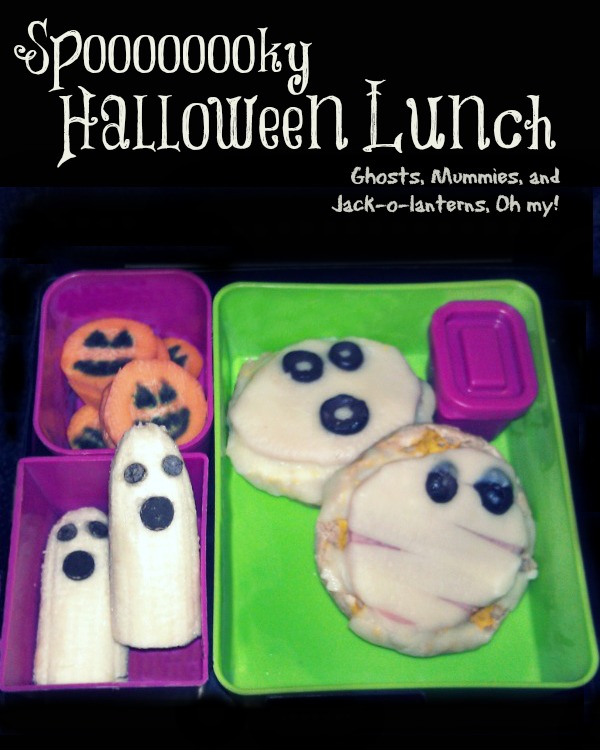 Whats in the box:
Whole wheat Ghost and Mummy open-faced English muffin sandwiches topped with mustard, ham, mozzarella and black olives.
Jack-o-lantern carrot slices and pomegranate- balsamic vinegar to dip.
Ghost bananas.
Did you pack anything special or do you have something fun planned for your child's lunch today?