While we're not the house on the block covered in Halloween decorations, and I don't always start thinking about costumes for the girls until the holiday is nearly upon us I do like to pack a fun Halloween lunch or snacks for Madeline. Sometimes I'll even pack a few Halloween lunches in the lead up to the big day. I try to keep everything simple to make, healthy, and affordable. I do the same sort of thing for Valentine's Day too. There is just something about Halloween and Valentine's Day that makes for fun lunch making in the Evolving Motherhood household.
Before you start scrolling I want to remind you of a couple of things. All of these ideas are pretty easy to execute and will not add much time if any to your lunch packing time. The ingredients are not over sweet or sugary because Halloween is sweet enough with all the parties, and trick-or-treating. Also, most of these items can easily be found in your regular grocery store. And Lastly, you won't need much in the way of special tools. So have no fear you will not need to buy half a bento store to pull these fun ideas off. (Although I do think there are some fun tools that can make Halloween lunches even more fun, and sometimes even easier to pull off that I will share with you soon.)
Have fun and feel free to share your fun Halloween lunch ideas with me in the comments!
1. Banana Ghosts
Banana ghosts only take a few chocolate chips and a banana and are quite easy to make.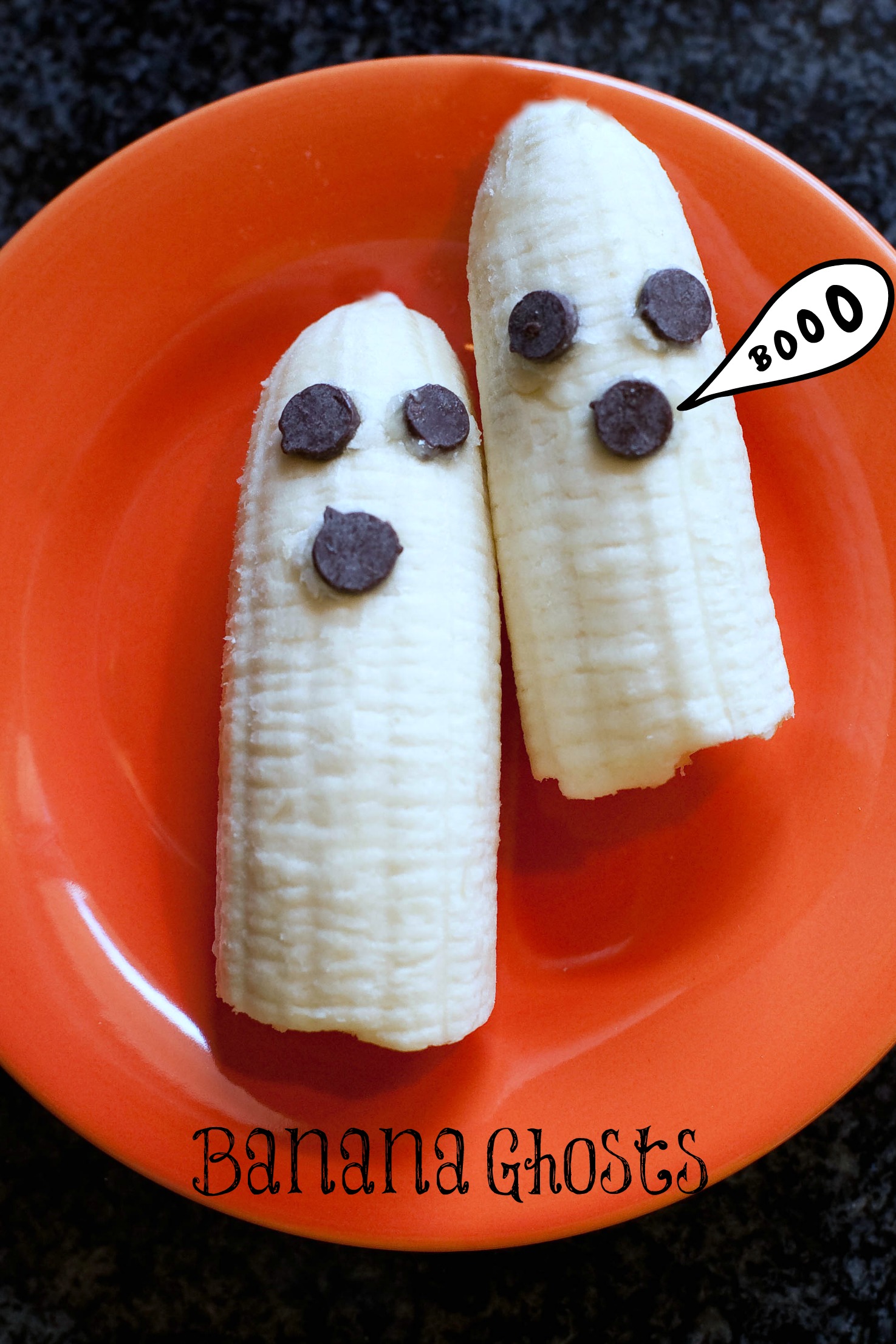 2. Bat Tortilla Chips and Salsa
Cut out Halloween shapes from tortillas with mini cookie cutters and bake to make your own Halloween themed chips.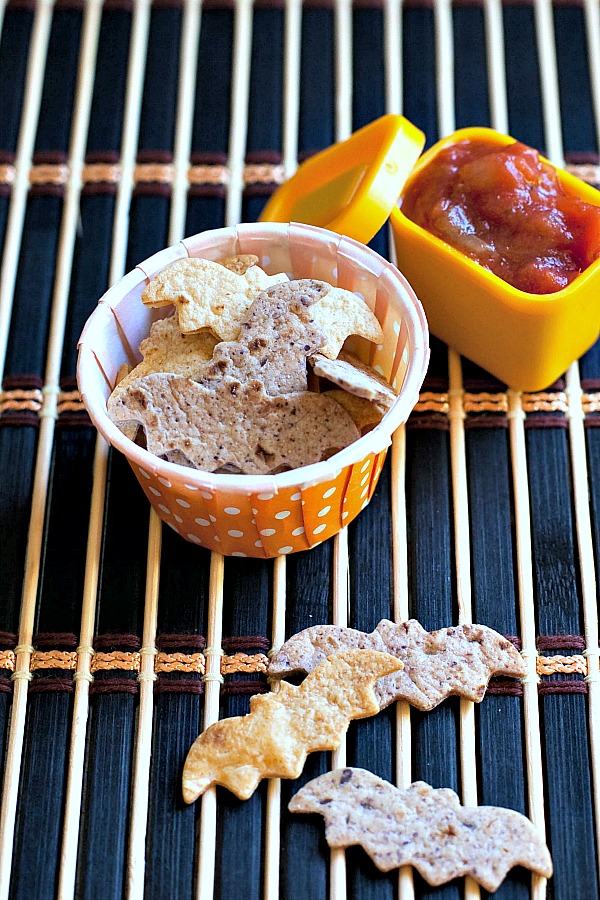 3. Boo-Berry Yogurt
Serve plain or vanilla yogurt with a bit of blueberry puree topped off with a spider Halloween favor. Send along some fresh or frozen "boo-berries" to add in.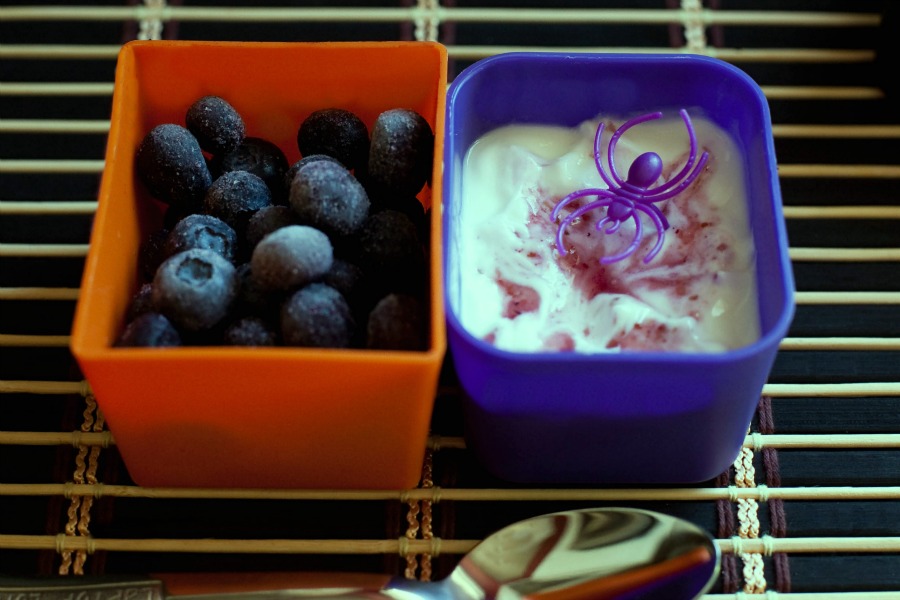 4. Spooky Cheese Pizza 
Split and English muffin in half and top with pizza sauce. Cut holes in a slice of provolone cheese and bake in a 350 oven until the cheese is melted.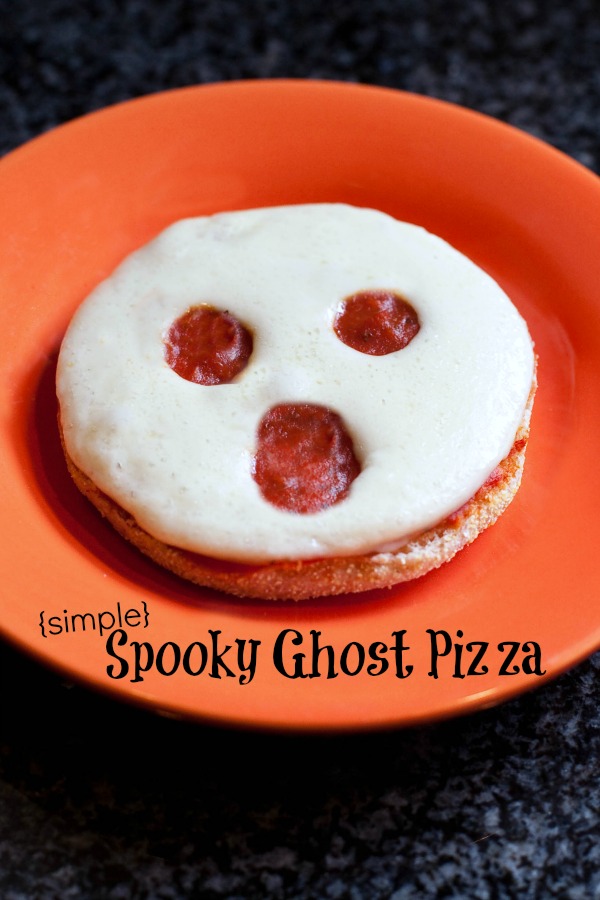 5. Halloween Cheese Sticks
Using a sharpie draw a ghost or pumpkin on your cheese sticks for a fun and festive snack, lunch side or class Halloween party food.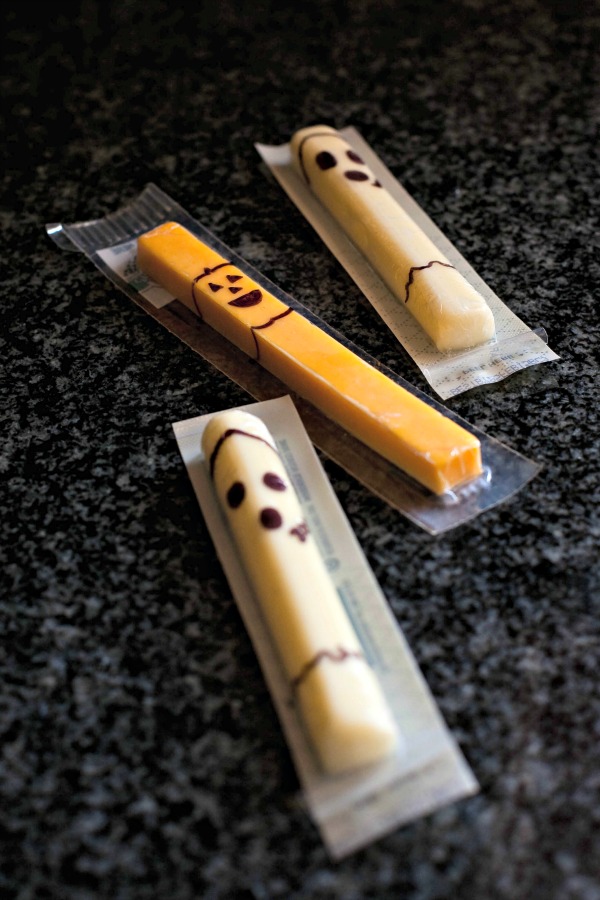 6. Bats, pumpkins, spiders and witches oh my! 
Keep an eye out for . I found this mix of bat, witch, pumpkin, and spider noodles at World Market. Toss with some green peas, melted butter, and Parmesan cheese and you have yourself a Halloween main dish suited for the you or your kiddo.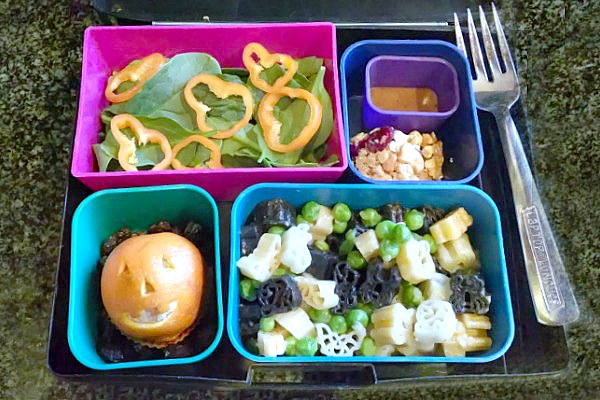 7. Boo! cheesy Quesadilla
We all know I love tortillas in a school lunch. Use Halloween themed cookie cutters to turn a regular old quesadilla into something fun.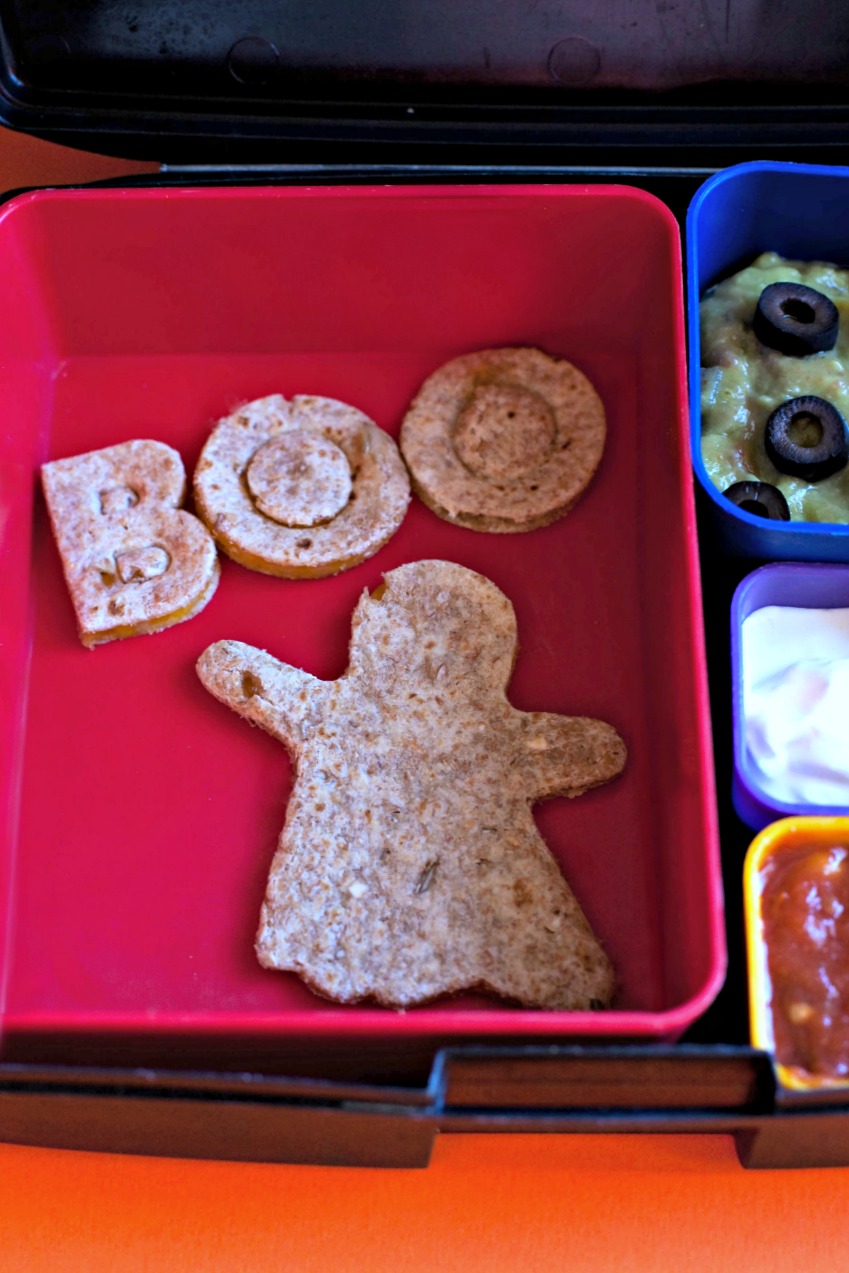 8. Healthy and Fun Salad
Use the colors of Halloween to create a yummy salad. Baby spinach topped with mini-heirloom orange tomatoes and sliced black olives is just one possible black and orange salad combination.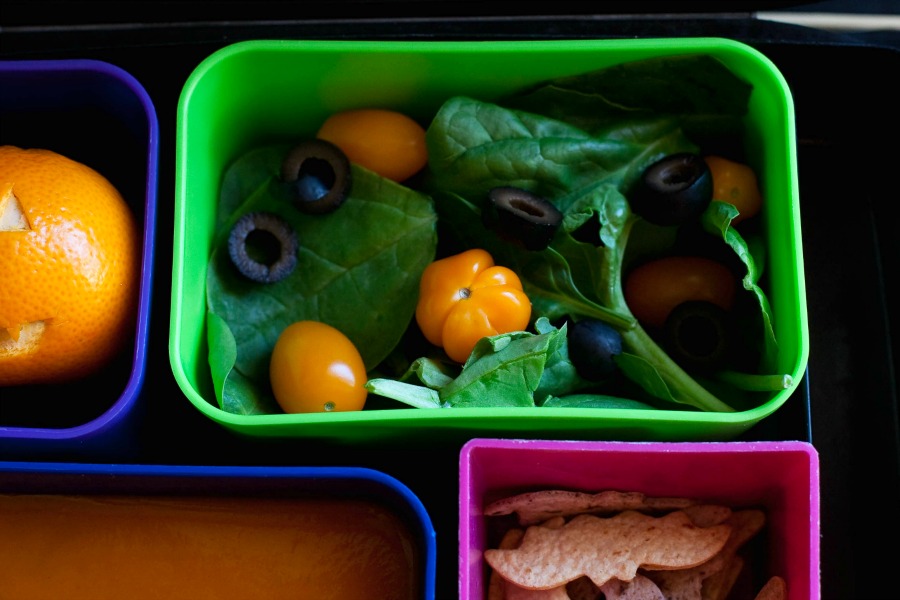 9. Trail Mix Trick-or-Treat
Toss a few orange candy-coated sunflower seeds and chocolate covered pumpkin seeds in with some nuts to make a tasty treat.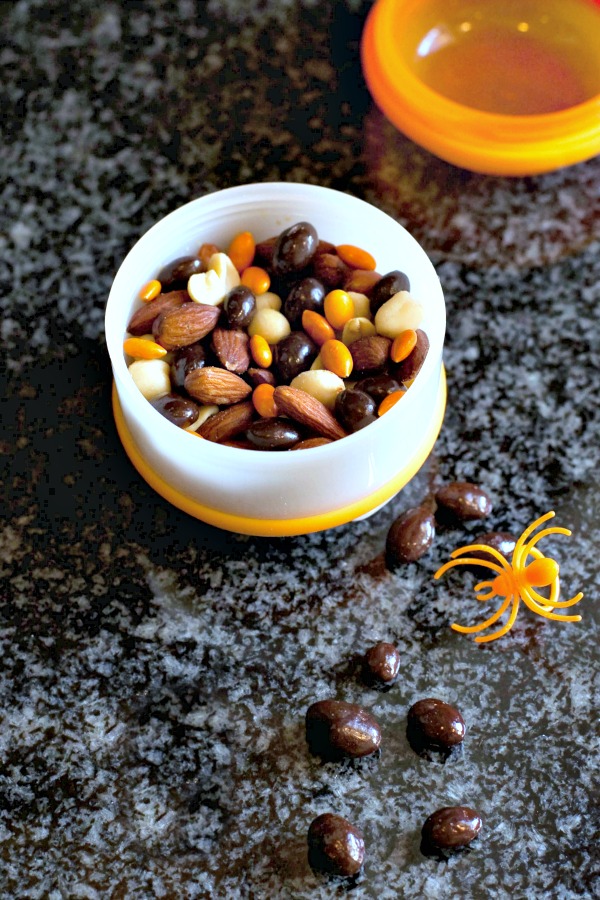 10. Holiday Pretzels and Hummus
Halloween shaped pretzels are a fun and incredibly easy way to add some Halloween fun to a meal. I found these pumpkin shaped pretzels at Target but have also seen Utz brand Halloween themed bags of this salty snack. Add some healthy hummus and you've got quite the frightfully good pair.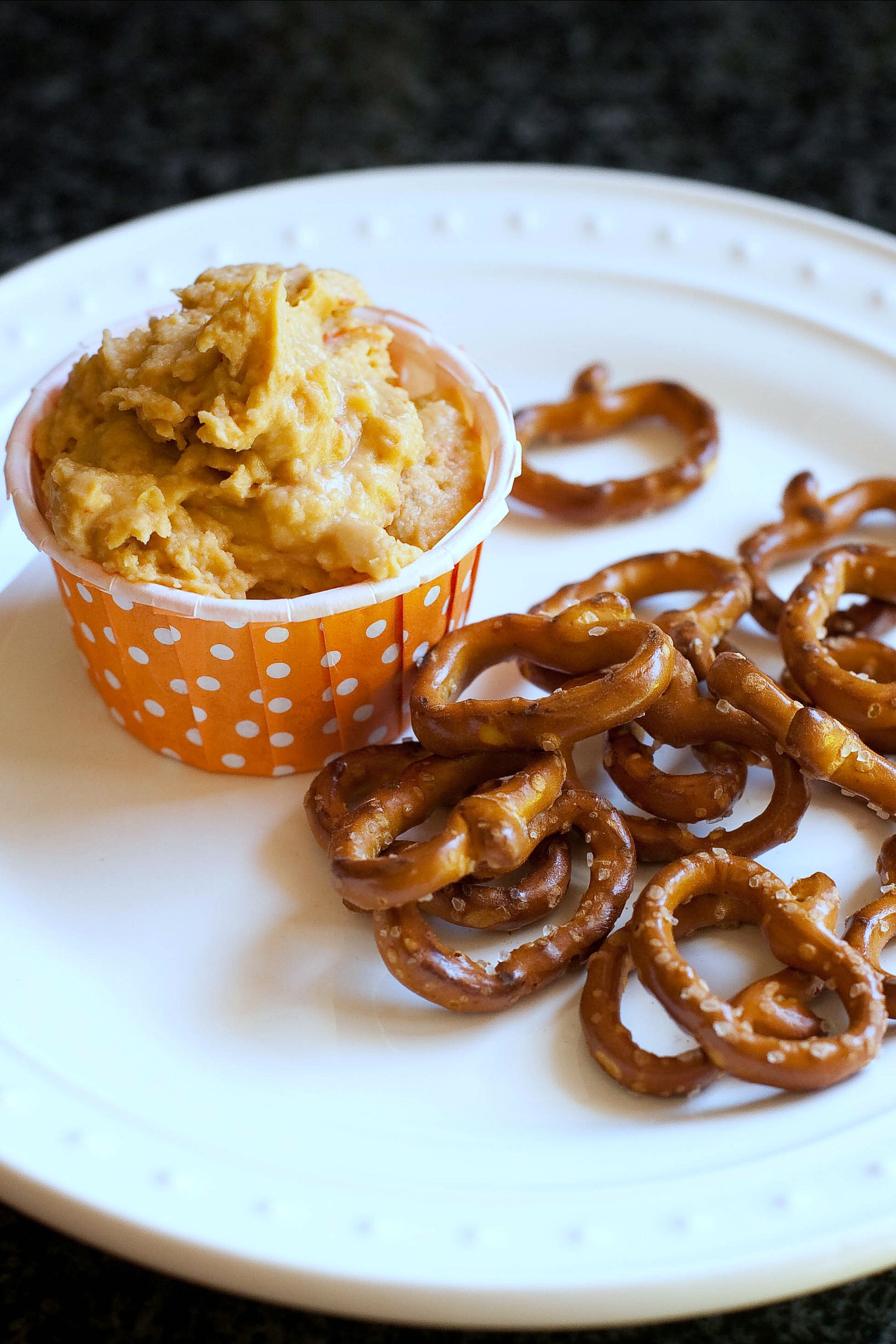 11. Jack-o-Clementine
Using a small paring knife cut out small jack-o-lantern features from the skin of a clementine.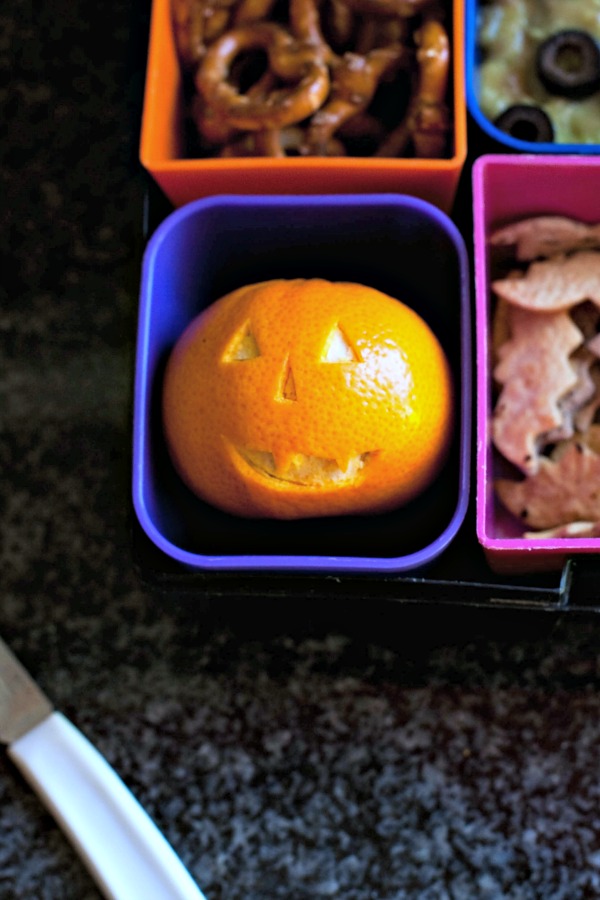 12. Monster-Guac
Turn regular old guacamole into an eyeball covered monster with black olive slices. Serve with bat tortilla chips.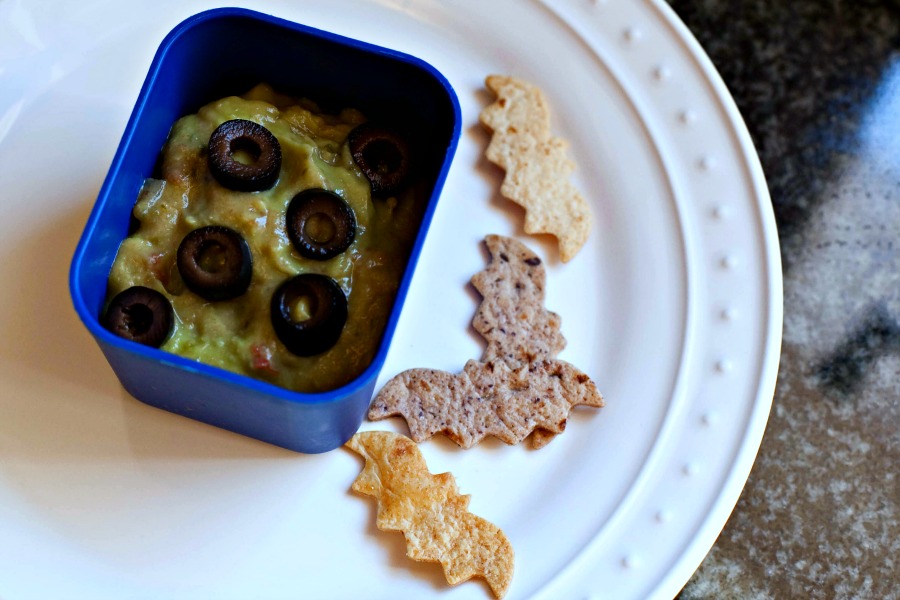 13. Is That a Mummy in Your Lunch Box?
Top an English muffin half with pizza sauce and strips of provolone cheese to make the bandages of a mummy. Add eyes made from black olives, pepperoni, green pepper, or any other topping you'd like.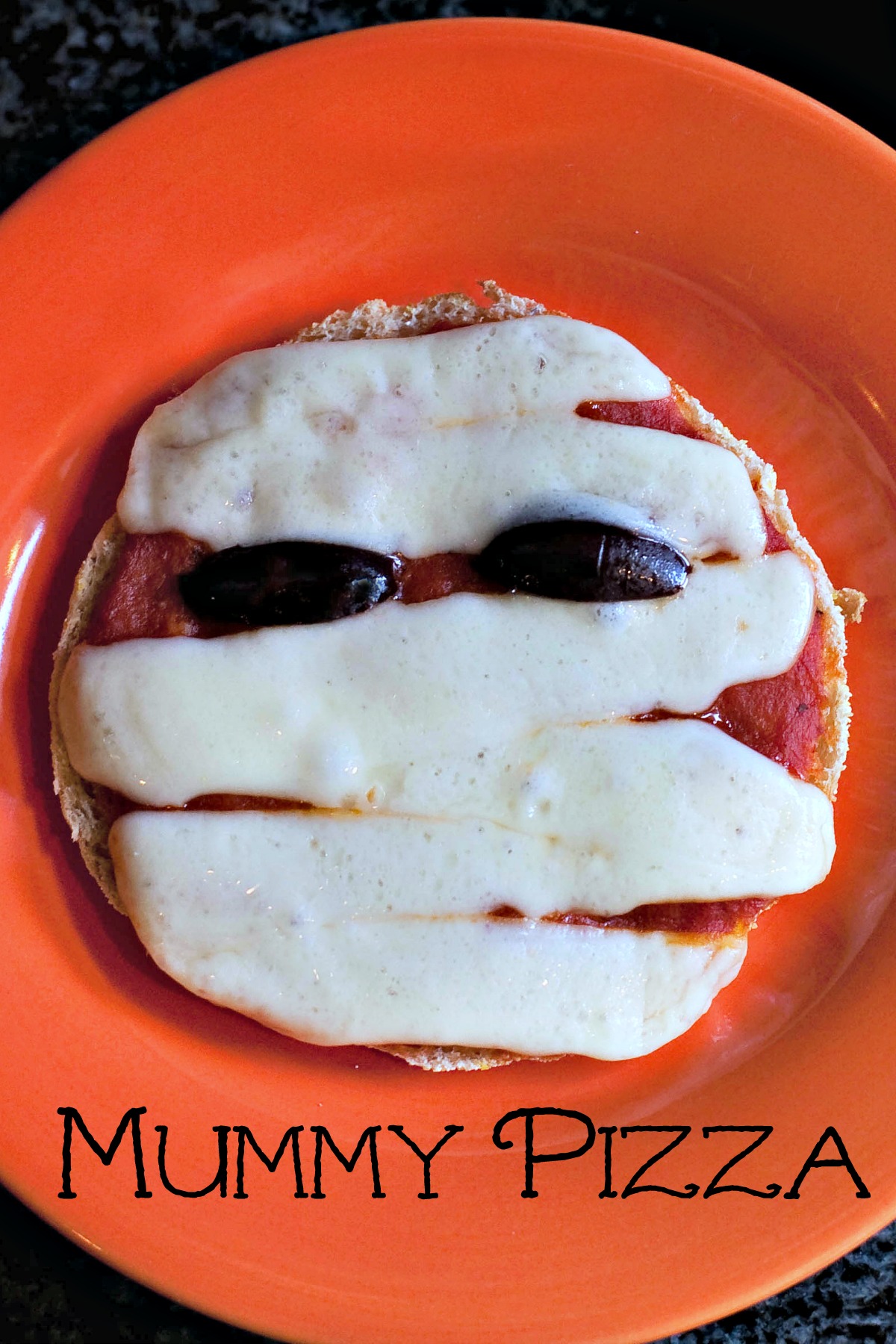 14. Festive Cheese and Crackers
Use mini cookie cutters to make festive Halloween cheese slices to server with crackers.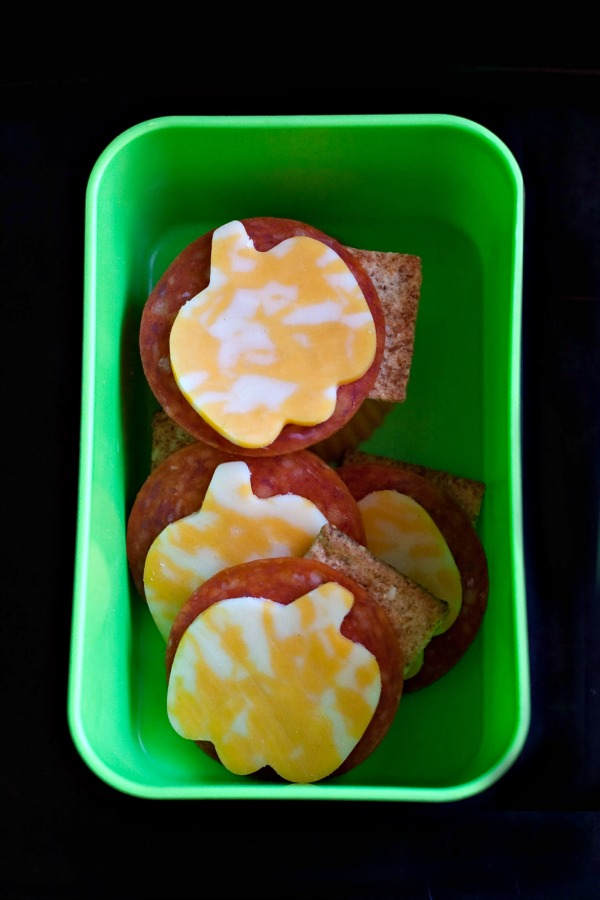 15. Vampire Blood
A little imagination and some tomato soup is all you need to make some bone-chilling vampire blood for lunch. Serve with bat crackers for a fun play on the vampire theme.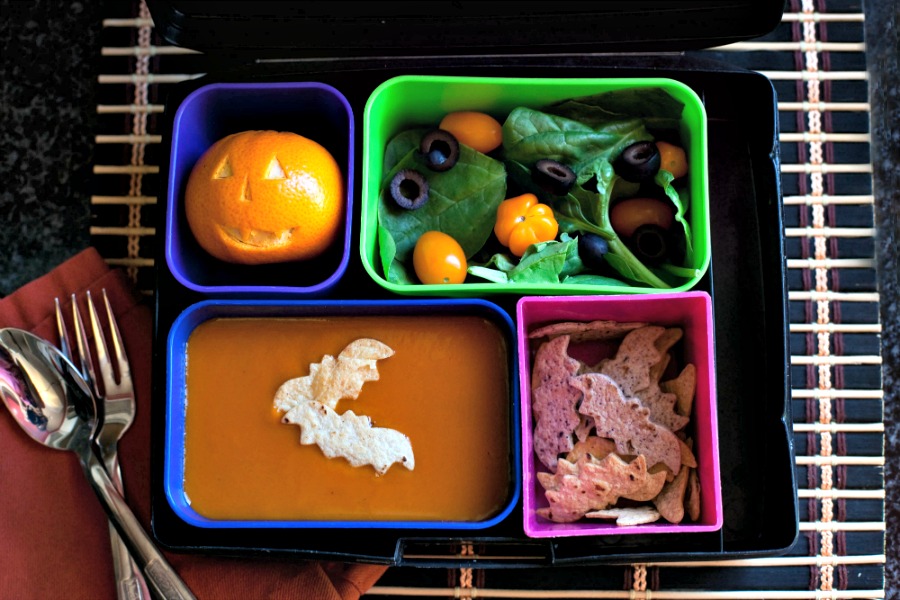 16. Pumpkintine
Pumpkins and clementines, they're both orange and they're both delicious. Turn a peeled clementine into a pumpkin with a small piece of pretzel to act as the stem.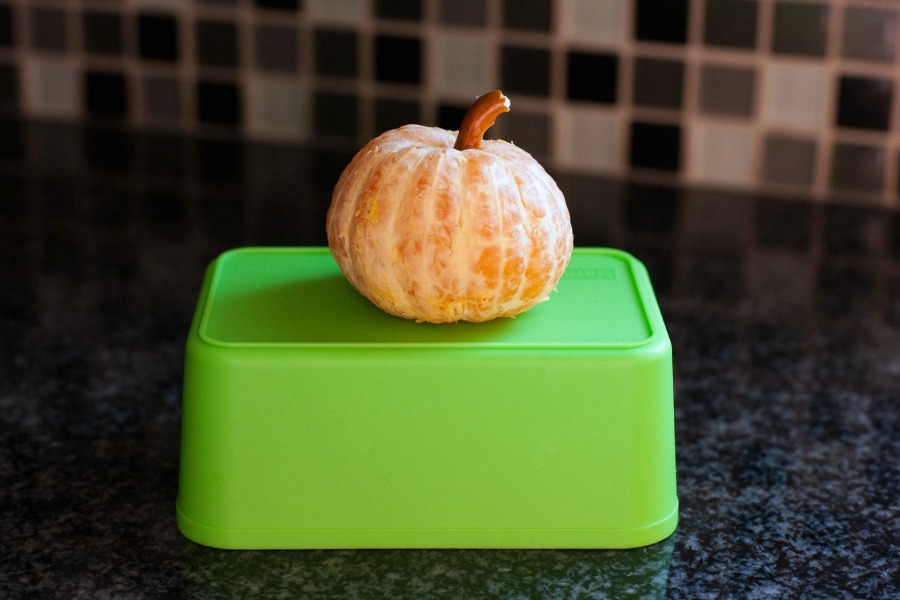 17. Pumpkin Muffins
Whole wheat pumpkin muffins topped with a little cream cheese frosting spider web? Fun, delicious, pretty healthy, and halloween-a-riffic too!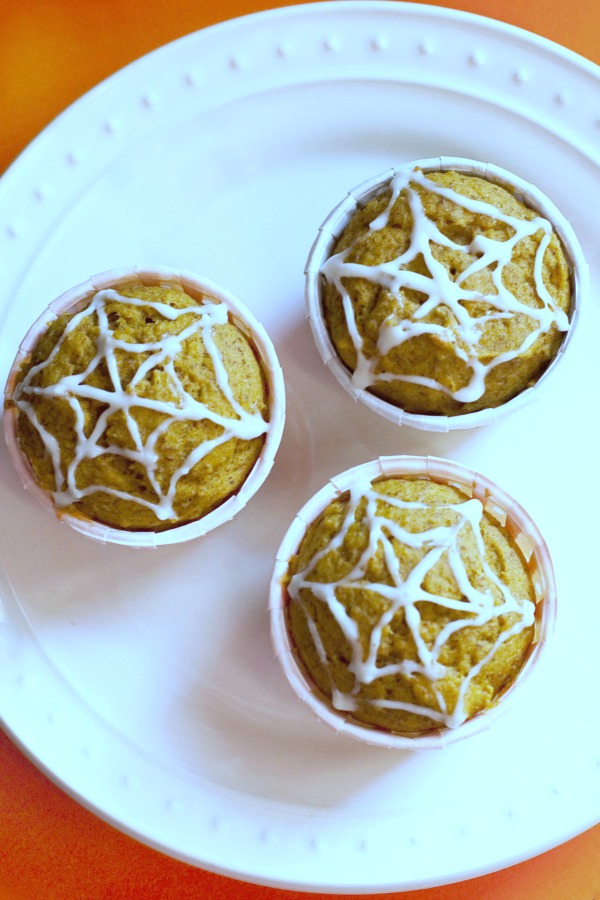 Looking for more Halloween themed fun? Check out these greats Evolving Motherhood posts:
Halloween Themed Crafts and Activities for Kids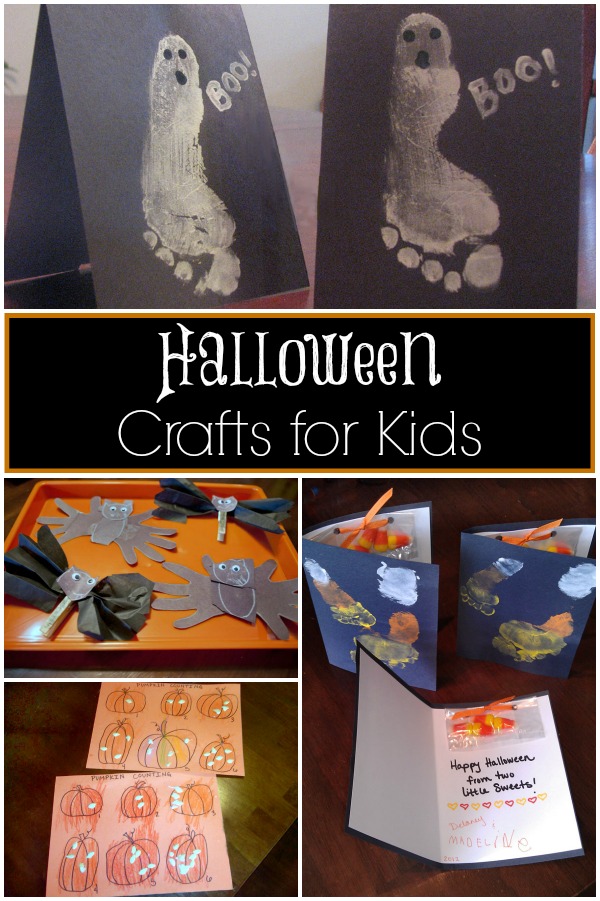 Pumpkin Chocolate Chip Cookies