Every Monday we break out the slow cooker. Okay, correction, every Monday I break out the slow cooker. It's on the schedule after all. Monday is the night that we have our latest after school activity and having something in the slow cooker makes actually having dinner at a reasonable time possible. Slow Cooker Honey Garlic Chicken is quite simple, the kids love it, and so do the adults. I plate up everyone's food and then when we're all seated everyone tops their delicious shredded Chicken with whatever toppings they choose in whatever amounts they choose. For example for Delaney last night this meant lots of sesame seeds sprinkled on all the things, even her side vegetables.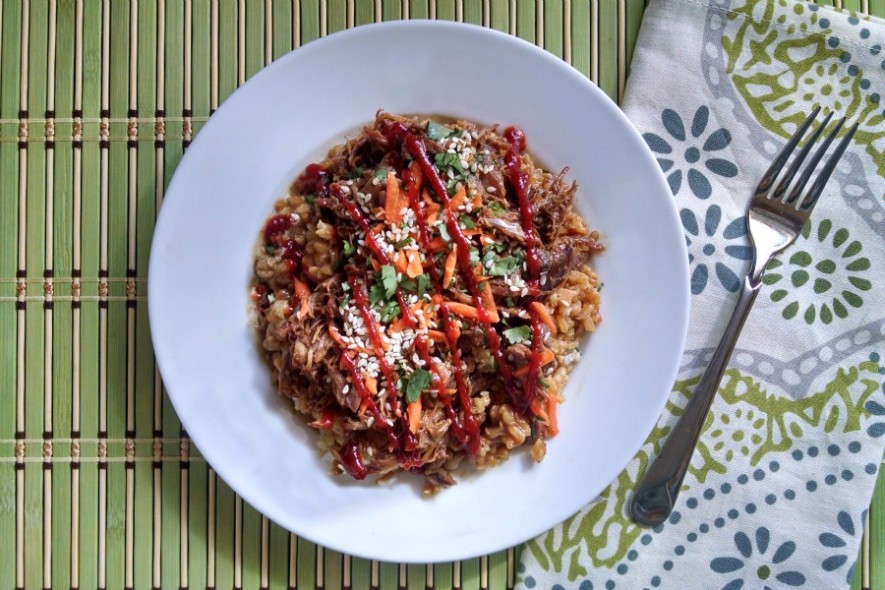 Honey Garlic Chicken is true to its name and is sweet so a nice drizzle of Sriracha is the perfect way to top it off. If we didn't have kids who are less than excited about spicy foods I would add a 1/4-1/2 teaspoon of crushed red pepper flakes to the slow cooker mixture, but since I do have kids who I am slowly trying to work to up their spice tolerance I leave the crushed red pepper out and instead appease my taste buds with a good drizzle of Sriracha atop my plate of Honey Garlic Chicken. Last night Madeline even took the adventurous step off adding a dab of Sriracha on the side of her plate and experimenting with ever so slightly dipping a bit of her chicken in it before taking a bite. I call that progress.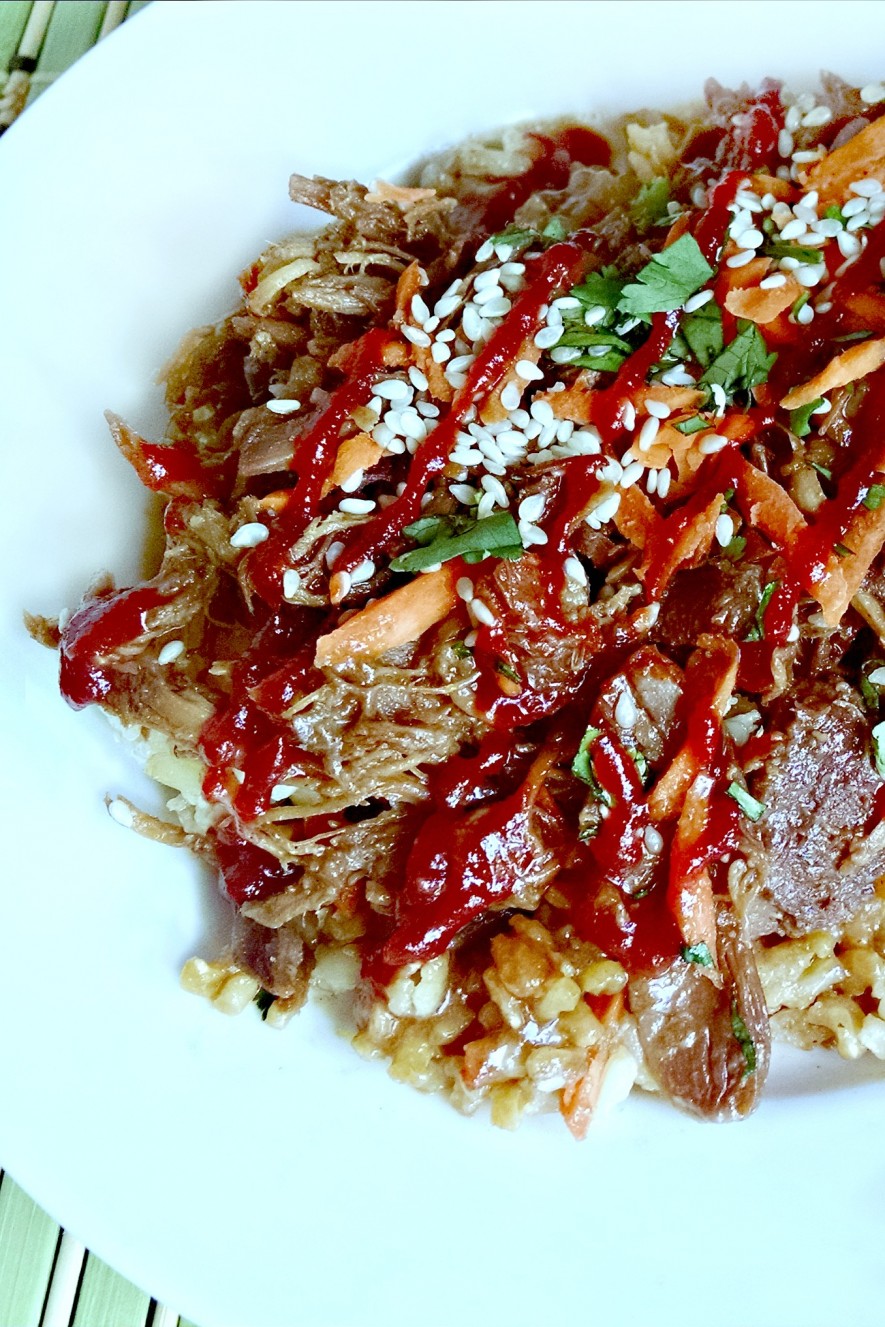 If you're looking to stock up your freezer with excellent pre-bagged slow cooker meals this meal is one to put on your list. Instead of put anything into the slow cooker just add all the ingredients into a gallon sized zip top freezer bag. Lay the bag flat in your freezer to freeze. On the day you're ready to cook the Honey Garlic Chicken just pour the meal into the slow cooker and cook as directed below.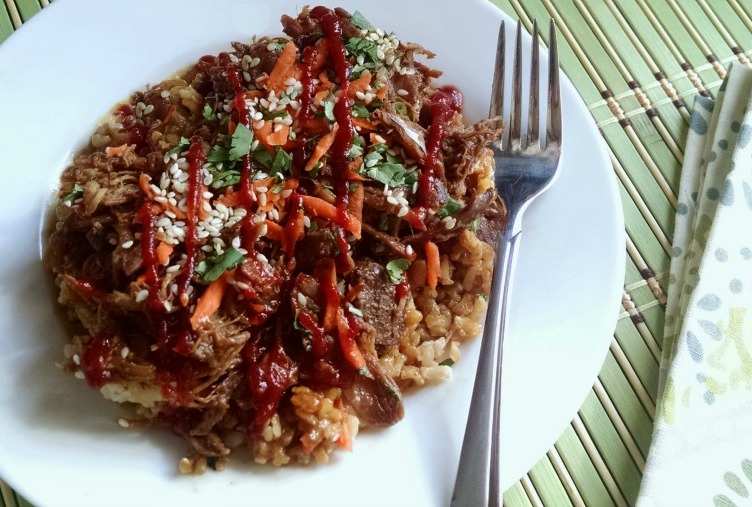 Ingredients to make Slow Cooker Honey Garlic Chicken
2 1/2-3 lbs boneless skinless chicken thighs
1/2 cup honey
1/2 cup soy sauce
1/4 cup hoisin sauce
4 cloves minced garlic
1/2 cup diced onion
Toppings:
sliced green onion or chopped cilantro
grated carrots
sesame seeds
Sriracha
How to make Slow Cooker Honey Garlic Chicken
In a medium bowl mix honey, soy sauce, hoisin sauce, minced garlic, and onion. Place chicken thighs into slow cooker and then pour sauce mixture over the chicken. Cook on low for 4 hours.
Shred the chicken when it's cooked through. My favorite way to quickly shred meat is to place it into the bowl of my stand mixer and use my paddle attachment on a low setting to break up and shred the meat. Of course you can always use the tried and true method of using two forks to pull part the meat by hand. Either will work fine. Once the meat is shredded place it back into the slow cooker and stir it into the sauce to coat it all.
Serve the shredded Honey Garlic Chicken over brown rice and top it with sliced green onions or chopped cilantro, shredded carrots, and sesame seeds then finished it off with a drizzle of Sriracha sauce.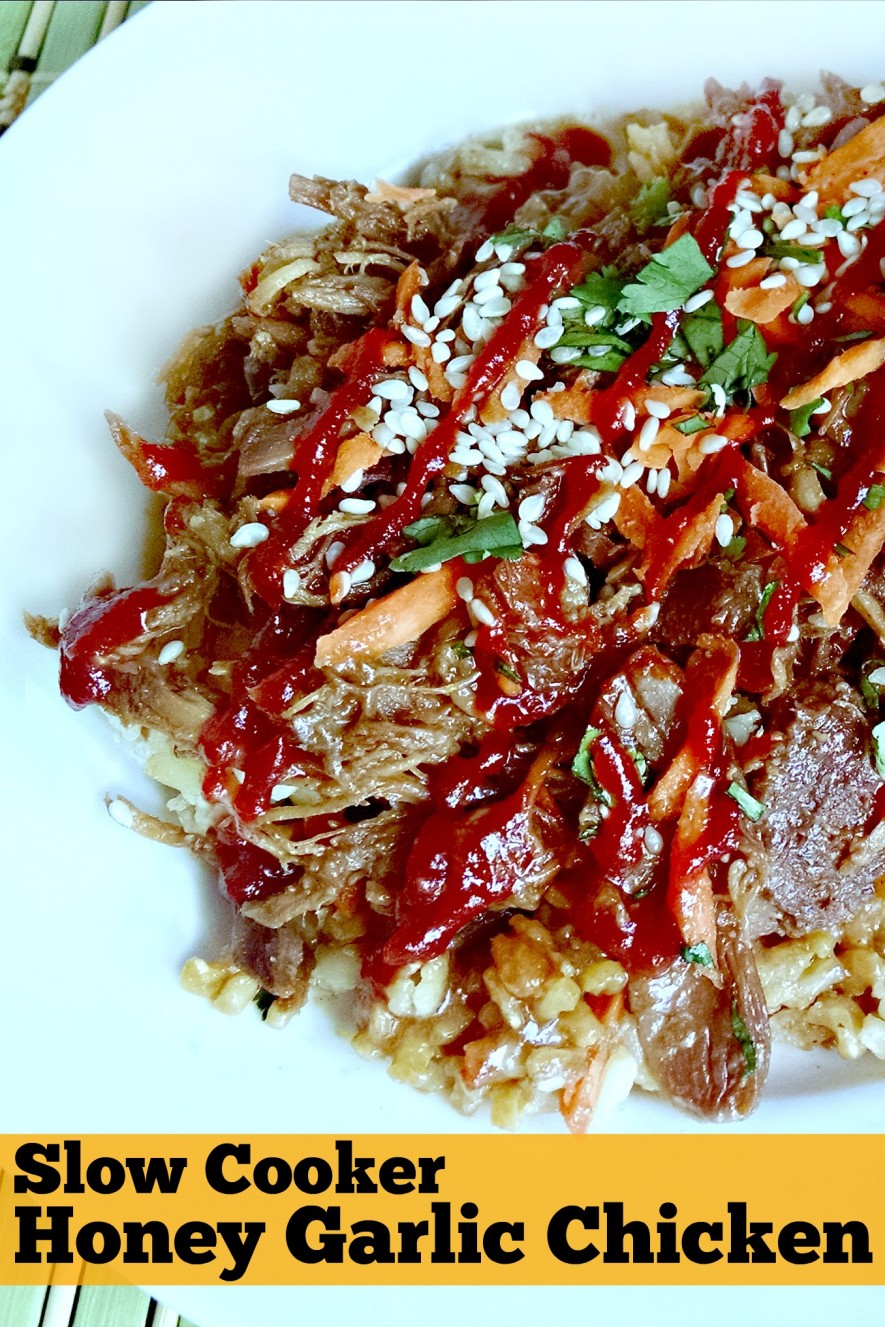 This is an affiliate link but I love my slow cooker so I must share it with you: Crock-Pot 6-Qt Programmable Slow Cooker (affiliate).  I mean I really love it.  It lets you set the cook time 30 minutes increments  anywhere from 30 minutes up to 20 hours as well as select if you'd like it to cook on LOW or HIGH. Once the meal has cooked for your set time this Crock-Pot switches to warm until your turn it off.  No more burnt or overdone slow cooker meals for us.