I love pumpkin. Fall is my favorite time of year and pumpkin is a big part of why. As a result I end up buying a bunch of pumpkins from the farmers market each year and roasting and pureeing them. Which of course means my family ends up eating a lot of pumpkin. Pumpkin Ravioli with creamy pumpkin filling with flavorful sausage and spinach us one such product of my seasonal obsession.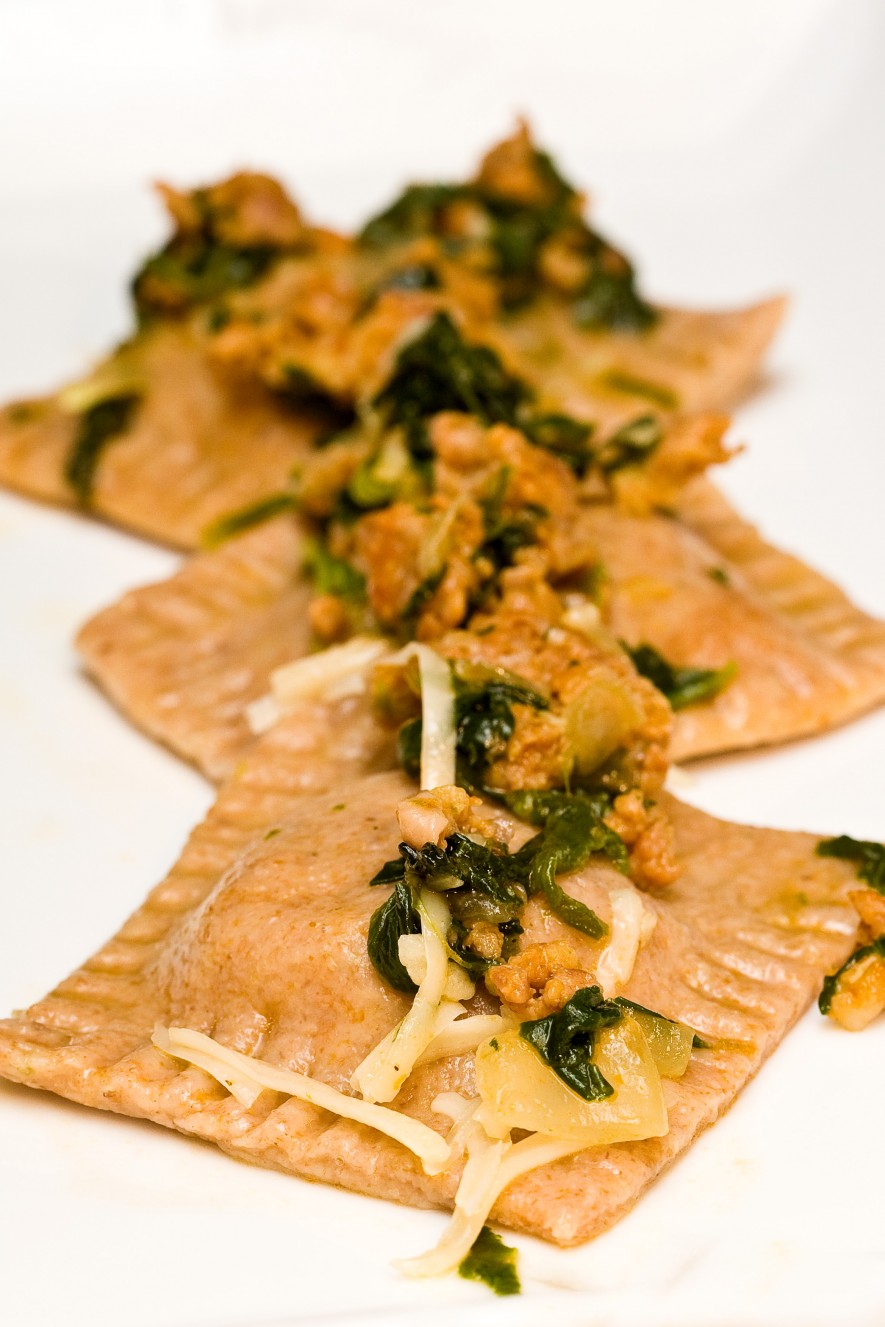 For those of you that have never made your own pasta, I assure you it is easier then it may sound. Fresh homemade pasta is also delicious so it is well worth the effort. I usually use whole wheat flour to make whole wheat pasta, but you can certainly use all purpose flour as well. If however, you do not want to make your own pasta you can feel free to use wonton wrappers in place of pasta dough. This recipe could easily have a different accompaniment other than sausage and spinach, if you come up with some other tasty combinations please let me know, I always love suggestions. Below I have listed the recipe for the pasta dough as well as the pumpkin filling and sausage and spinach topping. This recipe makes enough for about 2 dozen ravioli's, although it could make more or less depending on how thin you roll your pasta dough and how small or large you make your individual ravioli. I highly suggest using whole wheat flour to make the pasta it gives such a nice nutty full flavor, but feel free to use the flour of your choice.
Pumpkin Ravioli Recipe and Ingredients
Dough
1½ cups flour (white or wheat)
¼ tsp. salt
2 large eggs
2 tsp. olive or vegetable oil
1-5 tbsp. cold water, as needed
If you are using wonton wrappers you can skip this step. Put the flour, salt, eggs and oil into the bowl of your food processor and blend for about 10 seconds. You want the mixture to be crumbly, but also stick together when you squeeze some crumbs between your fingers. Add water if needed to increase the stickiness, one tablespoon at a time. Turn out from the bowl onto a smooth, floured surface. Knead the dough to bring all the crumbs together and form into a smooth ball. Wrap in plastic wrap or cover with an inverted bowl for about 30 minutes. Once the dough has rested, cut it into four equal pieces and keep the dough you're not using wrapped or covered. Stretch the dough into a bit of a rectangle, lightly flour it and start rolling it into long rectangles, with ravioli the thinner you roll the dough the better. You will need a top and a bottom for each sheet of ravioli's.
Pumpkin Filling
1 cup pureed pumpkin
½-¾ shredded parmesan cheese (according to your taste)
¼ teaspoon nutmeg
1 tablespoon chopped green onion
1 tablespoon whole milk or cream
Mix the filling ingredients together thoroughly and set aside.
To assemble Ravioli's: Beat an egg, and brush one sheet of dough with the egg. Drop the filling, about one teaspoon at a time, onto the dough, in two or three rows as you make your way down the sheet.
Place the other sheet of dough on top of the filled sheet, and press down with your fingers to seal around the filling.
Cut into individual ravioli with a sharp knife or pastry cutting wheel, pressing out any air bubbles as you transfer them onto a floured baking sheet. The ravioli are now ready to cook, or can be frozen on the sheet, then stored in a smaller container and cooked right from their frozen state.
To cook ravioli Bring a saucepan of salted water to the boil. Reduce to a simmer, add the ravioli, in batches, cook 4-5 minutes, until just tender, drain. And place on a serving plate. Generally when the ravioli floats to the top of the pan it is done.
Sauce/Topping
½ pound hot Italian sausage
½ medium yellow onion coarsely chopped into about 1 inch pieces
2 cups fresh spinach or ¾ cup frozen spinach
1 cup chicken stock
Parmesan
Saute onion and sausage in a pan. Drain fat from pan when sausage is cooked. Wilt Spinach into onion and sausage mixture and add chicken stock. Simmer on low heat until spinach is wilted. Serve on top of ravioli's with a sprinkle of Parmesan cheese.
What are your favorite ways to cook with pumpkin? Have you ever made ravioli or other homemade pastas?