I have a bit of a shortbread obsession. The trouble with shortbread is that if made without forethought it's all too easy to load it with ultra refined white flour, ultra-refined GMO sugar, and hormone laden low quality butter. Since I love shortbread and I would like to enable my sweet tooth – and your's – I've made over classic shortbread with higher quality and healthier ingredients. And as if that weren't enough I've added in some homemade caramel inspired on a Caramel Sauce Recipe, and some dark chocolate to boot. I think you're going to love these cookies. It's safe to say the members of the Evolving Motherhood household do as we plowed right through an entire batch of these Salted Dark Chocolate and Caramel Shortbread Cookies on our own and then Madeline, Delaney, and Luke cheered as I made another batch, for testing purposed obviously.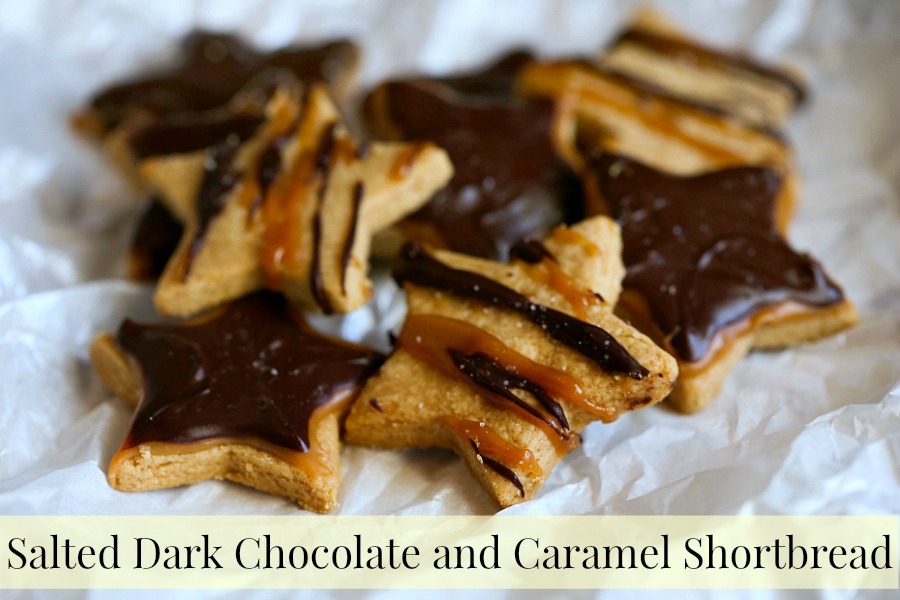 Salted Dark Chocolate and Caramel Shortbread Cookies
Shortbread Cookie Ingredients
1 cup cold unsalted butter, cut into half-inch cubes
1/2 cup sugar (turbinado and organic granulated sugar both work well)
1/2 teaspoon finely ground sea salt
2 1/4 cups white whole wheat flour
Caramel Ingredients
1 cup sugar (turbinado or organic granulated both work well)
1 1/4 cup whole milk
1 tablespoon unsalted butter
1/4 teaspoon sea salt
Chocolate
3.5 ounces Organic Dark Chocolate  (I used a 3.5 oz 72% cacao Whole Foods Organic Dark Chocolate bar)
1 Tablespoon unsalted butter
1/4-1/2 teaspoon fine Sea Salt (to top finished cookies)
1. To make the shortbread cookies:
Line two baking sheets with parchment.
Combine the butter, sugar, and salt in a large bowl. I suggest using a stand mixer with a paddle attachment. A large bowl with a hand mixer will also work.Mix the butter, sugar, and salt on low-speed for about 1-2 minutes or until combined. Add the flour to the bowl and mix on low-speed about 3 minutes or until the dough is beginning to clump and pulled together.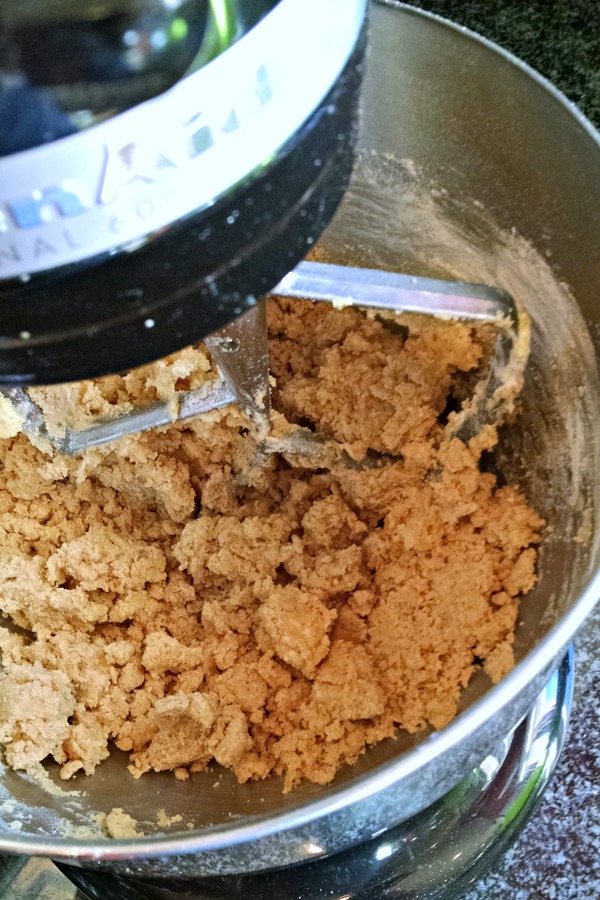 You'll need to scrape the side of the bowl frequently to make sure you get all the butter incorporated. Using your hand pull the dough together into a ball and then flatten into a disk.
Lightly flour your work surface. Roll the dough out to about 1/4 inch thick. Using a cookie cutter or knife cut your cookies into your desired shape. Work your way through the dough pressing scraps together and rolling them out until the all the dough is used.
Arrange cut cookies on the parchment lined baking sheets and place in the refrigerator for 20-30 minutes to chill.
Preheat oven to 300°F with racks in the upper and lower thirds of the oven. Bake two sheets of cookies at a time for 30 minutes or until lightly golden brown. After 15 minutes rotate the cookie sheets for more even baking. Set cookies on a wire rack to cool. While the cookies cool make the caramel.
2. To make the caramel:
Combine milk and butter in a sauce pan and begin warming over low heat. Stir every few minutes to make sure the milk doesn't scald.
Put sugar into a large heavy­bottomed pot, shaking it so that the sugar is in a thin, even layer. A taller pot is a good choice. Place the pot over medium heat. Set a timer for 15 minutes and let the sugar heat up. About halfway through the timed period the sugar will start to heat up enough to begin the melting process. You will start to smell the sugar heating up and see some translucent spots where the sugar is beginning to liquify. After the halfway mark, use a heat ­safe spatula to carefully fold the melted sugar over the unmelted sugar to keep the melted parts from burning. Once all of the sugar has melted, stir gently until it looks smooth. The color of the caramel will depend on the type of sugar you are using. Granulated sugar will result in a rusty golden ­brown color while turbinado will be a bit darker because of it's darker beginning color.
As soon as the caramel is smooth and a dark caramel color quickly reduce the heat to medium-low and stir in about a 1/3 cup of the warmed milk. Continue to stir as the milk and caramel bubble and steam. Once the bubbling has subsided add the remaining warm milk and continue to stir the caramel. Continue stirring to help melt the hardened caramel into the milk.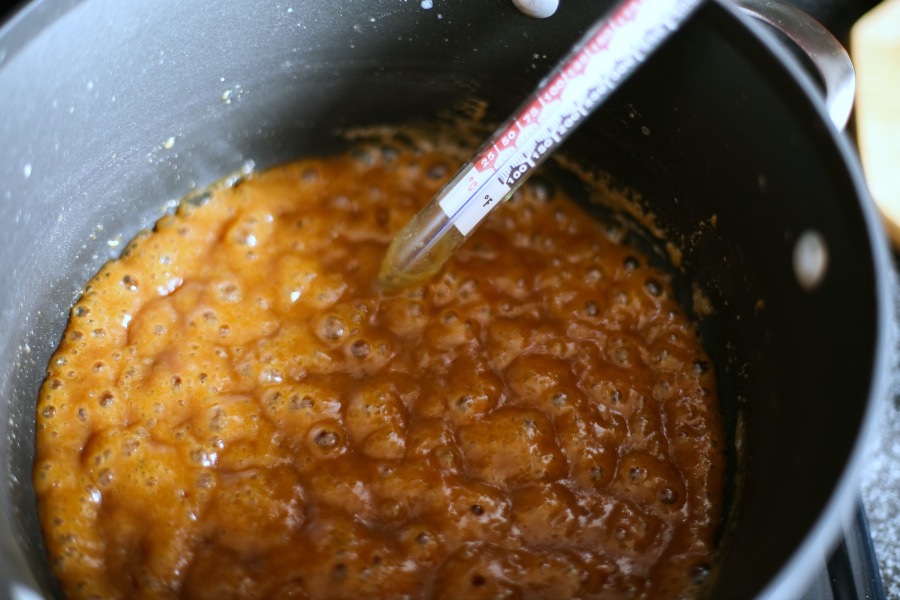 Place a candy thermometer into your pan. Once the hardened pieces melt into the milk begin to watch the temperature on the thermometer stirring regularly. The caramel will thicken as it cooks. When the temperature reaches 210° F whisk in the sea salt and remove the pan from heat. The caramel will look too thin and runny to spread on cookies but as it cools, it will thicken.
If not spreading over cookies right away let sit for 5 minutes before transferring to a heat-safe container. Store in the refrigerator until ready to use. Caramel spreads best when slightly warm.
3. To assemble the cookies:
If starting with cooled or cold caramel warm it so it's at a consistency similar to molasses. Spreadable but not too runny. Using an offset or thin spatula, or even a butter knife spread an even layer of caramel over the top of each cookie. Leave a small edge of each cookie showing. Let the cookies sit for 5-10 minutes to allow the caramel to cool and set. While the caramel sets on the cookies melt the chocolate and butter in a double boiler just until smooth (if melting in the microwave use a microwave safe dish and warm in 25 second increments stirring between until chocolate is melted and smooth). Spread a layer of melted chocolate over the layer of caramel on each cookie. Once cookies have the chocolate layer let them set until the chocolate begins to firm up, about 10 minutes. Sprinkle cookies with fine sea salt. Keep in mind you can also drizzle the caramel and dark chocolate and then finish with a sprinkle of seas salt also.
Store cookies in a sealed container in the refrigerator for up to a week.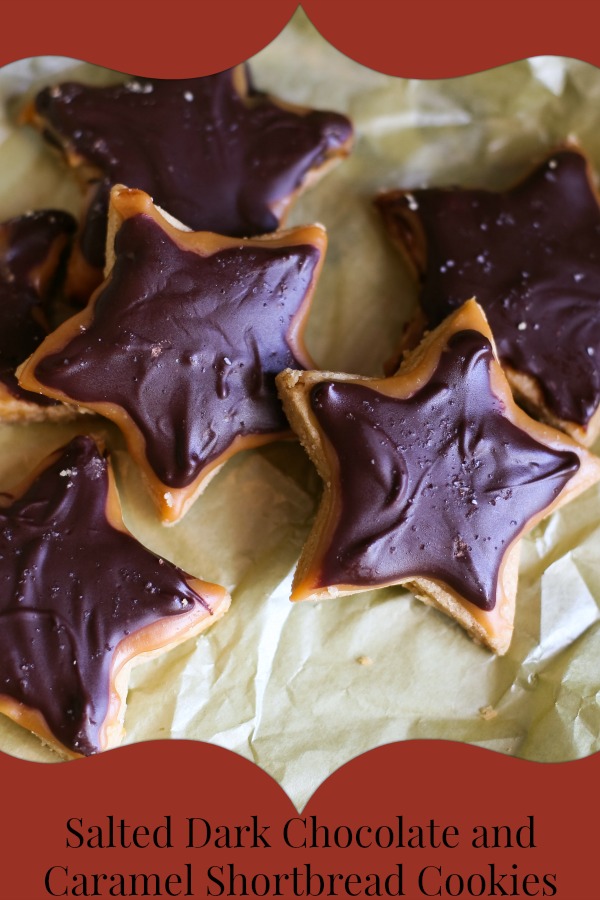 10 Fabulous bloggers have gathered together to stock you up with real food cookie recipes for your holiday season in a #RealCookieSwap!
Whether you're hosting or attending a cookie swap or headed out to a party, bring with you some special treats that not only taste amazing but use "real food" ingredients as well. Of all of these cookies, we can't wait to hear what your favorite is so make sure to share it with us!
When it comes to cooking and baking, butter is a common ingredient. Up the flavor of your dish by using a quality butter and supporting a sustainable company at the same time. Kerrygold butters are made with milk from grass-fed cows in Ireland. They take pride in how they make their butter and what goes into it so you will not ever see additives or hormones added. You will taste (and see the difference)!
Continuing on with sustainability in baking, when you are traveling with baked goods (and when you're at home) it's important to use an ecofriendly choice. If You Care is a company with a full line of ecofriendly products such as pie pans, baking pans, parchment paper. Their packaging shows exactly where the product came from and where it can go after use. Recycling and composting are two of the most common options! Score!
Both of these products can be found at your local Whole Foods as well as everything else you need to stock up on your holiday baking essentials! You  can rest assured you are buying GMO free when you are buying at Whole Foods. We all LOVE that!
And just to help you get ready for this season of baking, we're giving away THE BEST prize package geared toward all of your "real food" and baking needs this holiday season. Get ready because you are going to love what's behind door #1….
Grand Prize valued at over $300: A Kerrygold "Ireland Gift Pack" which includes everything you need to put on a good party – a Kerrygold cookbook, 2 wedges Kerrygold Dubliner Cheese, 2 wedges Kerrygold Swiss Cheese, 2 wedges Kerrygold Blarney Castle Cheese, 2 wedges Kerrygold Aged Cheddar, 2 wedges Kerrygold Reserve Cheddar, 2 wedges Kerrygold Red Leicester, 2 wedges of Kerrygold Skellig, 2 packs Kerrygold Pure Irish Butter, 2 packs Kerrygold Unsalted Butter, 2 packs of Kerrygold Garlic and Herb Butter, 2 packs of Kerrygold Softer Butter.
AND An If You Care package filled with recyclable baking pans, pie pans, etc.
AND (we're not done) A $75 Whole Foods Gift card so you can stock up on everything you need!
There are numerous ways to enter to win so follow the rafflecopter instructions at the bottom of the page.

I know you'll love the Salted Dark Chocolate and Caramel Shortbread Cookie recipe I have to share with you but be sure to check out these other 9 bloggers and their amazing cookies in our #RealCookieSwap too!
How Does Your Garden Grow: Salted Caramel Ricotta Gems
O'Boy! Organic: Dark Chocolate Eggnog Truffles
The Vintage Mom: Grandmas Chocolate Drop Cookies
Groovy Green Livin: 7 Ingredient Oatmeal Chocolate Chip Cookies
Mindfully Frugal Mom: Bailey's Chocolate Truffles
Mom-Blog: Orange Cranberry Almond Cookies
Real Kitchen and Beyond: Cranberry Crumble Bars
Souffle Bombay: 6 Ingredient Flourless Chocolate Cookie
Eat Sleep Be: Gluten Free Lemon Sugar Cookies