A while back Madeline and I set about to make a magical weekend breakfast together. Somehow Delaney decided to take a morning nap making cooking with my big girl a zillion times easier. Madeline and I looked through our pantry, freezers and refrigerator and decided on an oven pancake with blueberries, raspberries and blackberries. We played around. Mixing and measuring, pouring and laughing together. It was perfect. I love cooking with Madeline. I'm sure I'll love cooking with Delaney too. There is something magical about cooking with your children.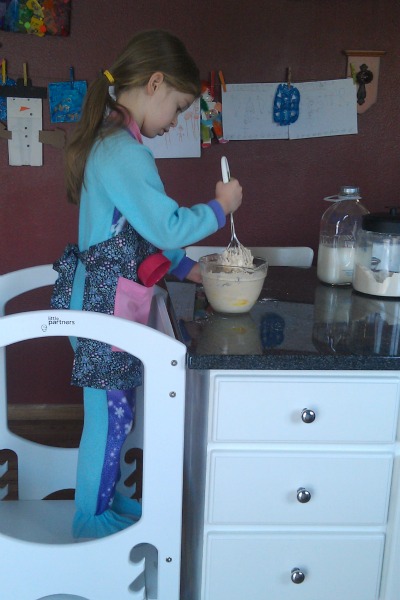 When our baked pancake emerged from the oven Madeline was thrilled with it's big puffy shape. She raved over our delicious breakfast and even lamented at how sorry she felt for all the people who were not so lucky as to get to try our delicious pancake. She isn't afraid to pat herself on the back and I like it. Unfortunately Luke was one of those people missing out on our amazing pancake. He ended up going to the gym – with two kids and a busy schedule when you have the chance to go to the gym you go – and didn't get home until much later in the morning. We were nice enough to save some leftovers but there is no substitute for having this pancake fresh from the oven.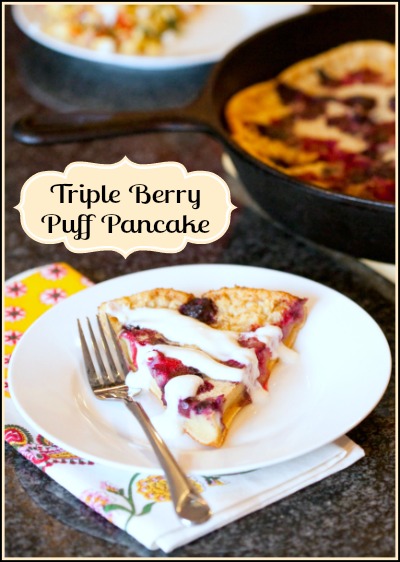 So on a recent "snow day" – I put that in quotes because the weather forecasts called for nearly a foot of snow and we got nearly an inch – Madeline and I decided it was time to show Luke exactly what we had been raving over. He was glad to be let in on our little berry filled puffed pancake secret. So thrilled in fact he ate half of it himself. Delaney was pretty happy to not miss out on the pancake fun this time either. With a Madeline, Luke, Delaney and Catherine thumbs up I would say this puff pancake is a winner. Now go forth and make some baked berry-filled pancake. You'll love it.
Triple Berry Puff Pancake Ingredients
1 cup milk
4 eggs
1/4 cup sugar
1/2 teaspoon lemon zest
1/2 teaspoon vanilla extract
1 cup white whole wheat flour
1/4 salt
2 tablespoons unsalted butter
2 cup thawed frozen mixed berries – blueberries, blackberries, and raspberries (you can also use a mix fresh berries
Lemon – Vanilla Yogurt Ingredients
1 cup vanilla yogurt
1/2 teaspoon lemon zest
2 teaspoons fresh lemon juice
Place the butter in a 12 inch cast iron skillet, place the pan in your oven and then preheat your oven to 400° F.
While the oven and pan preheat prepare the batter. whisk the eggs, milk, sugar, lemon zest and vanilla together until the eggs are well incorporated  Add the salt and flour and whisk until the batter is smooth.
When the oven finishes preheating, carefully remove the pan from the oven – the butter should be melted is just slightly browned. Pour the batter into the hot pan. Gently pour the berries even over the whole surface of the batter. Return the pan to the oven and bake for about 20 minutes or until the outside edges are puffed and golden brown and the center is firm.
While the pancake bakes, mix yogurt, lemon zest, and lemon juice together and set aside.
The triple berry puff pancake is best when eaten warm from the oven. Slice your pancake and serve topped with lemon-vanilla yogurt immediately.