What do kale and granola have to do with each other? Well, not much until now, but I think the connection will be a whole lot stronger in this house from here on out. Luke and the girls love granola. I love granola too, but when I say they love it I mean they eat a lot. Usually on top of yogurt parfaits, sometimes on top of pancakes, and sometimes by the handful but always in hefty servings and always with enthusiasm.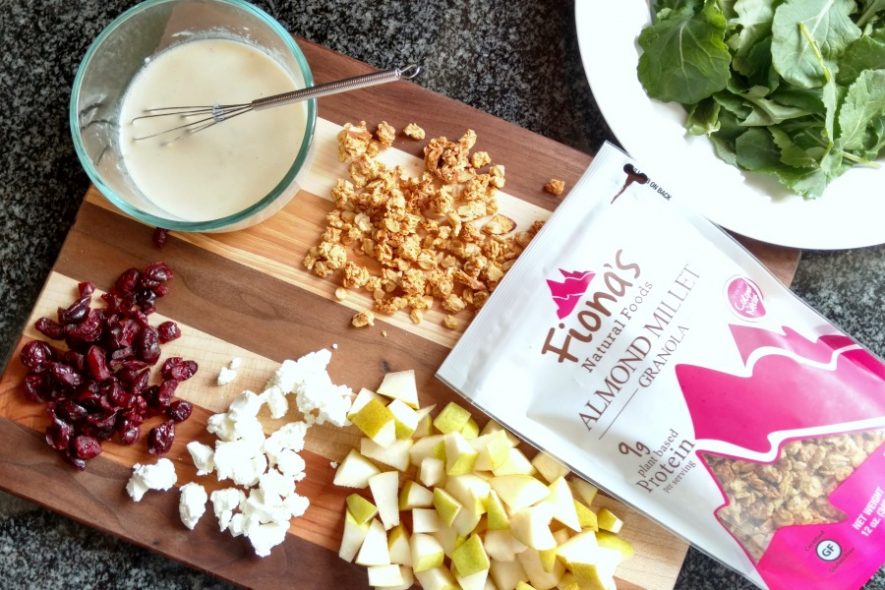 As the person in charge of food preparation in this house I'm always on the hunt to find new ways to serve up fresh foods. Kale and granola come together because granola is a perfect crunchy addition to a salad. And you know who loves kale salad? You guessed it, we do. My kids are always happy to hear that kale is on the menu and they request their go to kale salad in their lunch boxes when they know we have it in the house. And now we have a new twist I can already hear the future requests for kale salad with granola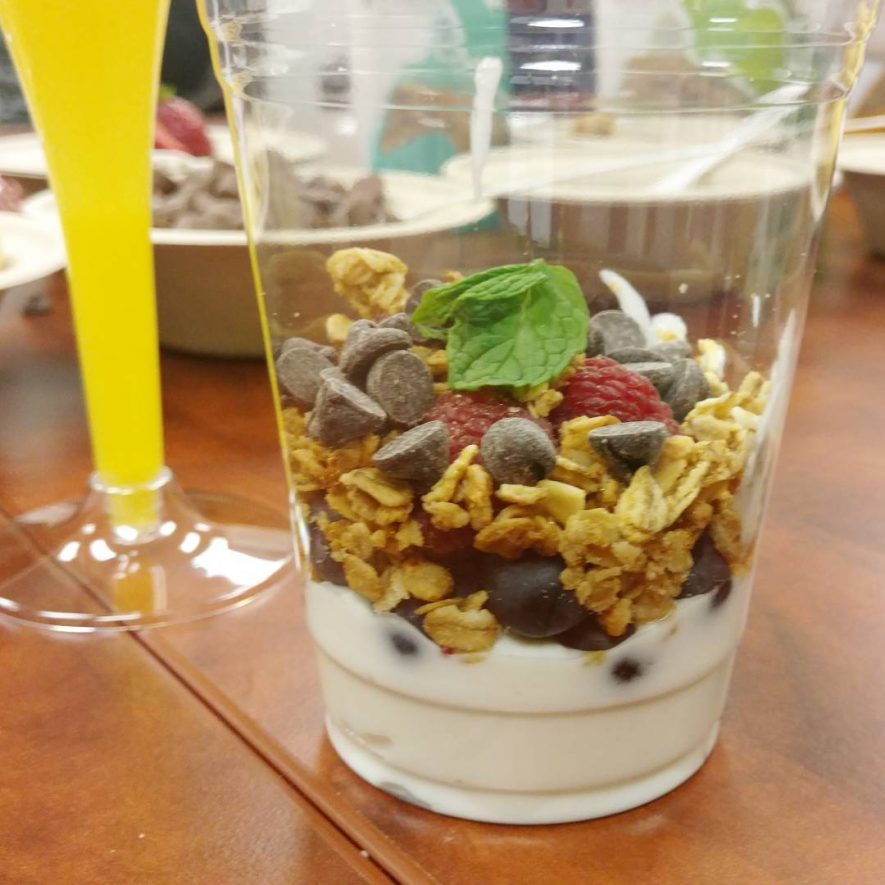 Recently, Sprouts Farmers Market invited me to attend a fun tour of Fiona's Natural Foods to learn more about this local food company and share a little bit about it with you. I always enjoy working with Sprouts to educate myself and share that knowledge on Evolving Motherhood so of course I said yes. On our tour of Fiona's facilities we were able to learn about the ingredients Fiona's uses, check out some of their cool equipment, and make delicious parfaits with Fiona's granola and a huge variety of fresh fruits, yogurt, and more from Sprouts. It was a pretty tasty way to spend a Saturday morning. If it's not totally obvious yet, the way to my heart is through delicious high-quality food.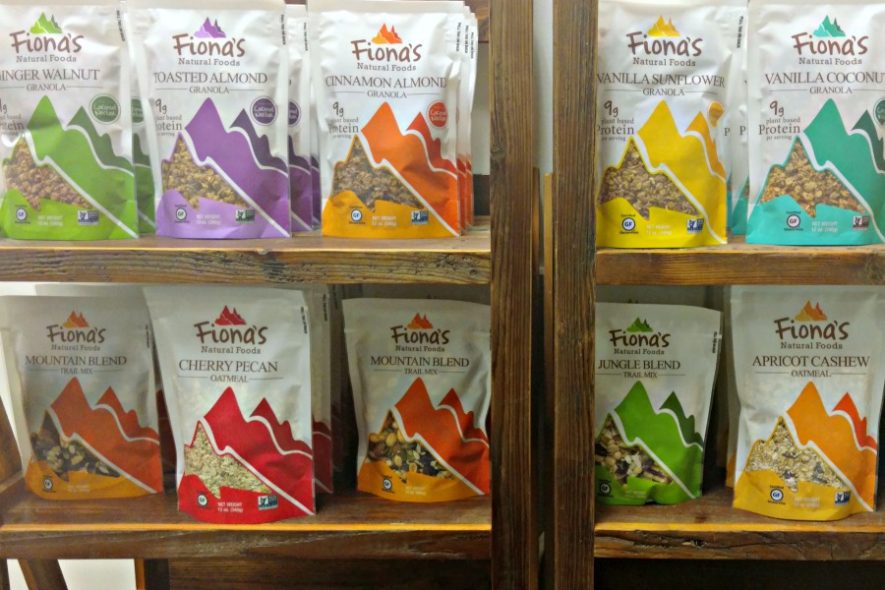 I thought I knew a little bit about Fiona's, yet once the tour started I realized there was so much I didn't know. What I didn't realize is that Fiona's granola checks all the nutritional boxes. It's gluten-free, non-GMO, free of trans fat, vegan, soy free, dairy free, high in protein, sweetened with coconut nectar, and made with a handful of easily recognizable ingredients. On top of all that it's slow roasted in batches and hand tossed. 9 grams of protein per serving is pretty impressive for a granola, which my husband the protein lover was pretty excited about. 9 grams of protein per serving is especially impressive when all that protein comes from plant-based sources that do not include soy, which Luke was even more excited about.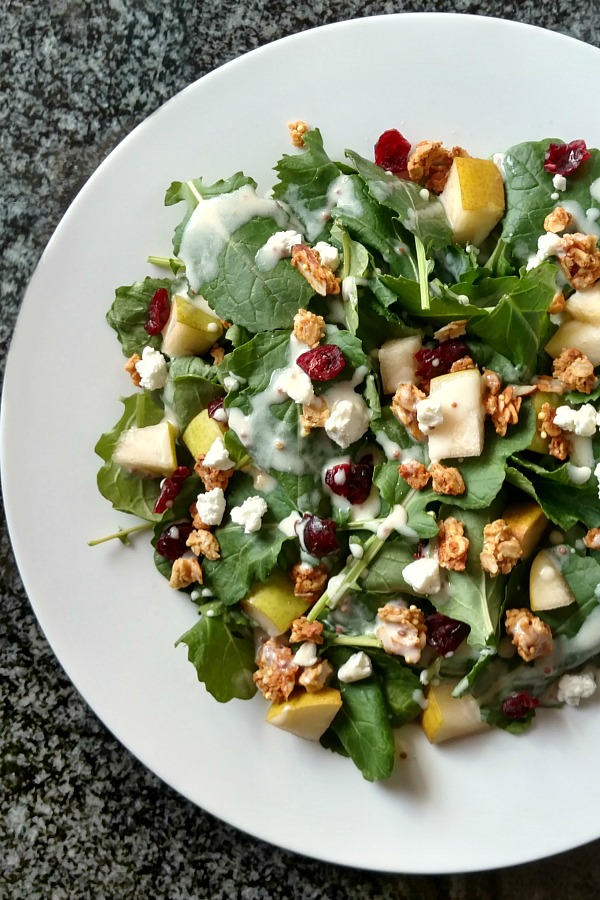 Now back to kale and granola. Tender baby kale with crunchy granola, sweet pears and dried cranberries, and creamy goat cheese, topped with a tangy yogurt vinaigrette? Based on Luke's lunchtime raves and subsequent empty plate it's safe to say we have a winner on our hands. This crunchy kale salad is definitely going into our rotation. There you have it kale salad with granola.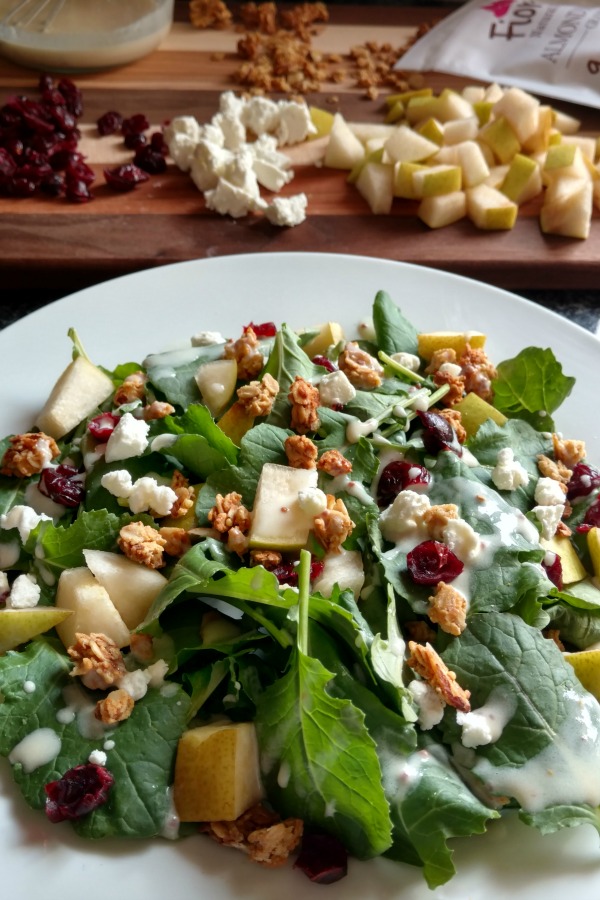 Crunchy Kale Salad with Tangy Yogurt Vinaigrette
Crunchy Kale Salad
1 5oz container baby kale
1 large ripe pear cut into 1/2 inch pieces
1/4 dried cranberries
2 ounces goat cheese
1/2 c granola (I used Fiona's Almond Millet granola)
Tangy Yogurt Vinaigrette (see recipe below)
Tangy Yogurt Vinaigrette
2 tablespoons Greek yogurt
1 tablespoon lemon juice
1 tablespoon apple cider vinegar
1 tablespoon olive oil
1 teaspoon stone ground mustard
1 teaspoon honey
To make Tangy Yogurt Vinaigrette:
In small bowl mix yogurt, lemon juice, apple cider, olive oil, mustard and honey with a whisk until ingredients are fully mixed together and smooth.
To make individual salads:
Top baby kale with pears and dried cranberries. Crumble goat cheese over the salad and sprinkle granola over the salad. Drizzle tangy yogurt vinaigrette over salad.
To make a large salad to serve family style:
In a large bowl drizzle tangy yogurt vinaigrette over the baby kale. Gently toss the kale to coat the leaves with dressing. Top the salad with dried cranberries, crumbled goat cheese. Sprinkle granola on the salad just before serving.
*Note: Grilled chicken would be a great addition to this crunchy kale salad if you're looking for a more substantial meal.  The recipe below makes about 4 entrée sized salads or 6-8 servings it you plan to serve it as a side dish. The yogurt vinaigrette gives this salad a great tangy kick if you love a lot of dressing on your salad go ahead and double the recipe, although I don't think you'll need to.

This is sponsored content. This is an original recipe created by Evolving Motherhood on behalf of Sprouts Farmers Market featuring Fiona's Natural Foods products.