Sprouts invited me, along with a small group of Colorado bloggers, to the fun-filled #UnitedWeGrill event where we learned beef grilling tips and tricks, plating pointers, and all sorts of information about beef. Then they let us lose in the test kitchen to put that new knowledge to the test! This is a sponsored post on behalf of Sprouts all about my evening. It's always fun to learn new things in the kitchen, but it is especially fun when you get to learn from a group of experts. Who wouldn't want to take part in the opportunity to cook up some Sprouts Farmers Market steaks in the Colorado Beef Council test kitchen?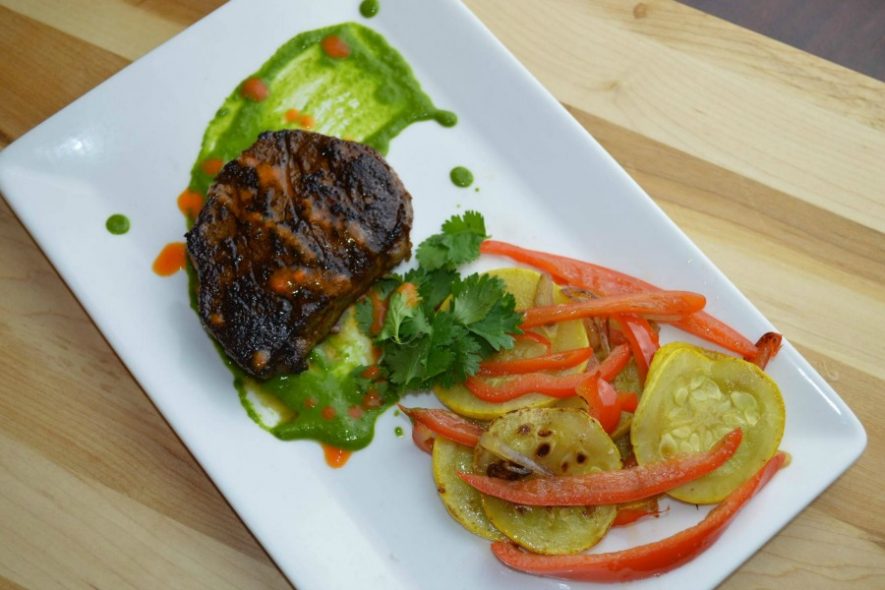 I'm kind of embarrassed to admit it, but I've been making a huge mistake with my meat purchases. And I really didn't realize it until recently.
So here it goes. I'm just going to be honest with you. I've been freezing meat in the plastic wrapped foam trays from the grocery store. It never occurred to me not to. Now I know better.
Now I know freezing the meats purchased from the store in the foam trays wrapped in plastic is not a good idea because it allows too much air to come into contact with the meat and air is the enemy in the freezer.
Tips for Freezing Beef
When freezing your meat a Food Saver is best for keeping meat fresh longer.
If you use a zip-top freezer bag, get as much air out as you can of the bag as possible.
Another option is butcher paper. Since butcher paper is coated on one side with a moister resistant layer it keeps air away from your meat.
Steaks, stew meat, roasts, and strips will stay good in the freezer for 6-12 months. Ground beef is best within 3-4 months.
Luckily, now I know not to freeze my meat in the plastic wrapped tray, but I wouldn't have known if Sprouts and Colorado Beef Council hadn't filled me in.
Something I did know – and you may already know – is the proper way to thaw frozen meat safely. At least I had half of it right. Here's a refresher in safely thawing meat just in case.
Tips to Safely Defrost Beef
Defrost your beef in the refrigerator for best results.
Do not defrost beef at room temperature which means no counter top or kitchen sink thawing, friends.
To avoid any leaks place a tray or plate under the package of meat while it thaws in the refrigerator.
It will probably take 12-24 hours for your steaks or ground beef to defrost in the refrigerator.
Now that my confession is out of the way I want to tell you about my night of beefy goodness with Sprouts Farmers Market and the Colorado Beef Council.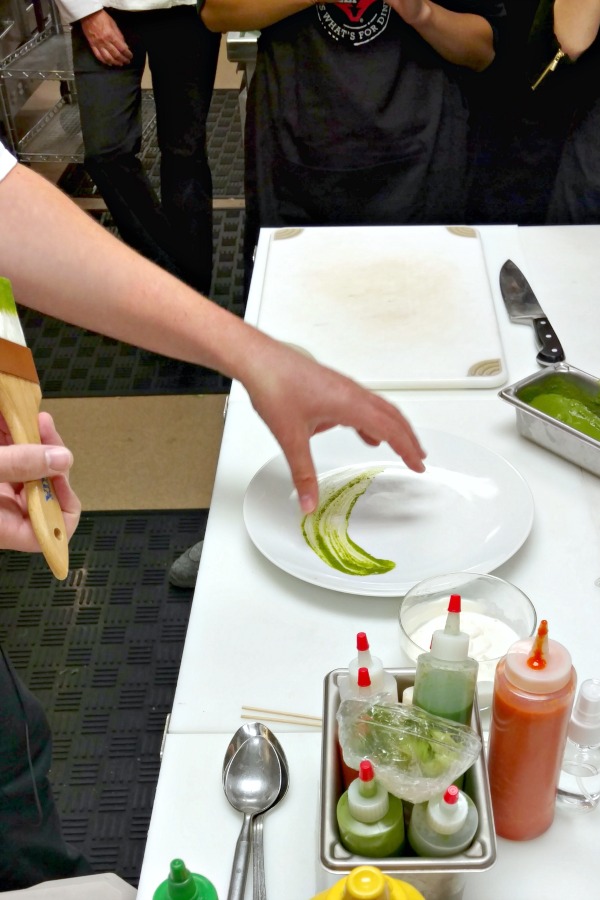 Here's the cliff's notes version:
A fun group of Colorado bloggers learned about the beef Sprouts carries as well as the capabilities of the butchers behind the counter. Then they were given beef grilling tips and tricks, and a fun lesson about plating and food presentation by awesome professional chefs. Then the fun and enthusiastic group of food loving bloggers were basically let loose in the Colorado Beef Council's impressive commercial kitchen to cook up a delicious dinner with steaks and a full pantry of veggies, and grains provided by Sprouts.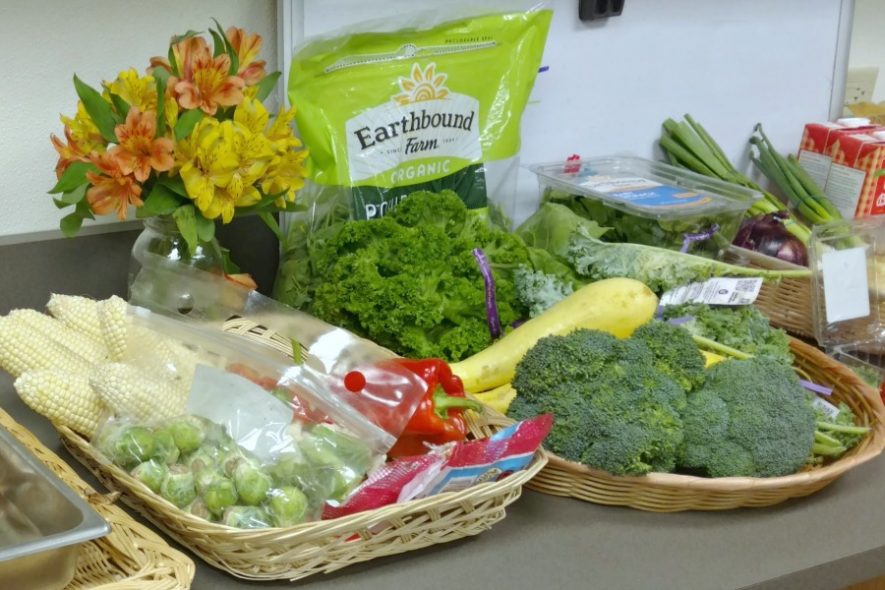 Yes, it was as awesome as it sounds.  A bunch of bloggers in a kitchen getting to play around with food and create a delicious meal with the help of actual chefs? So fun. We all worked to cook and plate our meal and then we had photos taken of each of our plates. While we ate we watched a slide show of everyone's final product with much oohing and aahing over each other's plates.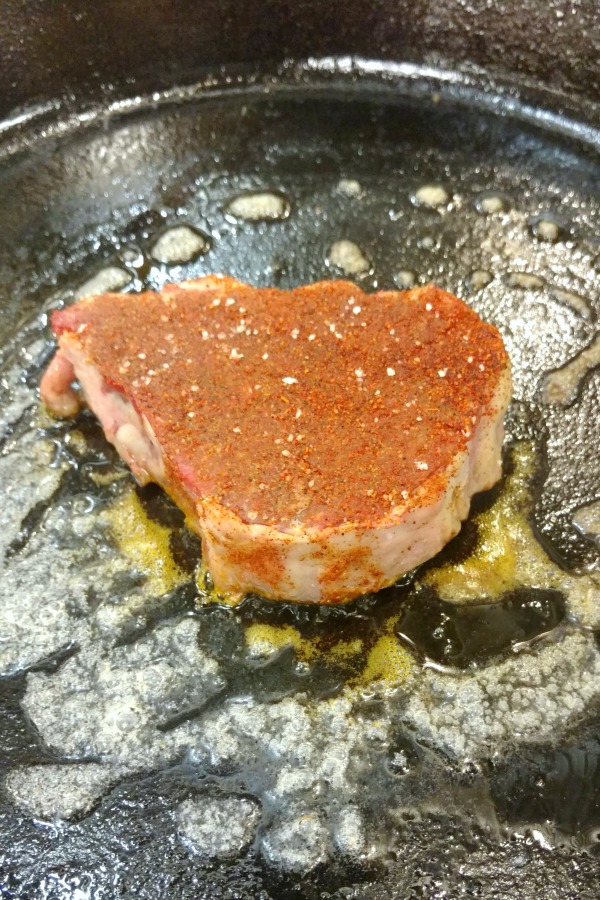 My Finished Product
We had the choice of using the grill or cast iron grill pans. I decided to use a cast iron pan to cook my steak a good sear with the spices I used. I seasoned both sides liberally with garlic, salt, cumin, smoked paprika, and cayenne pepper.  To round out my meal I sautéed some sliced summer squash, shallots, and red bell peppers. To add a pop of color pop for my plating I brushed my plate with a swish of bright green chimichurri.  I lightly drizzled some red pepper coulis on top of my steak to finish it all off.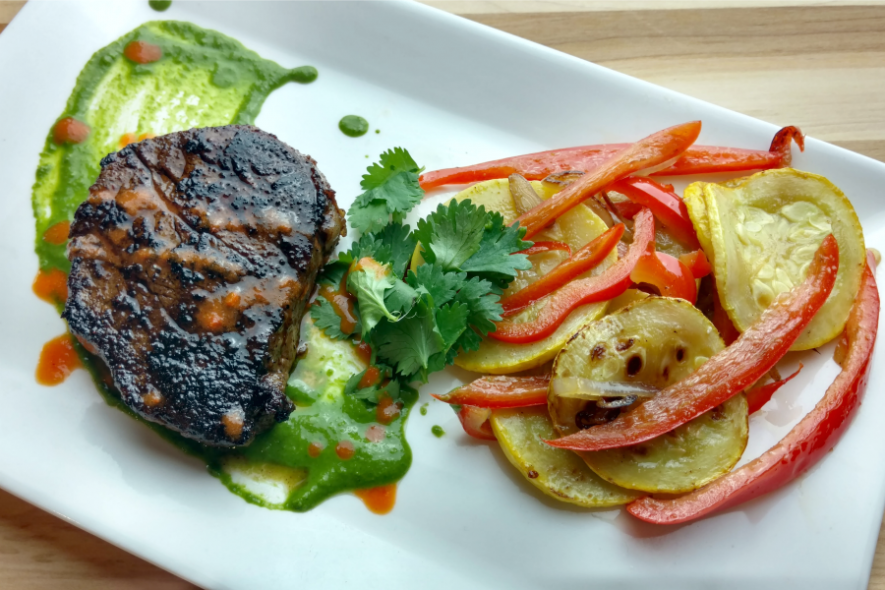 I love chimichurri so much. Here's my favorite recipe for chimichurri. Now you can make chimicurri and use the beef grilling tips and tricks below to make yourself a beautiful and delicious meal.
Beef Grilling Tips and Tricks
You can find both Natural Beef which is grain finished and Grass-fed beef which is hormone and antibiotic free at the Sprouts meat counter.
Sprouts has qualified meat cutters in-house everyday so don't be afraid to ask then to cut meat just the way you need it for your meal.
If you're looking for gorgeous grill marks just picture a clock. Pick an end to serve as your "clock hand" and place the steak with that end on the grill pointing towards 10. After a few minutes move the steak so that the end is pointing towards 2. This will give you a good diamond pattern on one side. Flip the steak over and place it with the end towards 4.  After a few minutes move it so the end is to the 8 position.
One way to get a little bit of a smoky flavor when grilling with a gas grill is to wrap some wood chips in a bit of foil. Poke a few holes in the foil packet and place the packet under the grill's grate while the grill is heating.
Grilling fruit helps to develop the sugars.
For more beef tips you can check out the Beef it's What's for Dinner Facebook Live event.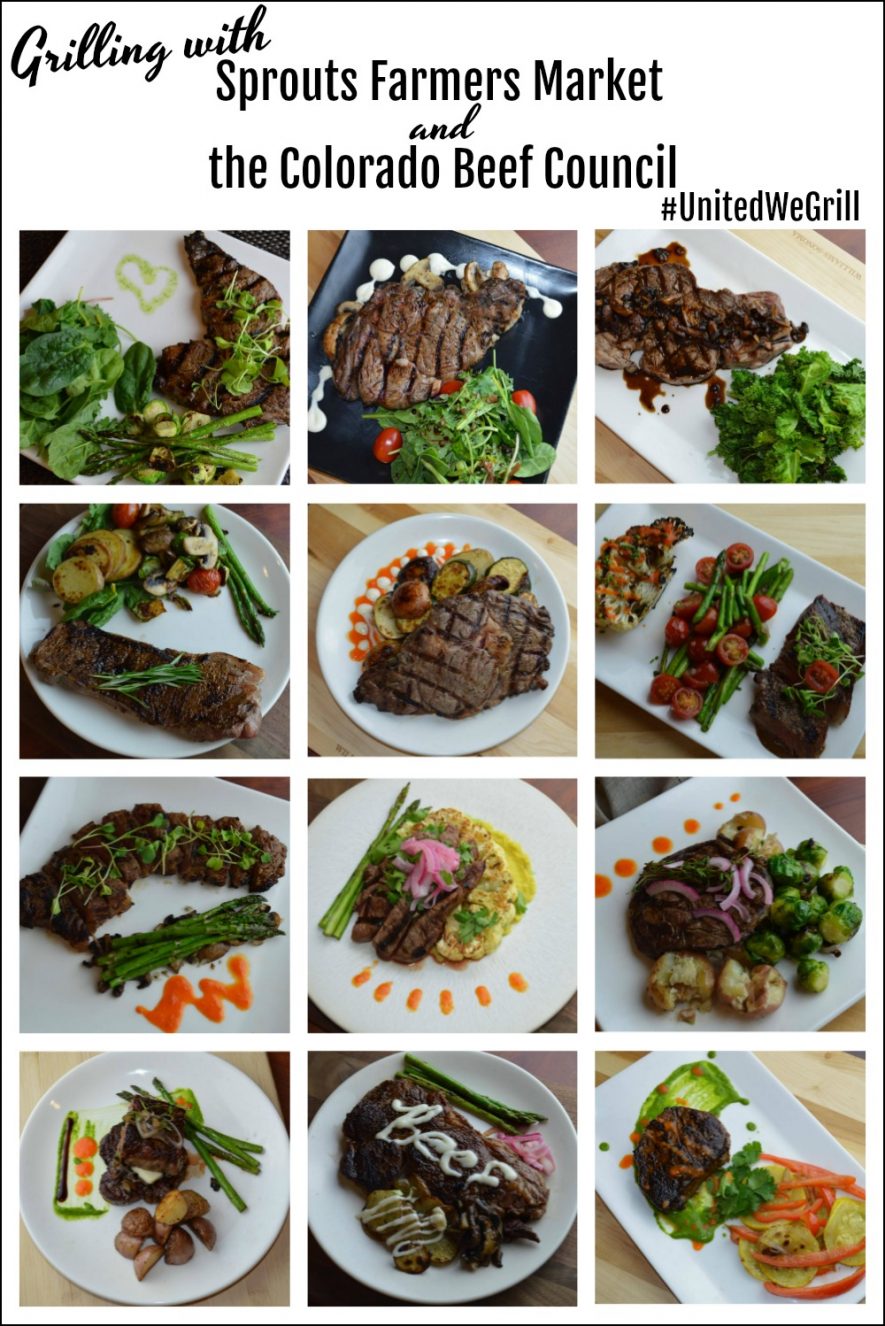 Beef Plating and Presentation Tips
Have negative space. In other words, leave some space on the plate without food or garnish.
We eat with our eyes first.  Use sauces to add color and make your plate more visually appealing.  Chimichurri, coulis, pesto, horseradish sauce,  you can even use every day condiments if the flavors work with your food.
Give your food some height when you plate it. You can do this by strategically layering and piling your foods.
Use a towel to wipe away any unwanted drips, drops, or pools that happen while plating. Keeping your negative space clear of mess will help your food pop.
Thanks to Sprouts and the Colorado Beef Council for a fun and educational #UnitedWeGrill evening. It was probably the closest things I'll ever experience to one of those fun cooking challenge type cooking shows!
---
This is a compensated post written on behalf of Sprouts Farmers Market along with the Colorado Beef Council. All opinions are the authors.