I'm about to lay some truth out for you. Cooking just isn't as fun any more. Wait, let me back up. Cooking is fun. I love cooking. A five-year-old, a seven-month-old, a tight night time schedule with a small window between school pick-up and bedtime, homework and all the things, just All. The. Things. and I've sort of lost that warm and fussy feeling I used to get when it came time to make dinner. I'm working on getting my kitchen-mojo back though. I love cooking and I don't want life to get in the way of the fun of chopping and seasoning, deglazing and daydreaming up new recipes. I'm taking back my kitchen! Okay, I should step back, I just got all Brave Heart on you there. I never lost my kitchen. I just lost my PMA- Positive Mental Attitude- towards cooking.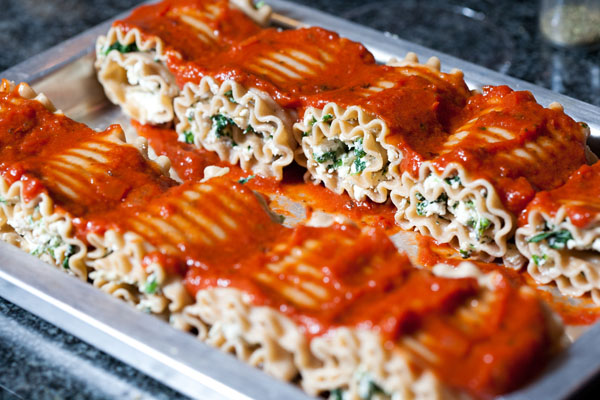 Do you know what helps bring back a PMA? Cheese and red-sauce. Yes, I'm talking about chicken and spinach lasagna roll-ups. Well, that and better meal planning. This last week I poached a bunch of chicken breasts- yes a bunch is an actual term of measurement- then I shredded them all. Part of the shredded chicken went towards Mexican Chicken Stew, part went towards barbecue chicken pizza, and the rest made it's way into lovely Chicken and Spinach Lasagna Roll-ups.
A little organization, some cheese and help from Madeline  in the Learning Tower and the fun found it's way back in. These magical rolls of lasagna make it possible to clean all the prep dishes can be cleaned before dinner with time leftover to pull your five-year-old into your lap to snuggle and read all while dinner bakes. See I told you they're magical.
Chicken and Spinach Lasagna Roll-ups Recipe
2 cups cooked boneless skinless chicken, shredded
1 1/2 cups ricotta
1/4 cups Parmesan
1 teaspoon Italian seasoning
1/4 teaspoon salt
1/4 teaspoon pepper
1 cup thawed frozen chopped spinach
1 egg
1/4 cup milk
10 Lasagna noodles
2 cups marinara sauce (homemade or jarred)
1/2 cup mozzarella
Heat oven to 350 degrees Fahrenheit.
Following package directions, cook lasagna noodles. Remove noodles from water when finished cooking and lay them out on a flat surface in a single layer. A tea towel works well.
While noodles cook, using a medium bowl, mix chicken, ricotta, Parmesan, Italian seasoning,salt, pepper, chopped spinach, egg and milk.
Spread a thin layer of marinara sauce, about 1/2 cup, in two rows lengthwise in a 9×13 baking dish. The sauce will help keep lasagna rolls from sticking the bottom of the pan.
Spread a heaping 1/4 cups worth of filling mixture on each noodle. Rolls the noodles and line them in two rows on top of the marinara sauce you already spread on the pan.
Spread the remaining sauce on top of the lasagna rolls once they are all placed in the pan. Sprinkle mozzarella cheese on top of the rolls.
Bake rolls for 30-40 minutes or until mozzarella is light golden brown and rolls are warmed through.