Today there is no school in these parts due to all the crazy flooding happening in our state. Some of you may have seen news coverage of rainstorms and flooding up and down the Colorado Front Range. It's been pretty crazy. Luckily, our house is just fine and our friends and family all seem to be doing fine as well. So, with no school today obviously there was no school lunch packed today either. However, there was one yesterday but with the weather delayed me in sharing it here. Keep those affected by all this flooding in your thoughts. Some of the destruction and damage is shocking and heartbreaking.
Now, let's talk lunch.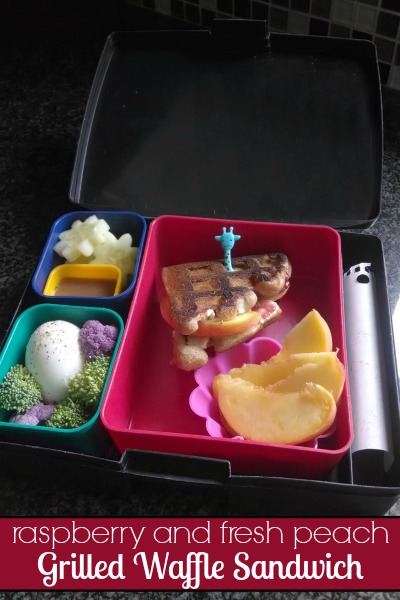 It's funny that lunch sometimes seems to sneak up on me. I pack lunch five days a week for what seems like a gazillion weeks a year and somehow there are mornings when I'm surprised to find lunch packing on my to do list. Odd? Yes, I think so but it's the truth. To combat this surprise 6:30 am attack on myself I stock my kitchen and pantry with go to items that stand as the base of lots and lots of good lunches. As I already shared with you, one of those things is tortillas. We always have tortillas on hand because I can make so many delicious and creative lunches, dinners and ever breakfasts using tortillas as a starting point.
Another one of my go-to, always good, always on-hand items is frozen waffles. I use our waffle maker and make a bunch of waffles to freeze and have on hand on a regular basis but even if you were to prefer to buy them to have on hand there are a number of healthy store-bought frozen waffle varieties out there. Luke, Madeline and Delaney all enjoy having waffles to pulled from the freezer, toasted and spread with peanut butter or almond butter with their eggs for breakfast. I must admit, I love waffles too.
Since I have a Belgian waffle maker my waffles have deep pockets to help flatten our grilled waffle sandwich I put a pan on top of the sandwich while it grilled. It turned out almost like a panini. Also because our waffle maker makes large circular waffles I quarter them before we freeze them so the pieces fit in the toaster, thus making this grilled waffle sandwich triangular.
What's in the Laptop Lunch Box: 
Grilled whole wheat waffle sandwich filled with cream cheese, fresh peach slices, and a bit of raspberry jam.
Peach slices
Hard-boiled egg sprinkled with a bit of salt and pepper
Purple cauliflower and broccoli
Annie's Tuscan Italian salad dressing
Have you ever thought of grilling a waffle sandwich?