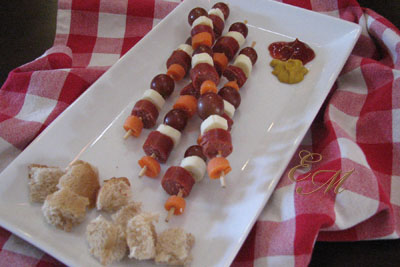 I love simple. Maddy loves fun. Hot Dog Kabobs are a good way to make us both excited about her lunch. Also kabobs make fruits and veggies exciting.
On the plate:
3/4 of an all beef kosher hot dog sliced, sliced carrots, red grapes and sliced cheese stick on a small kabob stick.
1/4 of a whole wheat hot dog bun cut into bite sized pieces.
Ketchup and mustard, or dip dip if your are Maddy.