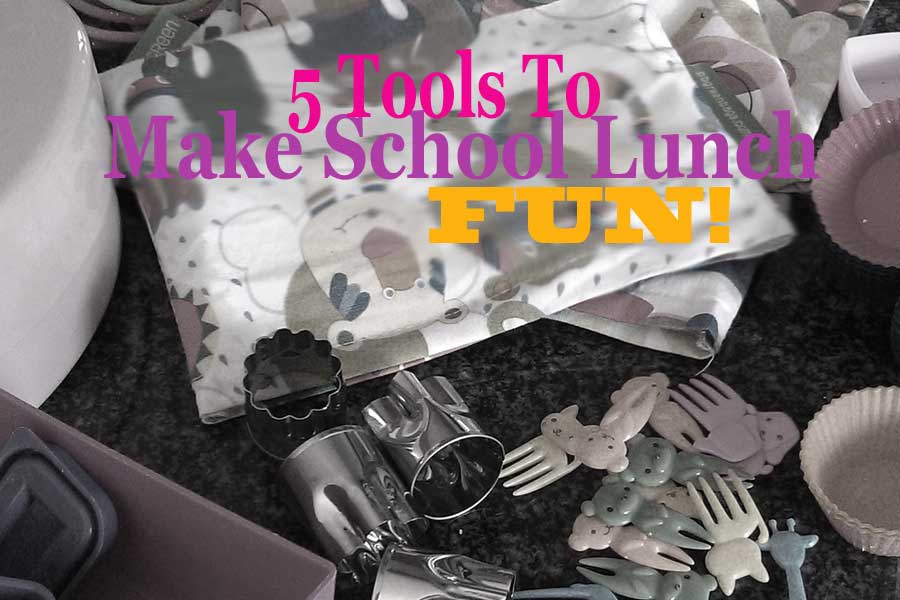 My daughter would probably be happy with a plain old Peanut Butter and Jelly sandwich. Lets face it, most kids are happy with boring lunches.  Boring lunches are usually pretty easy for mom or dad to pack. Easy is one thing but is it fun? No way. spreading peanut butter and jelly is snooze worthy. Stocking your kitchen with the handful of Evolving Mommy tested tools to I am about to share with you will make your daily lunch packing task miles more fun and inspire you to break out of the peanut butter and jelly sandwich mold. Not to mention your kids will enjoy having a fun and tasty lunch every day.
Lunch Box
Our Laptop Lunches Flower Bento System gets a whole lot of use. The separate compartments  in various sizes make it easy to make sure all the food groups get covered. I'm able to use my imagination and fill the spaces with yummy foods a kindergartner may not usually find in their lunch box -foods that my kindergartner is happy to open the lid and see. The best feature? The compartments are interchangeable making it easy to pack a variety of lunches with foods of different sizes. We bought a bento system which comes with large, medium and small containers and a fork and spoon. To add even more flexibility I added a bento buddy set to our set. Even with the other lunch boxes and bento boxes we have around here this is the only lunch box reaches for when packing Maddy's lunch. This lunch box will make you a happy mama for sure.
Reusable Snack Bags
If you've spent much time around here you know I like reusable things. I like things that make my life easier too. PB Green snack bags fit the bill on both counts. These bags come in small, medium and large so they can hold all sorts of kid friendly snacks. The water resistant inside and cotton outside make for a very mommy friendly bag that can be washed in the washing machine the dishwasher or wiped down with a wet wash cloth. I'll be using these for everything from carrot sticks and apple slices to trail mix and Maddy's favorite popcorn mix.
Cups of Food
An easy way to add a bit of color to a ho-hum lunch box is silicone baking cups. Foods stay separated and in place in the right sized baking cups. We have a stash of min baking cups in a variety of colors that help hold fun bits of food in good serving sizes for a kindergartner. I've got my eye on a few fun shaped baking cups in hearts or flowers for Maddy's lunches.
Shareaholic
Japanese Vegetable Cutters
I can't tell you how many times Maddy has raved about finding fun shaped foods in her lunch box. Japanese vegetable cutters are like very small cookie cutters and are great for cutting all kinds of foods from cheese and veggies to fruit and lunch meat. Lets be honest. Maddy likes finding flowers and stars in her lunch box but I'm the one who loves using the cutters the most. It's just more fun to put together lunches that look pretty. Who wouldn't enjoy a pizza topped with flower shaped mozzarella and pepperoni.
Japanese Food Picks
What school aged kid wouldn't love the surprise of finding a sweet little cat or giraffe in their lunch box? Animal food picks are about 1.5-2.5 inches tall and can also be used as a makeshift fork. I like to stick our animal picks in with cut up fruit or pasta for a little bit of adorableness and functionality all in one.
What fun tools do you use to help make your kid's lunch fun?