I love holiday lunch and snack packing. Holidays are a great excuse to think creatively about what I'm packing in Madeline's lunch box or bento box and hopefully give Madeline a fun surprise or two at lunchtime. We eat with our eyes first, right? What's more tasty than food that coordinates with the holiday? All the ideas below are not just fun but healthy and easy to pull together too. Happy lunch packing!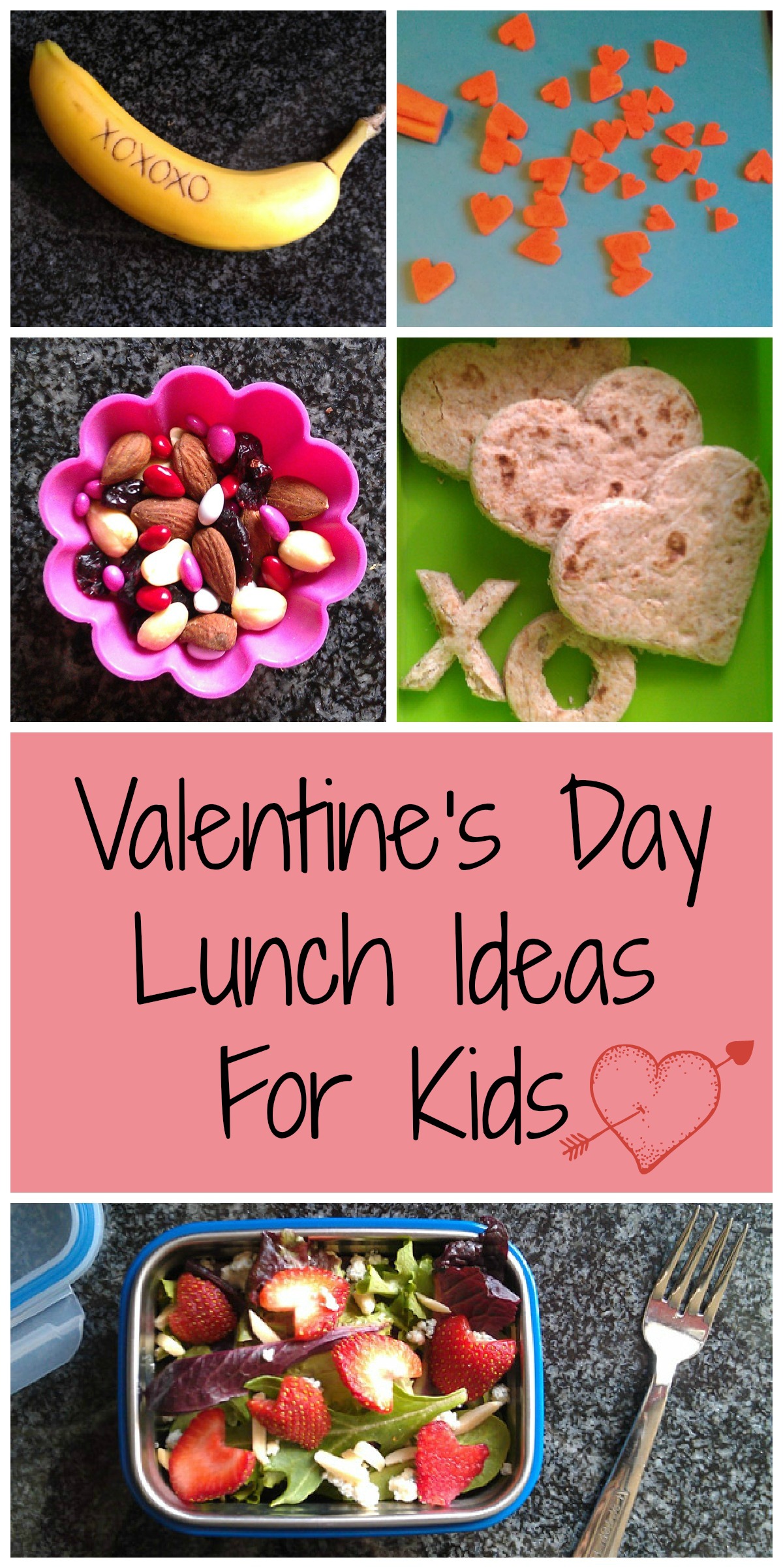 Strawberry Hearts
Using a paringknife cut into the top of the strawberry at an angle on two sides of the core and leaves of the strawberry, making a V. When you remove the top the strawberry magically transforms into a heart. Strawberry hearts taste better than regualr hearts. I'm sure of it.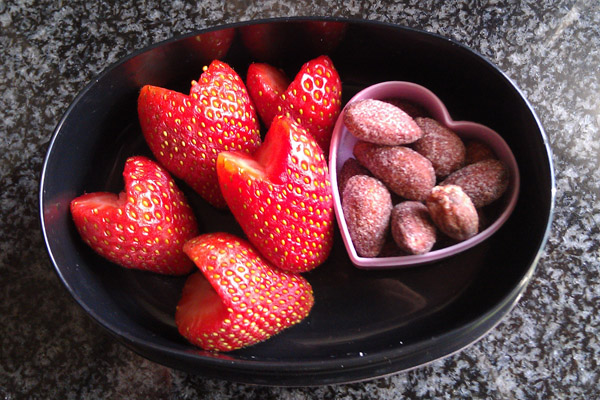 Strawberry heart Salad
Take it one step further and slice the whole strawberry hearts into cute strawberry heart slices. Top salad greens or baby spinach leaves with the sliced strawberry hearts, sliced or slivered almonds and blue cheese,feta cheese or goat cheese crumbles. My daughter and I love this with a drizzle of balsamic vinegar but your kiddos favorite dressing will finish the salad off perfectly.
Magic Love Note Banana
Using the tip of a single tine on a fork, or a toothpick gently scratch a message into the skin of a banana. The messsage will not be very visable right away but by the time lunch time or snack time rolls around your child will be surprised to find a note written on their banana. It's like using invisable ink to pen a love note.
Quesadilla of Love
Tortillas and cheese are always a hit in my house. Foods cut into fun shapes are also always a hit. Use a few Valentine's Day approprate cookie cutters and Madeline has herself a fun and tastey lunch. This can also be done with sandwiches with great success.
Heart Carrot Chips
Cute carrot chips in the shape of hearts served with hummus make for a winning v-day snack. There are two ways to do this. Pick the option that works for you and your tools on hand.
Option 1. Using a paring knife notch a V out of one side of the full length of a carrot. Using a peeler, peel the carrot along the sides to form the bottom point of the heart. Trip the top of the heart with the peeler to round the edges a bit. Slice the carrot into individual hearts.
Option 2. Cut a carrot into slices. Using a small heart cookie or vegetable cutter cut the slices into hearts.
Valentine's Trail Mix
A mix of healthy nuts and dried fruit are a great snack or side dish for lunch. Use candy coated sunflower seeds to add a bit of Valentine's Day flare to trail mix. Just a teaspoon goes a long way to add a little red, pink, and white love to your child's trail mix.
What are your favorite ways to add a little love to your kid's lunch box?