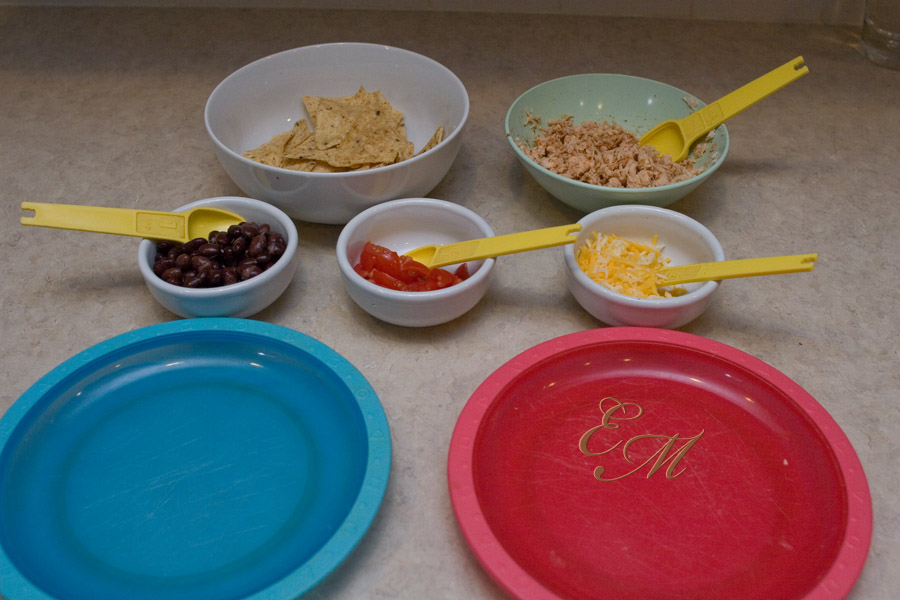 Whats on the plate:
Garden of Eatin' multigrain tortilla chips ( I tell you because I love you and I love these chips, hearty, crispy and delicious)
Black beans
Shredded chicken mixed with a 1/2 teaspoon of chili powder and cumin
Cheddar cheese
Diced tomatoes
Watermelon and cantaloupe
The girls took turns sprinkling and dumping toppings on their chips. To help direct their topping usage the girls used measuring spoons to scoop toppings. Since the 1 1/2 teaspoon and 1 teaspoon measuring spoons were used for the chicken and beans the girls got more of the healthy stuff while the 1/2 teaspoon in the cheese helped keep them from totally over doing it on the cheese.
After the toppings were sufficiently applied the nachos got a quick 15-20 second microwave to warm and slightly melt the cheese. The masterpieces were then served with salsa, sour cream, and chunks of watermelon and cantaloupe.
Only try this at home if you are looking for a hands on cooking experience with limited mess and touching of hot things. Also only try this at home if you are looking for happy kids who devour their flavorful, healthy lunch. Do hot try this at home if you want bored children and lots of leftovers. Just a friendly warning sprinkled with sarcasm.