Now you what our art party decoration ideas were. It was a fun and good-looking party if I do say so myself. The decorations were mostly homemade and pretty inexpensive to pull together. Win and, win and, win!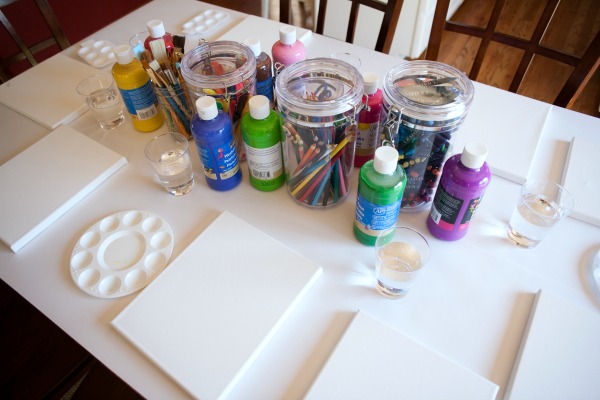 I bet you are wondering about the art in our art party. After all what is an art birthday party without some art projects?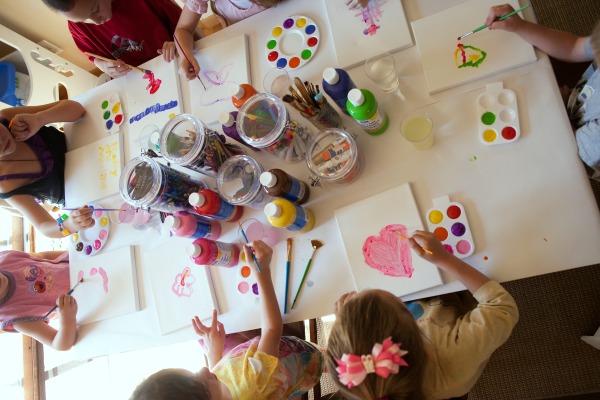 You saw how the table was decorated and laid out right? We made some of the table decoration functional by placing the canvases, paint trays and paints on the table. Each child was given a canvas of their own and a tray full of paint colors they chose. Then they were let loose to get creative and paint! The quiet and concentration that fell over the room while the kids painted was unbelievable. I've never seen a birthday party filled with kids so happy, quiet, and focused.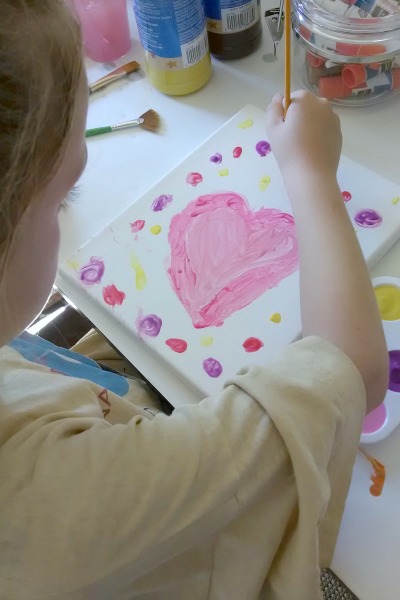 I had thought about leading the kids in a simple painting, but in the end decided to let them get creative and paint whatever they wanted. I'm so glad we went with the go with the flow route. Each child painted something totally different and creative. Madeline went with a range of her favorite colors, pinks, purples, red and yellow and ended up with a lovely heart painting that she has already hung in her room.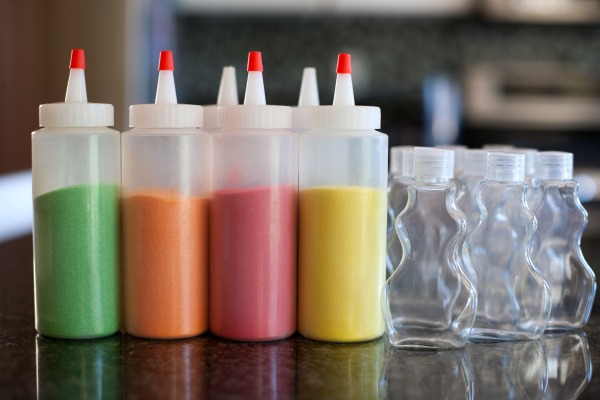 Once the kids had covered their canvases to their liking we moved on the sand art. Each kid picked a bottle and they took turns passing around colored sand to pour into their bottles.It was so fun to see how each child took a different approach. Some stuck to a pattern, some added colors and shook the bottle as they went making for a bottle of mixed color and some filled and layered with no particular order in mind. We used Wilton chocolate squeeze bottles to hold the six different colors of sand. The squeeze bottles made pouring and keeping the sand contained so much easier than funnels and bowls filled with colored sand.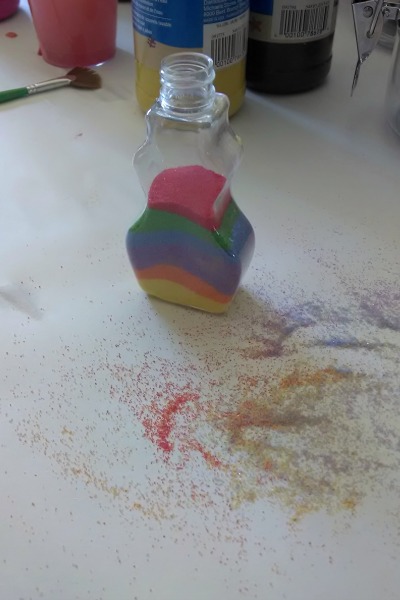 These activities mixed with the very fun art project of decorating their own ice cream sundae kept the kids happy and entertained for a good amount of time. After we finished with all the official party items the kids move out back to run and play in the yard and on the playset. The great thing about a party where kids create things is they get to take those things home with them and proudly show them off. It was so fun to see each kid show their mom or dad their artwork when they were picked up.
Do you think I was brave to give a bunch of six-year-olds paint and sand or would you have done the same?