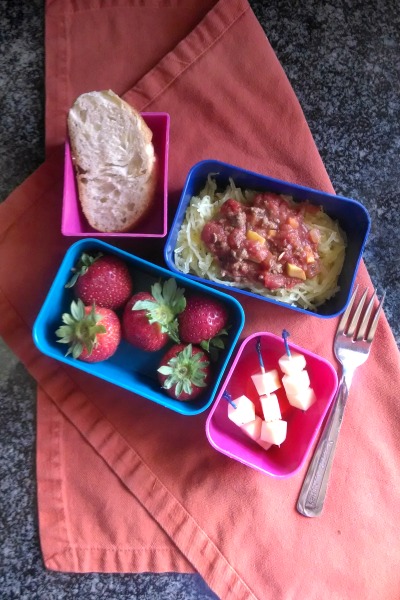 Spaghetti squash is a seriously exciting vegetable. Unlike other squash varieties when you cooked it doesn't turn into mush it turns into pasta! Well not true pasta but something so pasta like my family takes no issue if I bake up a large spaghetti squash and serve it topped with pasta sauce just as I would whole wheat Rotini or Linguine. Just as leftover pasta is delicious the next day spaghetti squash leftovers make for a great kid-friendly lunch the next day too. That my friends is just another sign of a magical vegetable. Anytime I can get an extra serving of vegetables into our meals I'm happy.
What's in the Laptop Lunch Box: Spaghetti Squash with Meat Sauce
Leftover spaghetti squash and homemade meat sauce
Roasted garlic baguette
Cheese cubes on cute party pics
Ripe strawberries
Have you tried making spaghetti squash? What is your favorite way to serve it?