This year Madeline really wanted to take a bigger role in the planning of her birthday. She picked the theme – which for us is fairly normal, although I do try to steer her away from character themed parties – she decided on make-your-own-ice-cream-sundaes for her art party, and she even assembled the art themed birthday party favors for her party guests.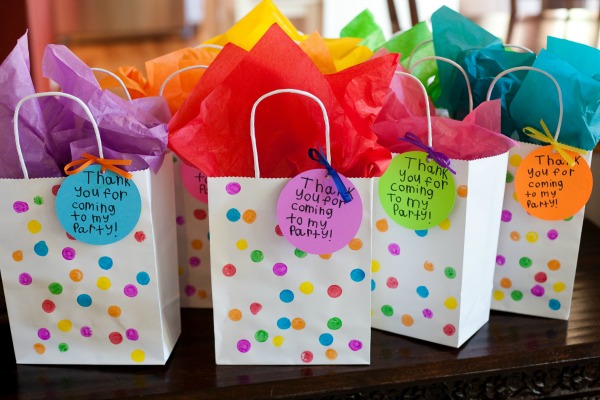 I kept an eye out during back to school shopping and found some fun art supplies to hand out as favors. Each child got a package of markers, watercolor paints, and a pad of art paper along with the art projects they made during the party.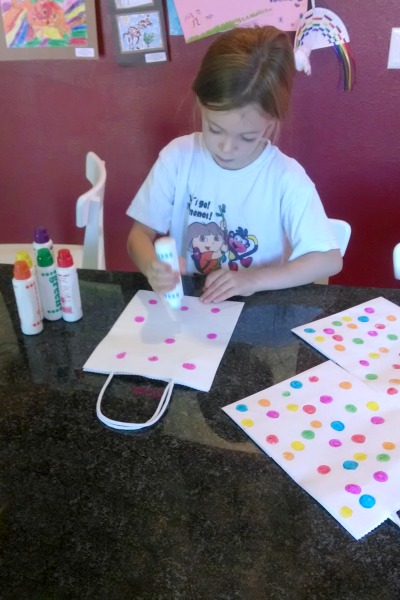 I found simple plain white gift bags at a craft store and using our Do-A-Dot paints Madeline turned the bags into colorful polka dot masterpieces then filled them and stuffed the top with different colors of tissue paper. To finish off the bag I made large colored dots – from the same paper as our polka dot garland – and Madeline wrote a thank you note on one side and each guests name on the other to personalize the favor bags.
Just as we did last year with the butterfly goody bags and the butterfly themed party we decided to stick with our party theme for the birthday treats Madeline was to take to her class. To go along with the art theme we picked out fun packages of specialty Crayola Crayons. They were little packs of eight with unique colors assembled around a theme like "Born to Rock," "Dinosaur Roar," and "Neon Dreams."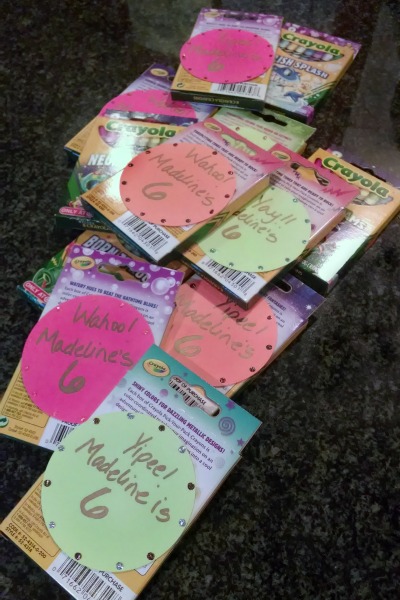 Using some of our polka dots I wrote a little something fun about Madeline turning 6 and taped the dots to the backs of the crayon boxes. Madeline's teacher complemented the treats and even said a little thank you for sending something that wasn't sugar filled.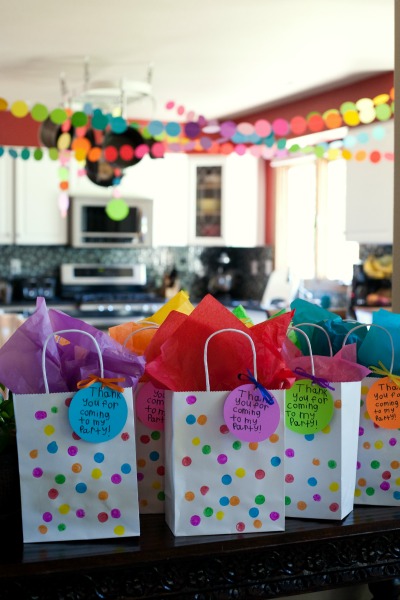 Overall I think we did a great job of coming up with useful and fun art themed birthday party favors without succumbing to the usual assortment of plastic party store trinkets. I'm thrilled with the quality of the items and with a little bit of thinking ahead I was able to take my time and buy things at very reasonable prices. I also love that the favor bags complemented the art party decorations so well. They really added to the party decor. I love it when something can do multiple jobs.
Do you give out treats for your child's birthday at school? Do you give out favor bags at your child's party?
What is your usual favor bag budget?