Your search for a great whole wheat pumpkin sandwich bread recipe is done. Simple delicious ingredients make this sandwich bread a perfect fall recipe. Or year round for that matter. What? you didn't know you were searching for a great whole wheat pumpkin sandwich bread recipe? Well, you were you just didn't know it.
I know we all love the abundance of sweet pumpkin quick breads this time of year, but honestly as much as my family loves a good quick bread we need sandwich bread more. We've talked many times about my love of pumpkin around here- pumpkin ravioli,  whole wheat pumpkin pancakes,  pumpkin spice granola bars,  spicy pumpkin sauce,  pumpkin chocolate chip cookies,  pumpkin quick bread. You get the point right?  Well, I've got a new one to add to the list and it is tasty if I do say so myself. And pretty too. Just look at that lovely burnt orange color. Gorgeous I tell you!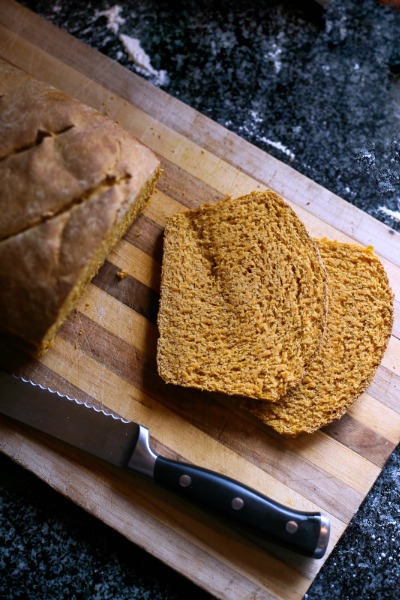 Yesterday I made a loaf of this whole wheat pumpkin sandwich bread and then I sliced it so I could really should you its lovely shade of orange and then the bread was calling my name and before I knew what I was doing I was spreading a slice with butter, sprinkling it with cinnamon and sugar, and sliding it under the broiler to toast up. It was a dreamy afternoon snack.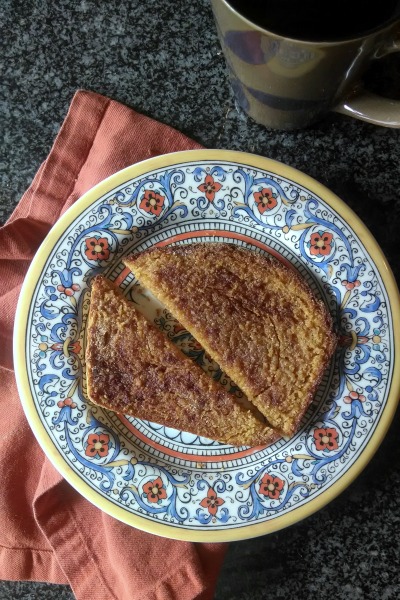 You can most certainly do as I did and turn a slice of this pumpkin bread into cinnamon sugar toast, or you can use it to make up some sandwiches, or french toast, or grilled cheese with warm tomato soup. Trust me it's all good.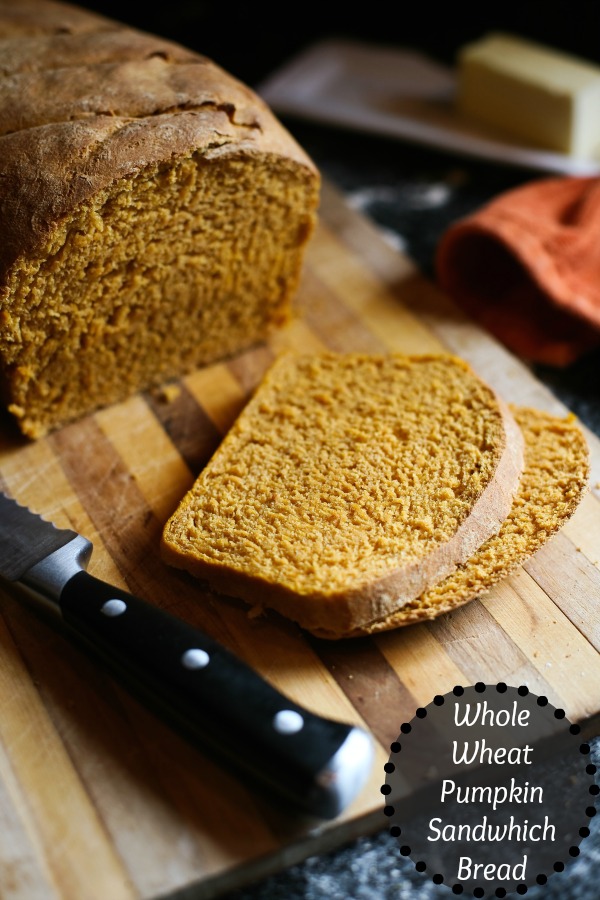 Whole Wheat Pumpkin Sandwich Bread Recipe
5-6 cups white whole wheat flour
1 1/2 cups pureed pumpkin
1 cup warm milk
3 teaspoons active dry yeast
1  teaspoon salt
1/2 cup honey
Mix warm milk, honey and yeast and let sit for 5 minutes. Add in pureed pumpkin and mix until combined. Add salt and 4 cups flour and mix until combined. Add remaining flour 1/4 cup at a time until dough is tacky but does not stick to your hands when you handle it. The amount of flour you will need will vary based on many factors including the weather. For example a humid day will require more flour in your dough than a dry day. If using a mixer knead dough with dough hook for about 5 minutes. If using hands knead dough for 8-10 minutes. Dough should feel springy and smooth.
Lightly grease or oil a large mixing bowl and place dough ball inside. Cover bowl with plastic wrap or kitchen towel. Let rise until doubled in size – about 1 hour. Once dough is doubled punch it down and using a lightly floured surface roll the dough out into a roughly 10 x 20 inch rectangle. Fold the sort sides so that they meet in the middle making the dough into a square. Tightly roll the dough into a loaf making sure the where the dough meets from your folds runs through the center of the loaf. Pinch and tuck the loaf at the seam to keep it together and tuck and pinch the ends to close them off.  Place loaf in a greased 9 x 5 inch bread pan and cover with plastic wrap or a kitchen towel. Set in a warm place to rise until loaf fills out the bread pan and is about an inch or two above the top of the pan- about 45 minutes to one hour. Optional: just prior to baking use a sharp knife to  place 3-4 slits on top of risen dough at an angle.
Bake whole wheat pumpkin bread at 375 degrees Fahrenheit  for 35-40 minutes or until bread is a browned orange shade and reaches and internal temperature of about 200 degrees Fahrenheit.
Some fun substitutions in this bread are sweet potato, butternut squash or acorn squash.
Have you ever used pumpkin to make bread? Do you usually make a sweeter quick bread or a yeast bread using pumpkin?