We love to bake healthy treats, luck for me Maddy thinks muffins loaded with healthy ingredients are treats. These hearty breakfast muffins are perfect for rushed mornings or quick breakfasts on the go. We bake and freeze them, then take them out of the freezer the night before a busy morning or pull them out and defrost them in the microwave for those hectic mornings that we don't anticipate. The recipe is for standard size muffins but if you have a mini-muffin pan I would suggest making at least part of the batch into mini-muffins to have on hand for snacks or to through in lunch boxes.
Apple Carrot Breakfast Muffin Ingredients
1 and 1/4 cups whole wheat flour
3/4 cups oat bran
2 teaspoons baking powder
1/4 teaspoon salt
2 teaspoons cinnamon
2 tablespoons cooking oil
3 tablespoons honey
3/4 cups applesauce
1/4 cups milk
1 egg
1 cup carrot shredded
1 cup apple, finely diced
1/2 cups chopped walnut
1/2 cups raisins
Preheat oven to 400 degrees Fahrenheit. Place muffin liners/cupcake cups in muffin pan, or grease muffin pan.
In a large bowl mix dry ingredients together.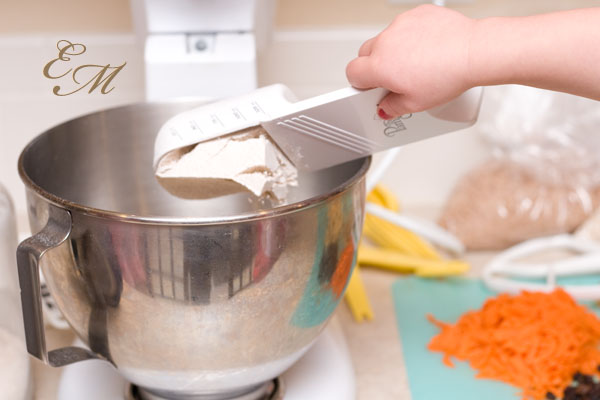 In a medium mixing bowl combine honey, applesauce, milk, and egg.
Add dry ingredient mixture to the wet mixture and stir just until dry mixture is incorporated.
Add carrots, apples, walnuts and raisins to the bowl stirring just until incorporated.
Divide batter evenly between 16 muffin cups and bake for 20-25 minutes or until a toothpick inserted into the center of the cups comes out clean. Muffins will keep in a sealed container for a few days or in a sealed plastic bag for a month or more.
They are so excited about their handy work in the kitchen they can barely contain themselves. So what better way to enjoy a nice Apple Carrot Breakfast muffin than to just…
eat it straight from the wrapper? When a muffin tastes this good why waste time taking the muffin out of the paper muffin cup?